Monarch Air Group provides private air charter in Nice, France. Our clients benefit from top-notch service, unrelenting dedication to safety, wide selection of aircraft, and years of experience in chartering private jets. To obtain a free quote, please use our online quoting tool provided below, or call toll-free 1-877-281-3051.
Charter a private jet to&from Nice, France
Book a Private Jet Charter to Nice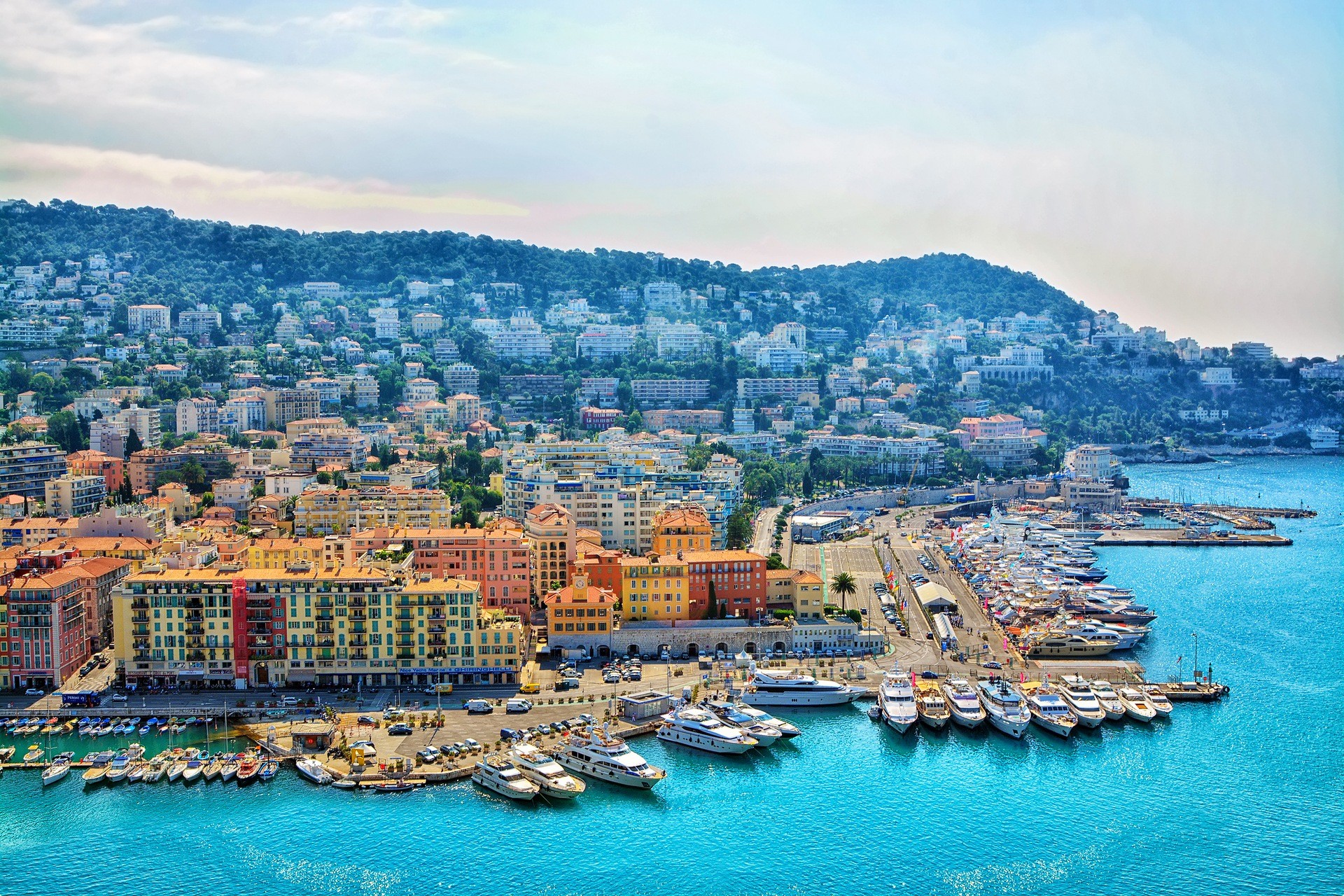 Monarch Air Group offers private jet charter services to and from Nice, France.
Situated along the Mediterranean Sea, Nice is the fifth largest city in France and considered by most to be the capital of the Riviera. The turquoise sea, gorgeous pebble beaches, mild climate, and beautiful scenery invariably attract private jet charters to Nice.
Hire a charter jet to Nice to see all the city's wonders. Offering tourists some of the best shopping and eating in France, Nice boasts narrow lanes, charming markets, cafes, and bakeries. With almost perfect weather and sunny beaches, the city of Nice attracts visitors worldwide.
Fascinating Nice knows how to delight and stun. Choose a private flight to Nice to visit the most popular tourist attractions, including the Villa Arson, the Musee des Beaux-Arts, The Cathedral Ste-Reparate, the Albert I Garden, and the Chapelle de la Mis'atricorde.
Lovers of various activities can safely book a charter flight to Nice. During this winter, in the second half of February, one of the oldest carnivals in the world, Mardi Gras, is held here. In summer, Nice is also filled with different festivals and holidays.
The Nice Côte d'Azur Airport (NCE, LFMN) is 4 miles from downtown Nice. It is a public airport that serves more than 14 million passengers a year and is perfect when you charter a private jet Nice.
Nice Private Jet Airports within 70 miles
ALL, Albenga, Albenga, Italy.
BAE, Barcelonnette, Barcelonnette, France.
CEQ, Mandelieu, Cannes, France.
CUF, Levaldigi, Cuneo, Italy.
FRJ, Frejus, Frejus, France.
JCA, Croisette Heliport, Cannes, France.
JLP, Juan Les Pins, Juan Les Pins, France.
LTT, La Mole, Saint Tropez, France.
MCM, Fontvieille Heliport, Monte Carlo, Monaco.
SXD, Sophia Antipolis, Sophia Antipolis, France.
TLN, Le Palyvestre, Hyeres, France.
Hotels in Nice
Casino Palais Méditerranée, 13 Promenade des Anglais, Nice.
Casino Palais Méditerranée, 13 Promenade des Anglais, Nice.
West-End, 31 Promenade des Anglais, Nice.
Hôtel New York, 44 Avenue du Maréchal Foch, Nice.
Carlton, 26 Boulevard Victor Hugo, Nice.
Hôtel Masséna, 58 Rue Gioffredo, Nice.
Le Meridien Nice, 1 Promenade des Anglais, Nice.
Roosevelt, 16 Rue du Maréchal Joffre, Nice.
Beau Rivage Hotel et Plage, 24 Rue St François de Paule, Nice.
Casino Palais Méditerranée, 13 Promenade des Anglais, Nice.
FAQ for Private Jet Charter Flights to Nice
Why choose a private jet to Nice with Monarch Air Group?
Charter jet offers unprecedented flexibility, exclusive service conditions, and many other benefits. Monarch Air Group ensures private flights to and from Nice, group charter flights, favorable business meeting conditions, and greater privacy and security. Call one of our agents for charter jet Nice. Our team will fulfill all your requirements to ensure our services meet your expectations.
How much does it cost to book a Nice private jet charter?
Several factors determine the cost of renting a Nice private jet. These include the aircraft's model and the flight's range. We pride ourselves on high-quality on air charter Nice, fair prices, and exceptional customer service. What's more, you can get a rough flight cost estimate by using a private jet charter cost estimator.
Here are some approximate prices for private jet flights to Nice:
Charter a Private Jet to Nice from London will cost from $11,780;
Charter Flights from Paris to Nice will cost from $5,610;
Private Flights to Nice from NYC will cost from $76,020;
*Estimated price before taxes & fees.
What types of private jets can use for Nice charter flights?
No matter if you are flying for business or pleasure, we will choose the best type of private jet for Nice charter flights. The choice depends on the length of the flight, the comfort level, and the number of passengers. Efficiency, privacy, and security remain our top priorities for every flight.
| Aircraft type | Passengers | Non-stop range | Cruising speed | Intended use |
| --- | --- | --- | --- | --- |
| Light Jet | up to 6 passengers | about 700 – 2,000 miles | 476 to 518 mph | for comfortable short- to mid-range distances |
| Midsize Jet | up to 10 passengers | about 1,300 – 1,500 miles | 422 to 541 mph | to fly nonstop from coast to coast |
| Super midsize Jet | up to 10 passengers | about 3,500 – 4,000 miles | 490 to 590 mph | for longer flights |
| Heavy Jet | up to 18 passengers | about 6,000 miles | 480 to 551 mph | traveling overseas in luxury for an intercontinental flight |
| Turboprops | up to 10 passengers | about 600 – 1,900 miles | 220 to 360 mph | for short- to mid-range flights |
| Ultra-Long Range Jet | up to 19 passengers | about 2,800 – 7,685 miles | 460 to 594 mph | for long-haul travels |
| Helicopters | up to 28 passengers | about 250 – 600 miles | 150 to 175 mph | for passenger and cargo transportation |
What are the benefits of flying on a Nice private jet?
Monarch Air Group will provide you with privacy and ease of travel on your schedule. We arrange private plane charter Nice for both business and leisure and will supervise your journey from the moment you arrive at the departure airport until you arrive at your final destination. Our specialist is available for you 24 hours, seven days a week, to answer all your questions.
Popular destinations near Nice by private jet
Monte Carlo – a resort in Monaco a few minutes east of Nice, is a playground for the rich and famous, attracting visitors worldwide.
Cannes – on the shores of a large bay, offering activities such as boating, swimming, and yachting.
St Tropez – in the south of France, has become a popular vacation spot with gorgeous sandy beaches and famous restaurants.
Turin – known as the car capital of Italy, gets wildly rave reviews from private aviation clients.
Genoa – is the capital of Liguria which attracts tourists from all over the world with its architectural and artistic richness.
Our clients travel on efficient and comfortable private jets. If you haven't found the answers to all your questions, you can contact our experienced and reliable team at any time or visit our air charter FAQ page.