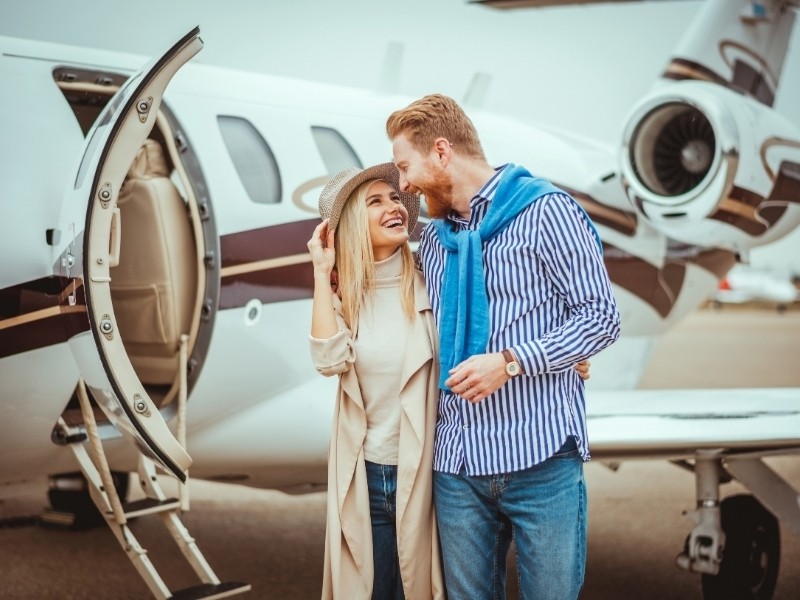 Private jets help maximize time in the air and on the ground, creating a seamless transition between work and leisure time so you can spend more time at the destination of your choice. Below, we have curated seven destinations that offer a diverse range of experiences. Each place represents endless opportunities to make the most of time with family and friends year-round on a short or extended visit.
Charter a private jet to the popular destinations
1. Monteverde, Costa Rica
Monteverde is one of Costa Rica's most sought-after destinations for eco-tourism. The Monteverde Cloud Forest Biological Reserve is home to more than 3,500 plant and animal species. The reserve trails are especially popular with birders in search of the elusive Quetzal, a bird once revered by the ancient Aztecs.
If you are feeling adventurous, you can rent a private jet in Monteverde and sail across the Cloud Forest canopy on a zipline or take a guided horseback tour to see Monteverde's everchanging landscapes dotted with ranches, coffee fields, and winding trails through the Cloud Forest and along the scenic Gulf of Nicoya.
2. Glasgow – Scottish Highlands
Just 130 miles north of Glasgow, the Scottish Highlands extend from Inverness on Scotland's rugged coast to John O'Groats in the north. A short drive from Inverness, Loch Ness is the largest loch in Scotland, covering 22 square miles and a depth of 755 ft. (230 m) at its deepest point.
The loch is home to the famous mythical creature "Nessie". The Scottish Highlands is a landmark destination for outdoor explorers. Each year more than 100,000 climbers ascend 4,413 ft. (1,345 m) to the summit of Ben Nevis, the highest mountain in the British Isles.
If summiting a mountain is not at the top of your itinerary, consider a pleasant hike. Five trails on the mountain feature some of Scotland's most stunning scenery. During the winter months, the mountain becomes a popular resort area, attracting skiers from around the world. Chartering a private jet to Glasgow, you can enjoy your holiday in comfort.
3. Melides, Portugal
Situated on Portugal's Atlantic coast a short drive from Lisbon, the charming village of Melides is a quiet retreat to the unhurried pace of life on Portugal's coast. You'll feel right at home with Melides' laid-back vibe while casually strolling through town, soaking up the sun on the beach, and riding in the hills of the Serra de Grândola on horseback. In the town center, centuries of craftsmanship seamlessly blend with the contemporary design style of Portuguese Comporta.
The Melides lagoon is full of colorful flora and fauna, birds, and marine life. Just outside Melides, you can visit cork tree groves that have been growing in the same place for centuries. Cork trees encompass 28 percent of Portugal's forests and with a host of commercial applications, cork is one of Portugal's most important exports.
4. Aarhus, Denmark
Denmark's port city of Aarhus is a popular destination just a three-hour train ride from Copenhagen. Aarhus is the cultural capital of Jutland, the peninsula and the mainland of Denmark selected by the Vikings in the 8th Century for its strategic location. A glimpse of life during this era can be seen at the Viking Museum where visitors can tour an archaeological site that reveals layer by layer life in Aarhus that dates to more than 1,000 years ago.
An easy city to navigate on foot, Aarhus attractions are within walking distance of each other. The Den Gamle By (The Old Town) is an open-air folk museum with 75 historic buildings. The buildings were relocated to the museum from throughout the country to offer visitors a unique perspective of life in Denmark in decades past.
5. Skåne County, Sweden
SkåneCounty is the southernmost county in Sweden. Filled with lush forests, peaceful countryside, and scenic coastlines, Skåne is an outdoor paradise perfectly suited for hiking, biking, and boating. One of the most popular attractions in Skåne is the charming Little Square in Malmö with its timber-framed buildings and outdoor cafes with traditional Swedish fare.
Food tours throughout Skåne are popular, especially for visitors interested in locally grown organic food. For an immersive experience with nature, consider hiking part of the Skåneleden trails. From dense forests to golden rapeseed fields, this 808-mile (1,300 km) trail enchants hikers with its stunning scenery.
If you plan to a private jet to fly to Copenhagen during your trip to SkåneCounty, you will cross over the impressive Øresund Bridge. This structure is the longest automobile and rail bridge in Europe.
6. Helsinki, Finland
The Finnish capital city of Helsinki is situated on a picturesque peninsula in the Gulf of Finland. The city's central avenue is flanked by institutions that include the National Museum where visitors can learn about Finnish history. From the Helsinki Market Square, visitors can hop on a quick ferry ride to Suomenlinna, a sea fortress built to protect Helsinki from being captured by Russia.
Book a private jet to Helsinki to peruse the galleries, museums, and shops with locally made arts and crafts. At Helsinki's Market Square, you can taste the flavors of Finnish culture. The Old Market Hall building dates to 1889. Inside, you will find a variety of traditional foods to indulge in, including Finnish salmon soup.
7. Cairns, Australia
Cairns is a popular ecotourism destination. On land, visitors can explore the diversity of plants, trees, and wildlife that thrive in an Australian wet tropics rainforest at the Cairns Botanical Gardens. Highlights of this attraction include a rainforest boardwalk and a butterfly and Orchard house.
To explore marine diversity, snorkeling and diving expeditions on the Great Barrier reef can be arranged, whether you want to enjoy a day trip or an extended itinerary on a liveaboard boat. One of the most popular dive sites is Michaelmas Cay on the outer edge of the Great Barrier Reef where divers and snorkelers explore the colorful corals and abundant marine life of Hastings Reef.
In conclusion, whether you want to explore the diversity of life in coral reefs and rainforest ecosystems, the scenic beauty of Scandinavia, Denmark's Viking heritage, or you prefer to enjoy life at a slower pace on Portugal's coast, we can provide the perfect private jet to get you to your destination in comfort and style, from takeoff to touchdown.
Choosing a Jet for Your Private Charter to Your Favorite Destination
By choosing an on-demand private charter flight, you will have access to the most efficient and spacious jet for your itinerary.
A private jet to your favorite destination can be matched to suit almost any travel plan from short non-stop flights to long-range international trips. Private jet charters utilize heavy, super-midsize, midsize and light jets.
Heavy jets accommodate up to 19 passengers. This class of jet offers enhanced performance and cabin zones that maximize passenger comfort and privacy. Heavy jet options include the Gulfstream G550, Dassault Falcon 8x, and the Bombardier Global 6000. Heavy jets can accommodate long-range routes and include a full galley, flight attendant service, and an intuitive cabin management system.
Super midsize jets typically accommodate up to 9 passengers. Super midsize jet options include the Gulfstream G280, Bombardier Challenger 350, and the Dassault Falcon 50EX. Super midsize jets feature catering, digital entertainment, a full galley, and flight attendant service.
Midsize jets typically accommodate 5-7 passengers. Midsize jet options include the Hawker 800XP, the Cessna Citation Latitude, and the Embraer Legacy 500. Midsize jets include catering and digital entertainment. Midsize jets have a fast climb rate, extended ranges, and generous baggage capacity.
Light jets typically accommodate 6-8 passengers. Light jet options include the Cessna Citation CJ4, Learjet 75, and the Embraer Phenom 300. Light jets offer a cost-effective charter option configured for the value charter clients seek with a combination of speed, range, and passenger comfort.
A professional charter coordinator will ensure your privately chartered flight experience is flawless. To obtain a charter quote, please use our real-time quoting tool or call our experts 24/7 at 1-877-281-3051.