Monarch Air Group provides private air charter in Monteverde, Costa Rica. Our clients benefit from top-notch service, unrelenting dedication to safety, wide selection of aircraft, and years of experience in chartering private jets. To obtain a free quote, please use our online quoting tool provided below, or call toll-free 1-877-281-3051.
Charter a private jet to&from Monteverde
About Monteverde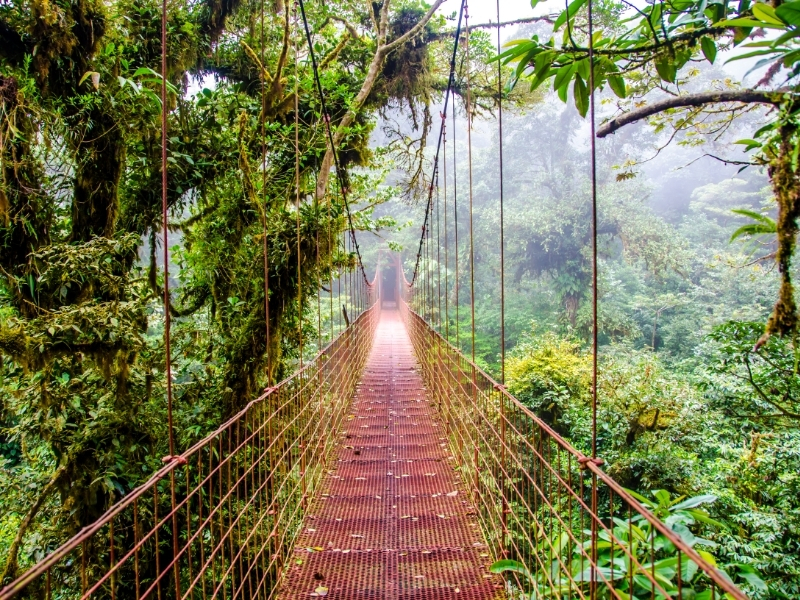 Monarch Air Group offers private jet charter services to and from Monteverde.
Monteverde is in the Cordillera de Tilarán mountain range of Costa Rica. Monteverde is one of Costa Rica's major ecotourism destinations.
Monteverde's attractions include the Monteverde Cloud Forest Biological Reserve. As you walk along the park's self-guided trails, keep an eye out for the elusive brightly plumed Quetzal. This bird was venerated by the ancient Aztecs and Maya whose leaders wore their feathers in ceremonial costumes. They believed the species was the "god of the air" and a symbol of goodness and light. Other attractions within the reserve include waterfalls, the continental divide, a hanging bridge and a diverse range of flora and fauna.
For adventurous leisure travelers, ziplining through the Cloud Forest is a thrilling experience. Selvatura Park includes several treetop walkways that crisscross the Monteverde Cloud Forest, with some up to 510 feet (170 meters) long and as high as 180 feet (60-meters). The zipline course includes with 12 cables, 18 platforms and a 'Tarzan Swing' for the most adventurous to experience.
Exploring the rainforests of Monteverde on horseback is another way to experience the tropical beauty and diversity of life that flourishes in Monteverde. With trips ranging from 2.5 hours to 8 days, there is plenty of time to take in Monteverde's everchanging landscapes that encompass ranches, coffee fields, winding trails through the Cloud Forest and the scenic Gulf of Nicoya.
The Monteverde Wildlife Refuge is an ideal location for birdwatching. The refuge is home to iconic species including the quetzal, hummingbirds, manakin, toucan and green parrots. Night hikes offer a unique way to enjoy the reserve's biodiversity. Other tours available at the reserve include a Natural History Tour that discusses different species that transit or live in the Monteverde Wildlife Refuge and the popular Birdwatching Tour where you can learn from an expert guide about the more than 400 species that fill the reserve with beautiful displays of color, movement and sound.
The nearest airport to Monteverde is Daniel Oduber Quirós International Airport (MRLB), also known as Liberia International Airport. The airport is 77 miles (124 km) from the town center of Monteverde. Empty legs and transient aircraft are very popular in the region.
Monteverde Map
Airports within 70 miles For Private Jets to Monteverde
1. LIR, Daniel Oduber Quirós International Airport, Liberia, Costa Rica
2. SJO, Juan Santamaría International Airport, San Jose, Costa Rica
3. MGA, Augusto Cesar Sandino International Airport, Managua, Nicaragua
4. BOC, Bocas del Toro Isla Colón International Airport, Bocas del Toro, Panama
5. TNO, Tamarindo Airport, Tamarindo, Costa Rica
6. NOB, Nosara Airport, Nosara, Costa Rica
7. FON, La Fortuna Airport, La Fortuna, Costa Rica
8. TMU, Tambor Airport, Tambor, Costa Rica
9. SJO, Juan Santamaría International Airport, San Jose, Costa Rica
10. SYQ, Tobías Bolaños International Airport, San Jose, Costa Rica