Monarch Air Group provides private air charter in Helsinki, Finland. Our clients benefit from top-notch service, unrelenting dedication to safety, wide selection of aircraft, and years of experience in chartering private jets. To obtain a free quote, please use our online quoting tool provided below, or call toll-free 1-877-281-3051.
Charter a private jet to&from Helsinki, Finland
Book a Private Jet Charter to Helsinki, Finland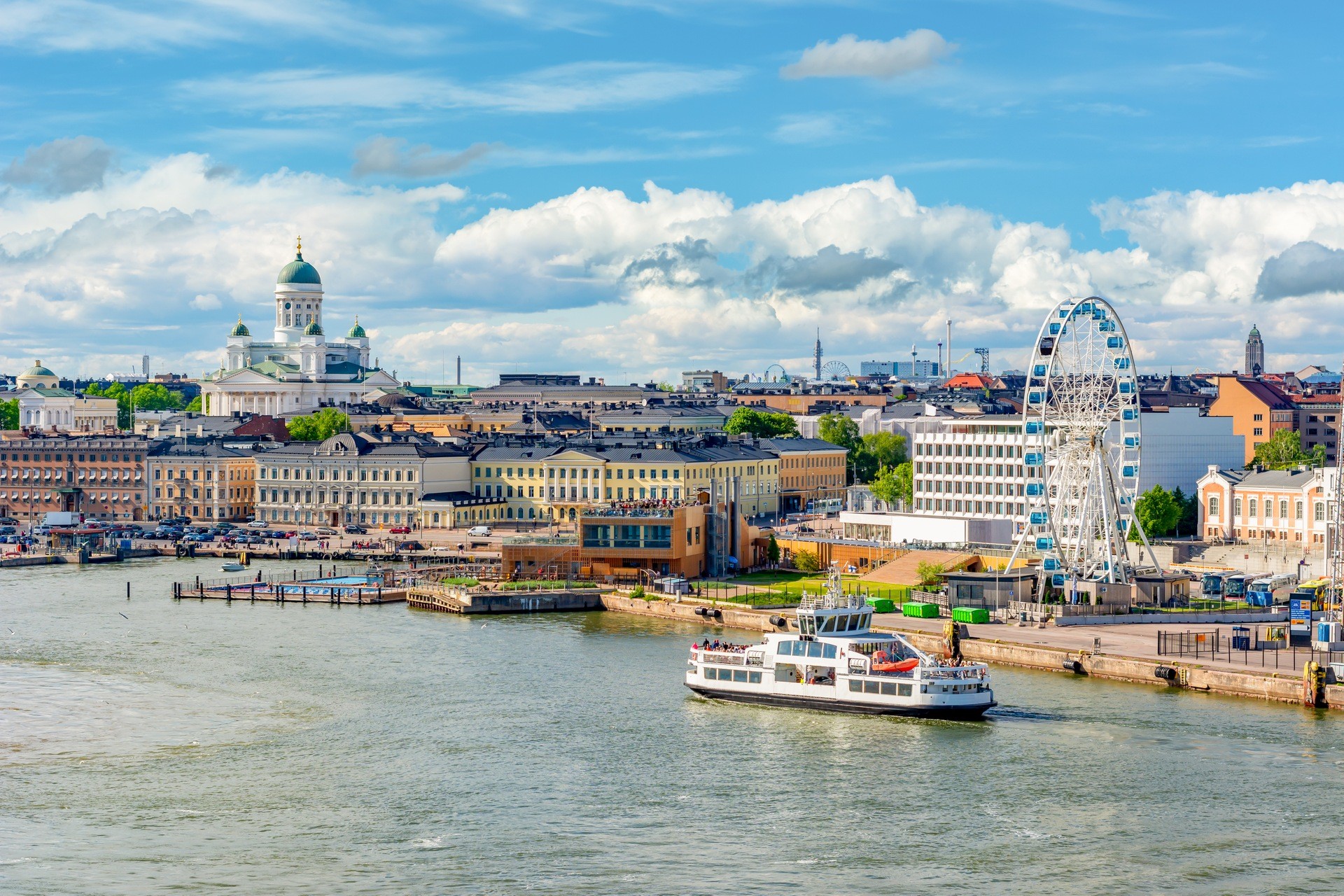 Monarch Air Group offers private jet charter services to and from Helsinki, Finland.
With over half a million population, Helsinki is Finland's modern, cosmopolitan capital. Once a tiny fishing town, a modern Helsinki was founded when Finland gained independence from Russia in 1917. Get started with a private flight to Helsinki, the youngest capital among all the Scandinavian countries. It is the country's foremost center of politics, finance, business, education, culture, and research.
Being the economic capital of Scandinavia, Helsinki is home to headquarters such as Nokia and Laponia Jewellery. Nicknamed the" Daughter of the Baltic", charter flight to Helsinki boasts clean, broad avenues lined with an eclectic mixture of architecture from neoclassical to art deco and contemporary designs.
The Helsinki air charter is enticing for its magnificent landscapes and architectural and cultural excellence. Moreover, the city's center possesses many interesting sights built by German-born architect Carl Engel.
Book a private jet charter to Helsinki to see the most popular tourist attractions, including the Uspenski Cathedral, the Market Square, the Suomenlinna Fortress, the Senate Square, the Temppeliaukio Church, the Sibelius Monument, the Seurasaari Open-Air Museum, and the National Museum of Finland. The beautiful city of Helsinki welcomes both business and leisure travelers from all over the world.
The Helsinki-Vantaa Airport (HEL, EFHK) is 10 miles from Helsinki. It is a public airport of international importance, which is the busiest in Finland and is perfect when you charter a private jet to Helsinki.
Helsinki Private Jet Airports
HEL, EFHK, Helsinki-Vantaa Airport
HEM, EFHF, Helsinki-Malmi Airport
FAQ for Private Jet Charter Flights to Helsinki
Why choose a private jet to Helsinki with Monarch Air Group?
The Monarch Air Group provides private jets to and from Helsinki, from heavy jets carrying hundreds of passengers from one continent to another to light jets for a quick domestic flight. We offer premium private jets in various sizes, serving destinations around the country and across the ocean. Our team will meet your Helsinki private jet charter needs and provide you with timely and professional advice. Call one of our agents for charter jet Helsinki rentals.
How much does it cost to book a Helsinki private jet charter?
There are several factors influencing the Helsinki private jet charter price. It includes the chosen aircraft's model, the itinerary's nature, how soon it can be booked, and the number of passengers. You can choose the flight time and get as close as possible to your final destination. If you cannot find information about the Helsinki private jet charter, you can contact our specialists. You can also use the private jet charter cost estimator to calculate the flight.
Here are some approximate prices for private flights to Helsinki:
Charter a Private Jet to Helsinki from London will cost from $18,430;
Charter Flights from Helsinki to Nice will cost from $17,670;
Private Flights to Helsinki from NYC will cost from $79,440;
*Estimated price before taxes & fees.
What types of private jets can use for Helsinki charter flights?
We can provide VIP jets, airliners, heavy, and light or turboprop aircraft, at a competitive price for Helsinki charter flights. As safety is our number one priority, we choose only qualified pilots and crew for you. The choice depends on the distance flown, the comfort level required, and the number of passengers.
| Aircraft type | Passengers | Non-stop range | Cruising speed | Intended use |
| --- | --- | --- | --- | --- |
| Light Jet | up to 6 passengers | about 700 – 2,000 miles | 476 to 518 mph | for comfortable short- to mid-range distances |
| Midsize Jet | up to 10 passengers | about 1,300 – 1,500 miles | 422 to 541 mph | to fly nonstop from coast to coast |
| Super midsize Jet | up to 10 passengers | about 3,500 – 4,000 miles | 490 to 590 mph | for longer flights |
| Heavy Jet | up to 18 passengers | about 6,000 miles | 480 to 551 mph | traveling overseas in luxury for an intercontinental flight |
| Turboprops | up to 10 passengers | about 600 – 1,900 miles | 220 to 360 mph | for short- to mid-range flights |
| Ultra-Long Range Jet | up to 19 passengers | about 2,800 – 7,685 miles | 460 to 594 mph | for long-haul travels |
| Helicopters | up to 28 passengers | about 250 – 600 miles | 150 to 175 mph | for passenger and cargo transportation |
What are the advantages of flying on a Helsinki private jet?
Renting a private jet has many advantages over commercial flights. You will not have to queue at check-in or fuss over security at the airport. Private jets are not tied to a specific route or airport, so you will fly straight to your destination. Furthermore, you can set your schedule or time of flight to best suit your private plane charter in Helsinki. Our expert is available for you 24/7 for all your travel needs.
Popular destinations near Helsinki by private jet
Tallinn – is on the shore of the Gulf of Finland, with exquisite architecture, great views, and lively nightlife.
Levi – is great for outdoor lovers, with miles of trails for skiing and snowboarding.
Tampere – is incredibly popular for outdoor activities like skiing and hockey.
Turku – is Finland's oldest city, with many historical sites and cultural monuments.
Our clients travel on efficient and comfortable private jets. If you haven't found the answers to all your questions here, you can contact our experienced and reliable team at any time or visit our air charter FAQ page.