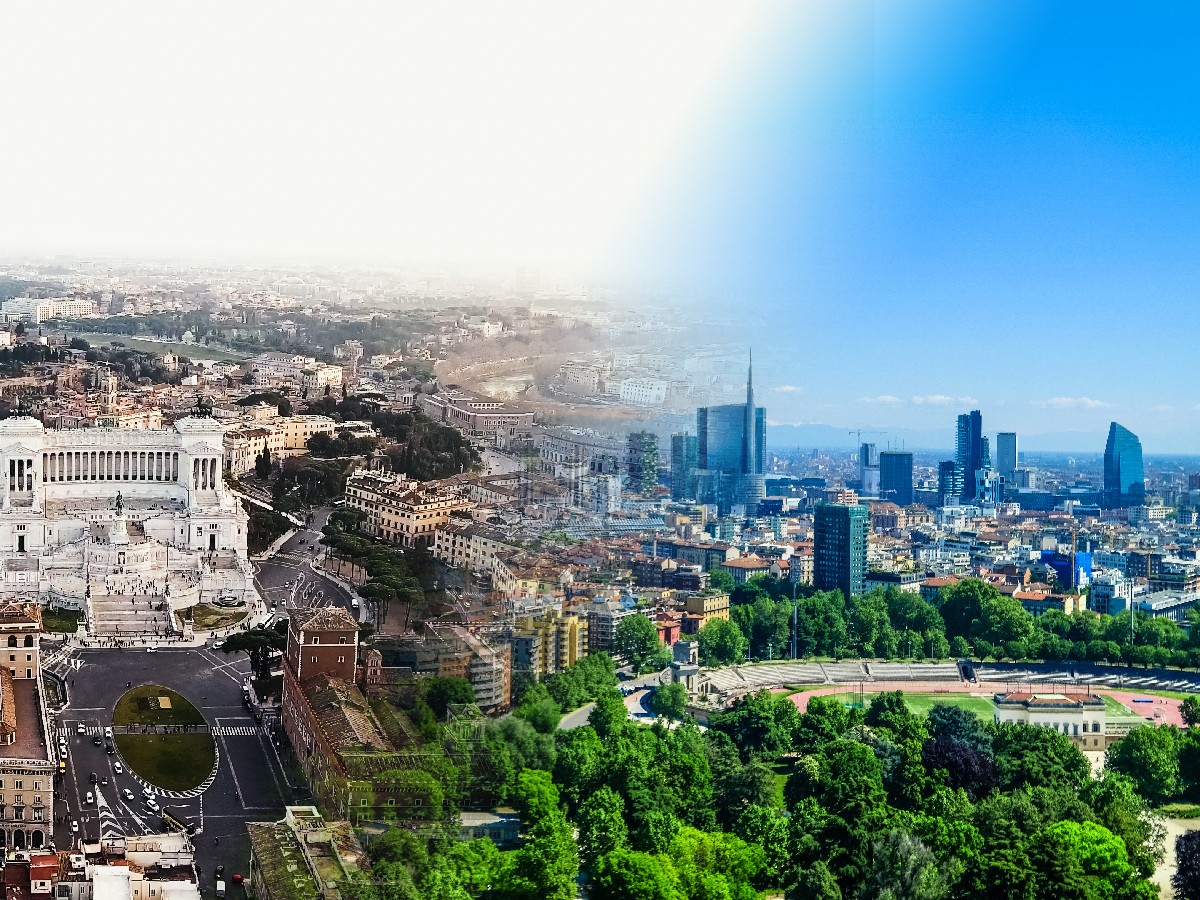 Monarch Air Groups provides on-demand private air charters from Rome to Milan.
For centuries, Milan has been a center for Europe's influential artists. A blend of history and modernism are reflected in Milan's skyline. Milan is known for its prominence in the fashion industry and as a global financial hub. Milan hosts Italy's stock exchange and serves as headquarters for several Fortune 500 companies. Milan also houses some of the most important art collections in the world in its museums and art galleries, including major works by Leonardo da Vinci.
Charter a private jet Rome to/from Milan
15 Popular Attractions in Milan:
Castello Sforzesco

Cimitero Monumentale

Galleria Vittorio Emanuele II: Luxury Shops and Elegant Cafés

Il Duomo (Milan Cathedral)

Leonardo da Vinci National Museum of Science and Technology

Leonardo da Vinci's Last Supper

Museo Bagatti Valsecchi 

Naviglio

Opera at Teatro alla Scala

Pinacoteca di Brera

Poldi-Pezzoli Museum

Sant'Ambrogio

Santa Maria Presso San Satiro

San Maurizio and the Archaeology Museum

Sant' Eustorgio

Three Unique Ways to Experience Milan
Leonardo's Horse – Il Cavallo dello Sforza
In 1482, Leonardo Da Vinci was challenged by the Duke of Milan to build a formidable equestrian statue to honor his father, Francesco. Da Vinci accepted the challenge and presented the Duke with a clay model for the sculpture. However, the sculpture wouldn't be cast for five centuries. The 80 tons of bronze set aside for the sculpture was sold to make weapons for the Battle of Fornovo, one of many battles that would be fought in northern Italy. Da Vinci's original mold and sketches were lost, and the project was subsequently abandoned.
In 1965, Da Vinci's sketches were found in the Biblioteca Nationale in Madrid. Twelve years later, a retired airline pilot and amateur artist Charles Dent read about the story and decided to help organize the completion of Da Vinci's sculpture. Sculptor Nina Akamu explains her approach to realizing Da Vinci's vision, "The sculpture which I created for Leonardo da Vinci's Horse pays homage to the creative genius of Leonardo. It is not intended to be a recreation of his sculpture. However, it has been significantly influenced by certain works of art and writings from that period, and specifically Leonardo's notebooks and accompanying drawings with great emphasis on his involvement with the Sforza monument."
Location:
20148 Milan
Metropolitan City of Milan
Italy
Lucrezia Borgia's Love Letters
Lucrezia Borgia met the poet Pietro Bembo in 1502. At age 22, she was already famous for being the illegitimate daughter of Rodrigo Borgia (better known as Pope Alexander VI), and sister to Cesar, a Politian and condottiero. She traveled to the Northern Italian city of Ferrara for her third arranged marriage, in the relatively recent wake of the highly suspicious death of her second husband. It was then she began a relationship with the poet, who was employed at her new husband's estate. Written over sixteen years, her letters professed a deep, intimate bond with the poet. Lucrezia's letters were collected and translated in a book, named for Lord Byron's description of them as "the prettiest love letters in the world." You can see the original letters at the Biblioteca Ambrosiana in Milan.
Location:
Biblioteca Ambrosiana
Piazza Pio XI, 2
Milan, 20123
Italy
Bosco Verticale, or "vertical forest"
The most famous tower in Milan's skyline is its Bosco Verticale or "vertical forest". Two 27-story residential towers with cantilevered balconies and 900 trees and 2,000 shrubs and bushes make up the famous vertical forest.
Architect Stefano Boeri describes the towers as "a model for a sustainable residential building, a project for metropolitan reforestation that contributes to the regeneration of the environment and urban biodiversity."
The design provides residents with cool shade in the summer and filtered sunlight in winter months. The towers also promote clean air and less noise pollution by being off the grid with solar panels and a gray water recycling and irrigation system.
Location: 
Biblioteca Ambrosiana
Piazza Pio XI, 2
Milan, 20123
Italy
What Airport Should I Use for My Private Charter Flight from Rome to Milan?
When booking a private air charter service from Rome to Milan, three airports serve the city.
Milan Malpensa Airport (LIMC) is the largest international airport in Milan, serving more than 15 million people each year. The airport is 31 miles (50 km) from Milan.
Milan Linate Airport (LIML) is 23 miles (9.9 km) from the city.
Milan Bergamo Airport (BGY) is also known as Orio al Serio Airport. The airport serves the Milan metropolitan region and is located near the town of Bergamo, 32 miles (517 km) from Milan.
What type of aircraft should I use for my private charter flight?
A private jet can be matched to suit almost any travel plan. Depending on your charter requirements, private flights between Milan and Rome typically use super midsize, midsize or light jets. These jets are designed to maximize fuel efficiency, passenger comfort and versatility.
Super Midsize jets for the route from Rome to Milan includethe Bombardier Challenger 350, Cessna Citation Sovereign and the Hawker 1000. Super midsize jets typically transport a maximum of 9 passengers and feature a stand-up cabin with flat floors, versatile seating configurations and generous luggage space.
The Bombardier Challenger 350 design aesthetics provide passengers with a superior private flying experience. With a top speed of 515 mph, the Challenger 350 is an efficient jet with a baggage capacity of 106 cubic feet.
Charter clients frequently select the Cessna Citation Sovereign because of the jet's versatile, comfortable seating and capability to fly at Mach .75 while delivering a smooth ride. The jet can accommodate up to 135 cubic feet of baggage.
The Hawker 1000 is popular amongst private jet charter clients for its quiet, comfortable cabin and baggage capacity of 100 cubic feet.
Super midsize jets typically include a full galley, catering and flight attendant service.
Midsize jets includethe Hawker 850XP, Citation XLS+ and the Learjet 60XR.
The Hawker 850XP features digital entertainment, a galley and Wi-Fi for in-flight entertainment. The jet has a fast climb rate, a range of 2,642 nautical miles and a baggage capacity of 49 cubic feet.
The Citation XLS+ has one of the shortest takeoff capabilities of any jet in the midsize class and can climb to cruise altitude in under 15 minutes. Carrying up to nine passengers comfortably, the XLS+ has a baggage capacity of 79 cubic feet.
Private jet clients select the Learjet 60XR for its high performance and comfortable cabin. This powerful jet can climb at 6,000 feet per minute with a maximum cruise speed of 513 mph. The 60XR has a range of 2,691 miles and a baggage capacity of 48 cubic feet.
Midsize jets typically seat up to 9 passengers and include catering and flight attendant service.
Light jet options include the Cessna Citation M2, the Learjet 75 and the Phenom 100. Light jets offer a cost-effective charter option configured for speed and efficiency.
The M2 features include warm LED lighting throughout the cabin and a top speed of 404 knots. The M2 has a maximum range of 1,550 nautical miles and a baggage capacity of 46 cubic feet.
The Learjet 75 is configured for speed, utility and comfort with a top speed of Mach 0.80 and a range of more than 2,040 miles. A state-of-the-art cabin entertainment management system includes six personal touch-screen monitors that can be stowed or deployed as needed. The Learjet 75 has a baggage capacity of 50 cubic feet.
The Embraer Phenom 100 has an aesthetically pleasing cabin design and comfortable seating for conversation or relaxation. The Phenom 100 has a generous baggage capacity of 70 cubic feet.
Light jets can seat up to 10 passengers and typically include digital entertainment, a galley and Wi-Fi for in-flight entertainment.
Airport Distances and Flight Times
Private Jet from Leonardo da Vinci-Fiumicino Airport (LIRF) to Milan
Destination Airport
Airport Code
Distance (Nautical Miles)
Miles
Estimated Flight Time
Super Midsize
Midsize
Light
Milan Malpensa Airport
LIMC
276
317
1 hr
6 min
57 min
57 min
Milan Linate Airport
LIML
254
292
1 hr
2 min
54 min
54 min
Milan Bergamo Airport
LIME
254
292
1 hr
2 min
54 min
54 min
Private Jet from Ciampino–G. B. Pastine International Airport (LIRA) to Milan
Destination Airport
Airport Code
Distance (Nautical Miles)
Miles
Estimated Flight Time
Super Midsize
Midsize
Light
Milan Malpensa Airport
LIMC
285
328
1 hr
8 min
59 min
59 min
Milan Linate Airport
LIML
262
302
1 hr
4 min
55 min
55 min
Milan Bergamo Airport
LIME
264
304
1 hr
4 min
56 min
56 min
Distances and flight times shown in the charts above should be considered as estimates only. One (1) nautical mile is equal to 1.1508 statute miles.
Whether you visit Milan for business or pleasure, you'll come away from your trip impressed by this fashionable city's blend of rich history and modernity. Milan has the second largest economy in Italy and is home to several Fortune 500 companies. No matter which sites you choose to visit, you'll find yourself quickly immersed in the intriguing story of this cultural capital.