Monarch Air Group provides private air charter in Rome, Italy. Our clients benefit from top-notch service, unrelenting dedication to safety, wide selection of aircraft, and years of experience in chartering private jets. To obtain a free quote, please use our online quoting tool provided below, or call toll-free 1-877-281-3051.
Charter a private jet to&from Rome, Italy
Private Jet Charter to and from Rome, Italy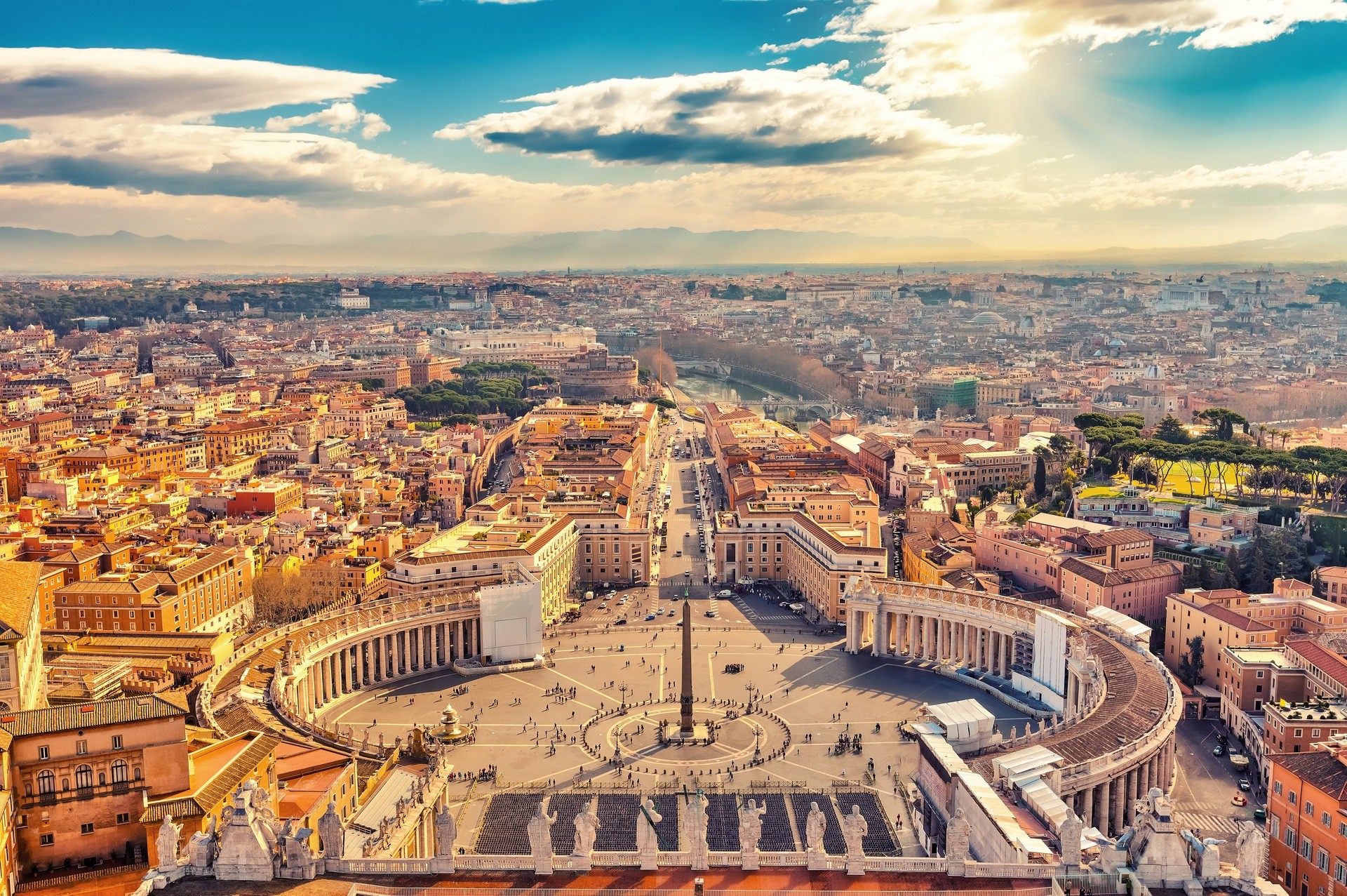 Monarch Air Group offers private jet charter services to and from Rome, Italy.
Rome is the capital of Italy and the capital of Lazio. It is located on the Tiber River, about 26 kilometers inland. Commonly referred to as "The Eternal City," it is over 2,000 years old and brimming with a powerful spiritual presence and a lively culture. The Colosseum, the Patheon, the Forum, and the Sistine Chapel, where Michelangelo painted the famous hand of God, continue to emanate a powerful presence and define a portion of the city's personality. From exploring the ancient ruins to indulging in delicious Italian cuisine, there is abundant things to do with Rome private jet charter.
Once you've chartered a private jet to Rome, see the Colosseum, one of the Seven Wonders of the World and the oldest amphitheater in existence. It is better to choose evening tours if you wish to take a tour because the Colosseum looks more regal under the lights. In addition, make a wish by tossing a coin into the Trevi Fountain. Don't forget to toss it over your left shoulder.
When booking a private jet to Rome, explore the Pantheon, an ancient temple that was built in the 2nd century AD. It is now one of the best-preserved monuments in Rome and is home to the tombs of some of Rome's most famous figures. Take some time to explore the Pantheon and admire its impressive architecture.
Another impressive location to explore with a private jet to Rome is the Roman Forum, an archaeological complex in the heart of the city. It was once the center of the Roman Empire, and is now home to the remains of temples, monuments and other ancient buildings. Take a stroll through the Forum and you'll feel like you have stepped back in time.
Leonardo da Vinci-Fiumicino Airport (FCO) is Rome's primary airport, located approximately 21 miles southwest of the city center. It has a dedicated terminal for private jets called the "General Aviation Terminal," which offers exclusive services and facilities for private jet passengers.
Rome Private Jet Rental Cost
Depending on aircraft size and type, trip duration, and other factors, the price of renting a private jet to go to Rome might vary significantly. For example, the cost of renting a super-midsize, such as a Citation Latitude, from New York to Rome for a one-way trip can start from around 114,100 USD. For a heavy jet, such as a Falcon 2000LXS cost can range from 146,100 USD for a one-way trip.
Private Jet Airports near Rome
CIA, Ciampino, Rome, Italy.
FCO, Leonardo da Vinci International (Fiumicino), Rome, Italy.
XRJ, Termini Rail Stn., Rome, Italy.
XVY, Mestre Rail Stn., Rome, Italy.
Hotels in Rome
Hotel Piazza di Spagna Rome, Via Mario de' Fiori, 61, Rome.
Kolbe Hotel Rome, Via di San Teodoro, 48, Rome.
Best Western Hotel President, Via Emanuele Filiberto, 173, Roma (Lazio).
Hotel Raphael, Largo Febo, 2, Roma.
Una Hotel Roma, Via Giovanni Amendola, 57, Rome.
Palazzo Manfredi, Via Labicana, 125, Rome.
Hotel Piazza di Spagna Rome, Via Mario de' Fiori, 61, Rome.
Radisson BLU es. Hotel, Rome, Via Filippo Turati, 171, Roma.
Eurostars International Palace, Via Nazionale, 46, Rome.
Hotel Piazza Venezia, Via Cesare Battisti, 133, Rome.
FAQs: Private Jet Flight to Rome
Why Choose a Private Jet to Rome with Monarch Air Group?
Your security, comfort, and safety are top priorities when renting a private aircraft to Rome, choosing Monarch Air Group. Our exquisite flights are made to meet your individual demands with privacy and time-saving features.
How Much Does it Cost to Charter a Private Jet to Rome?
Private jet rental costs to Rome vary depending on a variety of factors, including the type of aircraft, the flight path, and the location. The price of a flight hour might range from $2,000 to $17,000.
What Types of the Private Jets Can use for Rome?
Monarch Air Group chooses the best private aircraft based on the number of passengers, the length of the flight, and the needed on-board facilities. In order to provide you with the finest aircraft and service for your charter flight to Rome, please include as much information as you can.
What Are the Benefits of Flying a Rome Private Jet?
Private jet charters to Rome have a number of benefits over standard travel. Based on your particular needs, finances, and timetable, our respected private jet rental company provides quick, adaptable, and economical travel solutions.
Is It Possible to Travel with Pets to Rome on a Private Jet?
You can book a private flight to Rome with your pet, but only after contacting us and researching the city's policies on allowing animals in. Depending on the size of your pet, you might need to reserve a larger aircraft to guarantee their safety and comfort throughout the voyage.
Popular Destinations near Rome by Private Jet
Florence: Florence is a lovely city in Tuscany famed for its breathtaking architecture, world-class museums, and delectable cuisine.
Venice is a one-of-a-kind city constructed on a network of canals that is recognized for its art, architecture, and history. You can fly directly to Venice Marco Polo Airport on a private jet.
Tuscany is a central Italian area known for its undulating hills, attractive vineyards, and charming ancient villages.
Milan is a stylish northern Italian city noted for its high-end shopping, world-class museums, and breathtaking architecture.
Our customers fly in opulent, contemporary private planes. Please get in touch with our helpful and experienced team at any time if you need help finding the answers to your questions on our page of frequently asked questions about air charter.