Monarch Air Group provides private air charter in Iowa. Our clients benefit from top-notch service, unrelenting dedication to safety, wide selection of aircraft, and years of experience in chartering private jets. To obtain a free quote, please use our online quoting tool provided below, or call toll-free 1-877-281-3051.
Charter a private jet in Iowa
About Iowa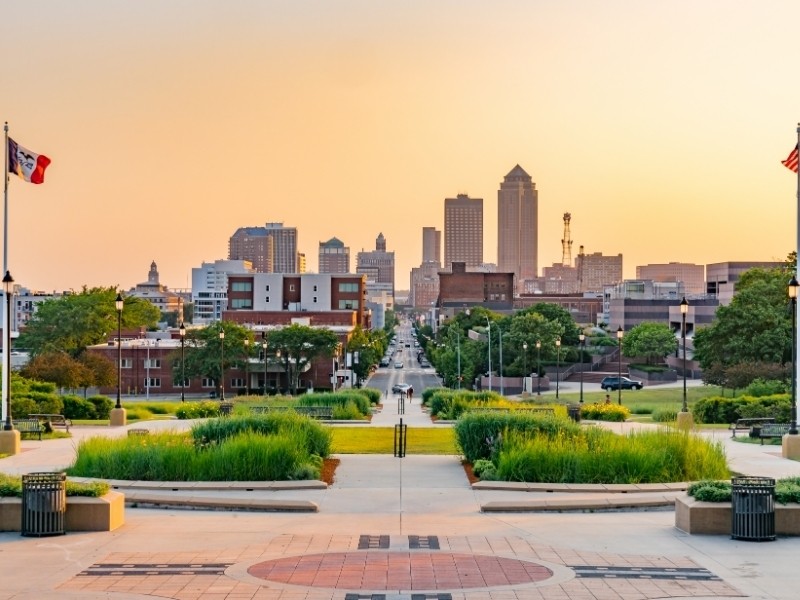 Monarch Air Group offers private jet charter services to and from Iowa.
Iowa is a vast American state in the western part of the country. Also, Iowa is a prominent industrial and economic center. It has earned the position of the safest region.
The capital of Iowa is Des Moines. It is here that the brightest festivals, for which the state is famous, take place. A nationally important event is the fair, which lasts for ten days in August, during the daytime, Des Moines is decorated with various entertainment venues and trading rows, and in the evening – with beer stalls and music scenes. Iowa has its chapter of natural attractions.
There are many nature preserves and national parks in the state, of which De Soto deserves first place on the list of destinations. Visit this protected area located by the Missouri River, and more than thirty different species of birds and mammals can be found in De Soto. Effigy Mounds are the largest surviving American mounds. They were constructed by the original inhabitants of present-day United States territory, and several groups of such hills can be found throughout the country.
The next prominent landmark is the Iowa Capitol. It is the finest example of architectural craftsmanship of its time and was built in the second half of the nineteenth century and.
The Des Moines Art Center offers viewing of paintings, sculptures, and other art from the nineteenth and twentieth centuries. The Historical Museum is a great place to explore Iowa's past.
Popular Private Jet Destinations in Iowa
Iowa map