Monarch Air Group provides private air charter in Farnborough, UK. Our clients benefit from top-notch service, unrelenting dedication to safety, wide selection of aircraft, and years of experience in chartering private jets. To obtain a free quote, please use our online quoting tool provided below, or call toll-free 1-877-281-3051.
Charter a private jet to Farnborough, UK
Book a Private Jet Charter to and from Farnborough, UK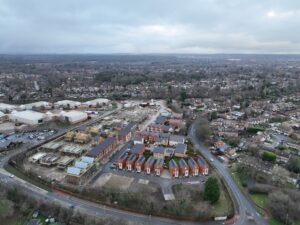 Monarch Air Group provides private jet charter flights in and out of Farnborough, UK.
Farnborough is a town in the county of Hampshire in the southern part of England in the United Kingdom. Located nearby Aldershot, the home to the British army, Farnborough is internationally known for its airfield, site until recently of the Royal Aircraft Establishment, and for hosting the biennial Farnborough International Airshow. This event is held at the famous Farnborough Aerodrome and has a combination of civil and military aircraft displaying historic and modern day technology.
There is the Farnborough Air Sciences Trust with the FAST Museum, the conservation and heritage group dedicated to safeguarding Farnborough's aviation history. The most popular tourist attraction is Saint Michael's Abbey – a contemplative monastery of monks of the Benedictine Order. There is the Parish Church of Saint Peter, which is believed to house the remains of many of the Earls of Anglesey and eight of their relatives. The Pelly Concert Orchestra gives four or five concerts a year, with over 40 experienced players of all ages.
Farnborough Airports are within 70 miles
EGLF, FAB, Farnborough Airport, Farnborough, United Kingdom
EGLK, BBS, Blackbushe Airport, Blackbushe, United Kingdom
EGVO, ODH, Odiham Airport, Farnborough, United Kingdom
EGHL, QLA, Lasham Airport, Lasham, United Kingdom
EGLL, LHR, Heathrow Airport, London, United Kingdom
EGLD, Denham Aerodrome, Denham, United Kingdom
EGWU, NHT, Northolt Airport, Northolt, United Kingdom
EGKK, LGW, Gatwick Airport, London, United Kingdom
EGUB, BEX, Benson Airport, Benson, United Kingdom
FAQ for a private flight to Farnborough
Why choose a charter jet to Farnborough with Monarch Air Group?
Our company offers a full range of services to organize and carry out Farnborough private jet charter. We guarantee the possibility of urgent organization of the flight regardless of the time of day. Our experienced specialists will choose the most suitable business jet model for you and plan the time and the route of the flight taking into account your wishes. Just call one of our agents to book your charter jet to Farnborough.
How much does it cost to book a Farnborough private jet charter?
The cost of a Farnborough private jet varies depending on the type of aircraft, the distance flown, and the number of passengers. These and many other factors increase the cost of a private jet charter. All you have to do is contact us, by any means convenient to you, and in a short time, you will receive complete information on the cost of air charter Farnborough. In addition, on the website, you will find a charter flight cost calculator, for an approximate estimate of the cost of the flight.
Here are some approximate prices for private flights in Farnborough:
Charter a Private Jet from Farnborough to Nice: turboprop – starting at $ 10,420;
Charter Flights from Farnborough to Paris: piston – starting at $ 5,180;
Private Charter Flights from Farnborough to Cannes: light jet – starting at $ 13,750.
What types of private jets can use for private charter flights to Farnborough?
Aircraft for air charter service Farnborough are selected according to customer requirements. We will choose the fastest and most comfortable route for you to fly, as well as a suitable model of a business jet in the appropriate class. To learn more about the aircraft you are interested in, please submit the flight request form, or call our agents 24/7 at 1-877-281-3051. Our company will provide a comfortable flight under the best conditions.
| Aircraft type | Passengers | Non-stop range | Cruising speed | Intended use |
| --- | --- | --- | --- | --- |
| Light Jet | up to 6 passengers | about 700 – 2000 miles | 476 to 518 mph | for comfortable short- to mid-range distances |
| Midsize Jet | up to 10 passengers | about 1300 – 1500 miles | 422 to 541 mph | to fly nonstop from coast to coast |
| Super midsize Jet | up to 10 passengers | about 3.500 – 4.000 miles | 490 to 590 mph | for longer flights |
| Heavy Jet | up to 18 passengers | about 6.000 miles | 480 to 551 mph | traveling overseas in luxury for an intercontinental flight |
| Turboprops | up to 10 passengers | about 600 – 1.900 miles | 220 to 360  mph | for short- to mid-range flights |
| Ultra-Long Range Jet | up to 19 passengers | about 2,800 – 7,685 miles | 460 to 594 mph | for long-haul travels |
| Helicopters | up to 28 passengers | about 250 – 600 miles | 150 to 175 mph | for passenger and cargo transportation |
What are the advantages of flying on a Farnborough private jet?
Chartering a private jet has some undeniable advantages over commercial flights. Exquisite comfortable seats provide the most comfortable flight, and thanks to the multifunctional design of the business jet cabin you can hold a group charter flight or a business meeting in the air. The company's specialists have many years of experience in organizing private plane charters to Farnborough, so they are ready to handle any issue. On request, we can also book a hotel at your destination and arrange your transportation to it.
Popular Destinations near Farnborough by private jet
Winchester – is a popular private jet charter destination in Europe and one of England's most beautiful and historic cities.
Brighton – is also a well-known resort town on the south coast of England, with a unique cultural life, numerous festivals, and a wide range of tourist attractions.
Oxford – is a city near London, with a fascinating history, picturesque surroundings, and a rich culture that attracts more than four million visitors each year.
London – is a fascinating city, ranked among the greatest cities in the world, and has always been one of the most popular tourist destinations in the world.
Birmingham – has many interesting areas to visit, including an important economic, commercial center, and high-tech sector.
Our clients travel on efficient and comfortable private jets. If you haven't found the answers to all your questions here, you can contact our experienced and reliable team at any time or visit our air charter FAQ page.