Monarch Air Group provides private air charter in Oxford, United Kingdom. Our clients benefit from top-notch service, unrelenting dedication to safety, wide selection of aircraft, and years of experience in chartering private jets. To obtain a free quote, please use our online quoting tool provided below, or call toll-free 1-877-281-3051.
Charter a private jet in Oxford, United Kingdom
About Oxford, UK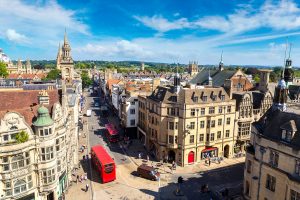 Monarch Air Group offers private jet charter services to and from Oxford, UK.
Located on the River Thames about 90 km to the northwest of the capital city London, Oxford is the academic town and the county seat of the county of Oxfordshire, England. It became an important center of learning by the beginning of the 12th century and developed in the 20th century as a center of the steel products and automobile manufacturing industries.
Oxford is home to the oldest university in England, the University of Oxford that has attracted students worldwide. Often called "The City of Dreaming Spires", Oxford is a city with rich culture, fascinating history, picturesque surroundings, stunning attractions, and highly regarded universities in the world.
The most popular tourist attractions include the Sheldonian Theatre, the Ashmolean Museum, the Bodleian Library, the Botanic Garden, the Hertford Bridge, the Carfax Tower, Christ Church Cathedral, the Tom Tower, and the Radcliffe Camera. The beautiful, vibrant, and historic town of Oxford boasts wonderful parks, landscaped gardens and a scenic canal, with several popular punting stations, and attracts over 4 million of visitors each year.
Oxford is served by London Oxford Airport (OXF/EGTK – Kidlington), London Heathrow Airport, London Gatwick Airport, and Birmingham Airport.
Oxford Airports within 70 miles
1. ABB, RAF Station, Abingdon, United Kingdom
2. ADV, Andover, Andover, United Kingdom
3. AYH, RAF Station, Alconbury, United Kingdom
4. BBS, Blackbushe, Yateley, United Kingdom
5. BEX, RAF Station, Benson, United Kingdom
6. BHX, Birmingham International Airport, Birmingham, United Kingdom
7. BQH, London Biggin Hill, Biggin Hill, United Kingdom
8. BRS, Bristol, Bristol, United Kingdom
9. BZZ, Raf Brize Norton, Oxford, United Kingdom
10. CBG, Cambridge, Cambridge, United Kingdom
11. CVT, West Midlands International, Coventry, United Kingdom
12. EWY, Greenham RAF, Newbury, United Kingdom
13. FAB, Farnborough, Farnborough, United Kingdom
14. FFD, RAF Station, Fairford, United Kingdom
15. FZO, Filton, Bristol, United Kingdom
16. GLO, Gloucestershire, Gloucester, United Kingdom
17. GUN, Gunter AFB, Montgomery, United Kingdom
18. GXH, NAF, Mildenhall, United Kingdom
19. HEN, Hendon, Hendon, United Kingdom
20. HTF, Hatfield, Hatfield, United Kingdom
Hotels in Oxford
1. Malmaison Oxford, Oxford Castle, 3 New Road, Oxford
2. Old Bank Hotel, 92-94 High Street, Oxford
3. Ethos Hotel, 59 Western Road, Grandpont, Oxford
4. Mercure Oxford Eastgate Hotel, 73 High Street, Oxford
5. Royal Oxford Hotel, Park End Street, Oxford
6. Vanbrugh House Hotel, 20 – 24 Saint Michael's Street, Oxford
7. Cotswold Lodge Hotel, 66A Banbury Road, Oxford
8. Bath Place Hotel, 4-5 Holywell Street, Oxford
9. Old Parsonage Hotel, 1 Banbury Road, Oxford
10. Oxford Spires Four Pillars Hotel, Abingdon Road, Oxford
11. The Galaxie Hotel, 180 Banbury Road, Oxford
12. Remont Oxford Hotel, 367 Banbury Road, Oxford
13. Hawkwell House Hotel Oxford by Compass Hospitality, Church Way