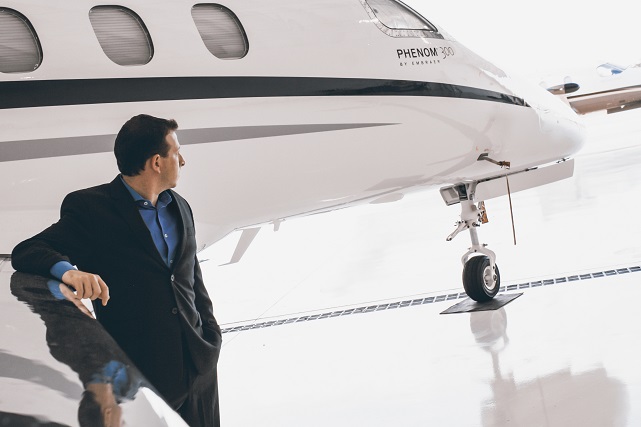 Business aviation stands out for its flexibility, especially when compared to commercial air transportation. But there are two types of services provided within the same market, those who operate their own fleet and the other group that provides a larger pool of aircraft, almost unlimited, but does not directly operate the airplane or helicopter. Who has the edge? Well, it depends… although if flexibility is what you're looking for, then brokers lead the airway.
Whatever the case, your next private jet flight will be aboard the aircraft of a private operator. Brokers quote flights from operators in order to provide the best available option in the market for their clients, locating the exact type of jet needed by the passenger, at the exact hour and date. This capacity is sometimes not possible for an operator, which can have all its fleet airborne without any availability during a certain day, thus not being able to provide its service.
Charter broker aircraft pool
Another aspect that tends to favor charter brokers is not being limited to a fixed fleet. Monarch Air Group, a broker located in Fort Lauderdale, thinks this point is arguably the most important added value they bring to the market. "Not only where you want to go, but how.
With the needed guidance, the client can fully tailor their next trip by choosing from an almost infinite pool of aircraft, always having availability the day and time the passenger needs to travel," states David Gitman, Executive Director at Monarch.
A fixed fleet, in the long run, and if you fly a regular number of hours annually (100 – 150), will fail to deliver, especially if a specific operator uses its aircraft for other purposes as an air ambulance or cargo. Once the operator is fully booked, now you must invest time in quoting for another airplane and waiting for the confirmation and budget.
On the other hand, when quoting with a broker you will have several options at the same time, choosing the best aircraft depending on the travel needs. Further, charter brokers also have the expertise to find various one-way flights.
Flexibility and expertise
If you're new to the business, it's great to have the professional guidance of a team with knowledge in the industry. What jet can go the distance, with how many passengers on board and at what price, are too many questions when your real worry is getting there on time and closing a business deal.
Leave the logistics to the experts who have the knowledge and daily pulse of the worldwide movements within the industry. Especially if traveling to diverse regions in a country and you're not familiar with a certain local operator, leaving your next flight in the hands of a broker is the right business decision.
Another important aspect is that grant charter brokers with the edge are not committing with a membership card or fractional ownership type of deal. What if you want to change the contract? Should you be forced to fly the agreed 200 hours? Buying out of these deals may be costly as there are predefined costs for operators once yearly flight hours have been arranged (scheduled maintenance, full-time and part-time pilot assignments, within others).
Established in 2005, Monarch Air Group is a leading provider of the on-demand private jet charter, aircraft management, and long-term aircraft lease. Among Monarch's customers are Fortune 500 corporations, leading entrepreneurs, Government agencies and world-leading NGO's.