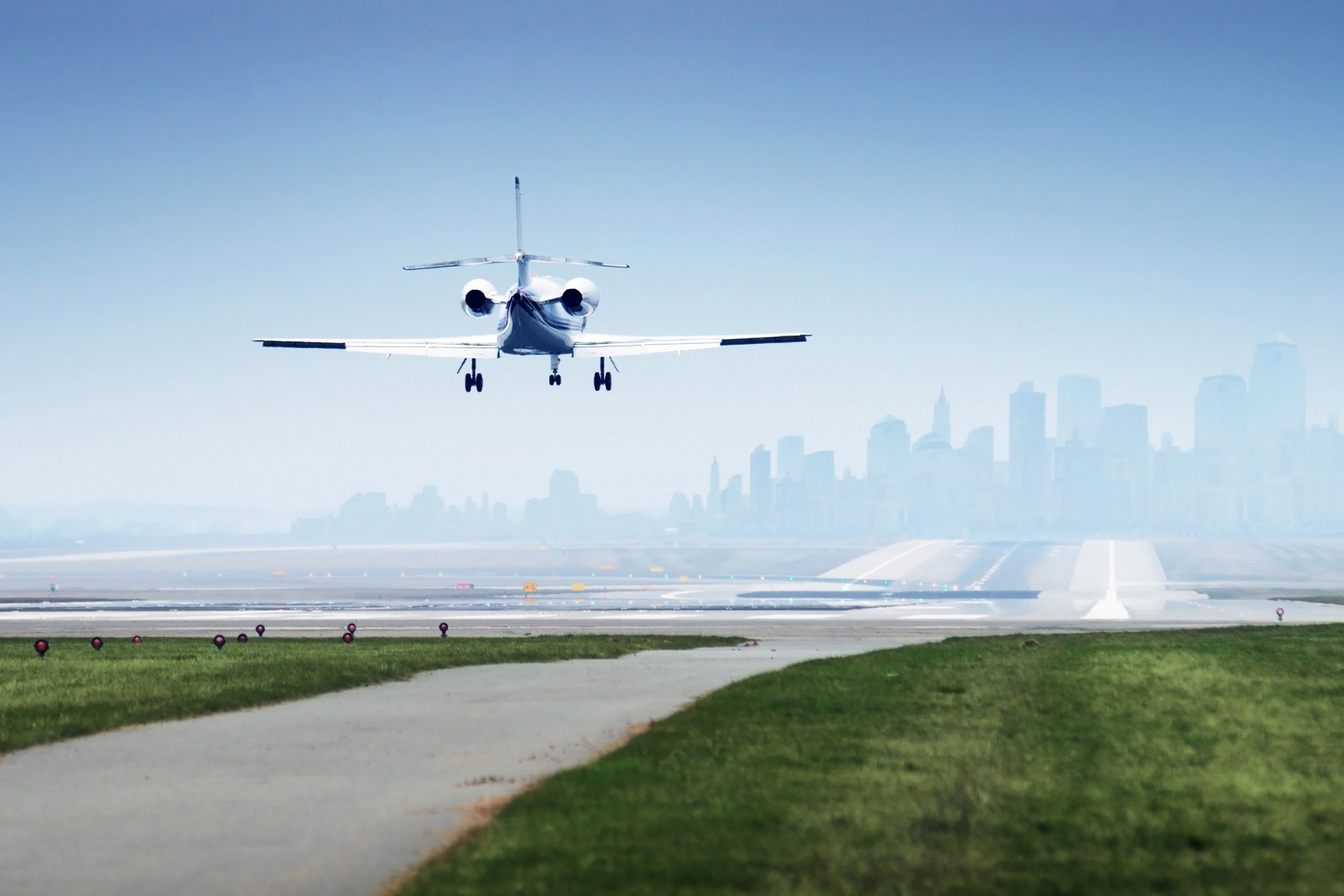 Many large companies and business class regularly use private flights to avoid wasting time waiting and making their flight in complete comfort. For VIP travelers interested in private jet charters to New York (NYC), it is helpful to know where private charters can land, as well as the best airports and terminals in New York.
If you are looking for private jet airports in New York, this article provides information on the top 7 famous private jet airports in NYC.
1. Westchester County Airport in White Plains (HPN, KHPN)
Westchester Airport, three miles from downtown White Plains, is the auxiliary airport for the Central New York region. It serves several neighboring counties, like Westchester County and Fairfield County. The 284-hectare facility houses two runways, an FBO commercial terminal, and a private jet terminal.
Additionally, Westchester County Airport provides aircraft refueling services, limousine transportation, and more for the convenience of VIP customers. HPN has remained one of the most popular among others for private charters for years.
2. Teterboro Airport in New Jersey (TEB, KTEB)
Teterboro Airport is a public airport 12 miles from Midtown Manhattan, New York, but is essential for serving private jets to and from New York. It has two asphalt-paved runways, perfectly equipped to accommodate private aircraft of various sizes up to 100,000 pounds (45 t).
TEB is 335 hectares and has about 19 hangars for rent, additional offices, a control tower, and retail space. In addition, there is the New Jersey Aviation Hall of Fame, with an extensive collection of aircraft and highlighting the achievements of the nation's pilots. Teterboro Airport is the oldest operating airport in New Jersey and offers international standards excellent service for private jet charters to New York (NYC).
3. Republic Long Island Executive Airport in East Farmingdale (FRG, KFRG)
Republic Airport is a regional public airport about a mile from downtown Farmingdale village in East Farmingdale, New York. The airport is classified as a general aviation facility but is also excellent for private jets. The 213-hectare facility has two asphalt-paved runways, a new two-story terminal building for private flights, as well as hangars for rentals, three FBO stations with a full range of ground services, and car rentals.
Besides that, Republic Long Island Executive Airport is home to the American Airpower Museum with World War II airplanes at the north end and several modern hotels like Towne Place Suites and Courtyard by Marriot with the necessary amenities. Furthermore, Bethpage State Park is a popular destination for golfers as it regularly hosts world-class tournaments a few miles from the airport.
4. Long Island MacArthur Airport in Ronkonkoma (ISP, KISP)
Long Island MacArthur Airport is a busy airport near downtown Ronkonkoma, New York. The airport serves Suffolk and Nassau counties and serves approximately two million airline passengers a year, including private jet charter customers to New York.
The 531-hectare facility houses two helipads and three well-surfaced runways. It is well known for its exemplary service and convenient hours and is a widespread option for private flights. Also, thanks to its proximity to the railroad station and highway, passengers can get to the city by cab or by using a shuttle service or car rental without any obstacles after landing.
5. John F Kennedy International Airport in Queens (JFK, KJFK)
New York John F Kennedy International Airport is the most congested international airspace in North America and is conveniently located near Queens. There are four runways, more than 2,500 meters long each, and six-passenger terminals to serve private jets without delays or queues.
JFK Airport ranks second in tourist satisfaction. The airport is conveniently located near hotels for every budget like the Crowne Plaza or Courtyard by Marriott and offers shuttle service or car rentals.
6. Newark Liberty International Airport in Newark (EWR, KEWR)
Newark Liberty International Airport, about three miles from downtown Newark, is a suitable choice for private jet charters to New York with an extensive list of services for VIP customers. The 820-hectare facility features three paved airstrips, a helipad, and three passenger terminals with all the amenities to accommodate private flights. In addition, not far from EWR, there is a train station, cab service, car rentals, and AirTrain between terminals.
7. LaGuardia Airport in East Elmhurst (LGA, KLGA)
LaGuardia Airport serves many international flights, is a hub, and is located near the heart of East Elmhurst, New York. The 280-hectare facility features two runways in excellent condition, capable of accommodating various sizes of private jets, making it the third busiest air gateway in the state's metropolitan area, as well as two heliports. In addition, LGA has world-class amenities, state-of-the-art security, and improved transportation accessibility, making it an excellent choice for private flights.
The airport's passenger terminal is divided into several buildings connected by buses and walkways and can handle about 8 million passengers per year with no delays. LaGuardia Airport also has FBO stations providing a full range of co-operations such as computerized weather, aircraft repair and refueling, and flight planning.
Multiplied airfields have landing options if you wish to use a private jet to/from New York. Each of them offers quality service and a convenient terminal for receiving private flights. The price for a private jet charter will depend on the type of aircraft, the date of departure, and the flight range.