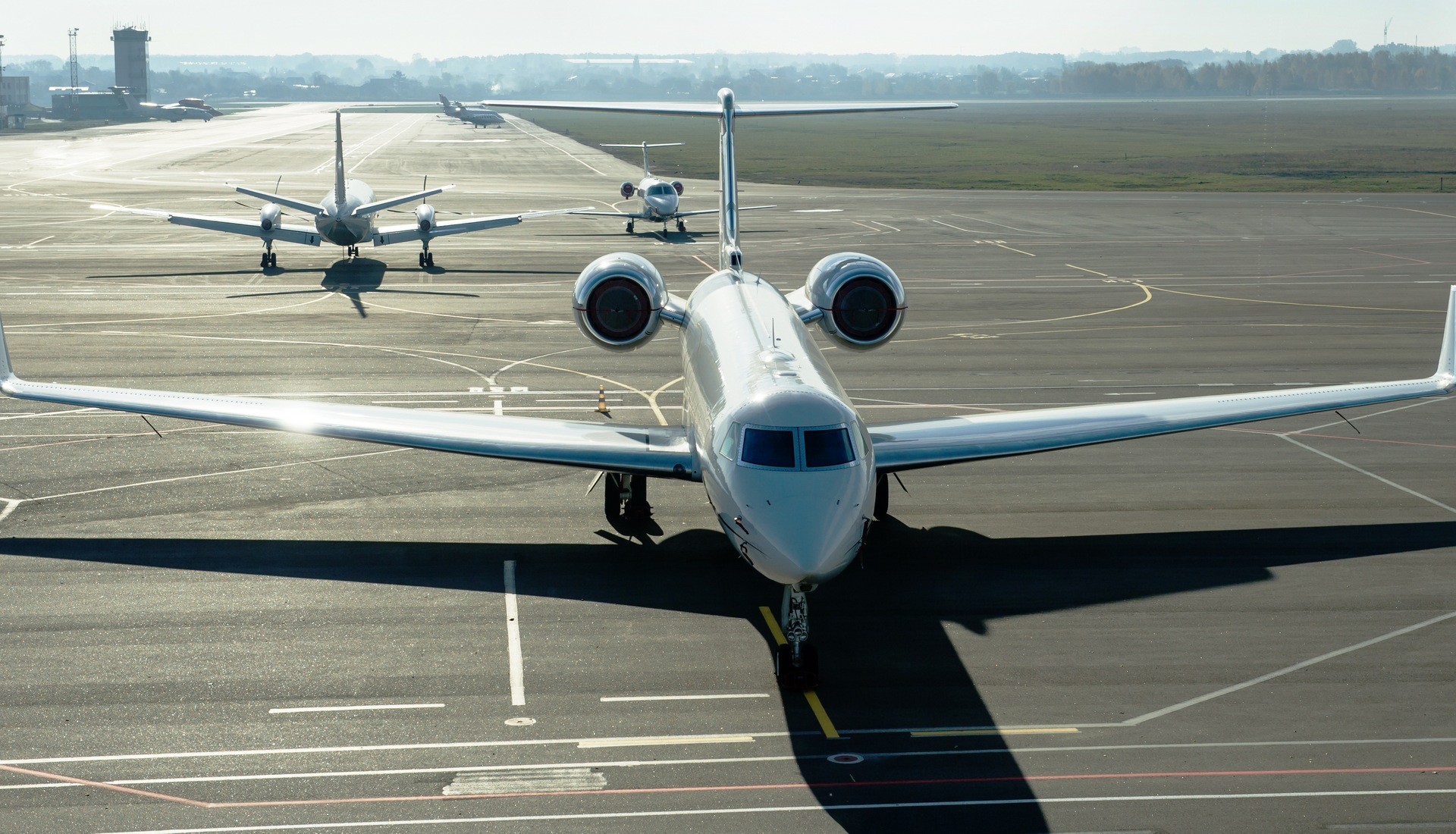 Los Angeles is considered one of America's best cities as a world-renowned business and entertainment epicenter, with multiple private airfields for fuss-free, queue-free boarding. Each airport listed for private jet hire in Los Angeles is capable of meeting the demands of the VIP business aviation community.
Private Jet Airports in Los Angeles for Charter Flights
Choosing Los Angeles for leisure or business travel awaits you with plenty of music venues, breathtaking scenery, and dozens of art galleries. However, for those who want to enjoy the benefits of private charter travel and California's unbeatable weather, a short year on private jet airport Los Angeles can do the trick.
1. Van Nuys Airport (VNY, KVNY)
One of Los Angeles' most popular private jet airports and the busiest general aviation airport in Southern California is Van Nuys Airport. The airport is conveniently located in the city limits. Furthermore, it offers quality service, including increased privacy, leading celebrities and business travelers on private jets in Los Angeles.
Van Nuys Airport is located in the heart of the San Fernando Valley near Malibu, Santa Monica, and Hollywood. The 293-hectare facility has an FAA tower and two asphalt runways, each 2,400 and 1,200 meters long. In addition, there are six FBO stations with several business class aircraft services and other specialized functions.
The passenger terminal is an impressive metal and glass structure with free internet, private meeting rooms, coffee, and a wine bar. Not far from Van Nuys Airport are several modern hotels and luxury restaurants. Renting a private jet to Van Nuys will give you the opportunity to travel in comfort and also give you the chance to enjoy all that Los Angeles has to offer. VNY is perfectly adapted to the needs of VIP clients beyond the standard requirements and is the best airport for private jets in Los Angeles.
2. Los Angeles International Airport (LAX, KLAX)
Some of America's busiest and most important airports in California are Los Angeles International Airport, with unparalleled amenities for private jets in Los Angeles. Boasting a fantastic city with a thriving resort industry, luxurious shopping, green parks, and world-famous attractions along the Pacific Ocean, LAX is an excellent choice for visitors wishing to explore this wonderful city.
Los Angeles International Airport is conveniently located 18 miles from downtown Los Angeles near major California beaches. It was the city's first municipal airport and can handle more than 28 million passengers a year without delay. Moreover, the airport is an important international gateway for the United States with non-stop flights to 44 countries.
There are four concrete paved runways, more than 2.7 thousand meters long each, and two terminals for VIP travelers with modern world aviation facilities. In addition, the private jet lax terminal offers many souvenir shops, restaurants, cafes, and newsstands.
3. John Wayne Orange County Airport (SNA, KSNA)
Looking to visit nearby California beach towns and enjoy all the conveniences of business aviation, John Wayne Orange County Airport is an ideal choice. SNA is located 35 miles from downtown Los Angeles and is classified as a major airport with commercial services. Additionally, this airport owns where do private jets land in Los Angeles with an excellent selection of services by international standards.
John Wayne Orange County Airport plays a crucial role in the region and serves about 3 million passengers a year from worldwide. The area has two paved runways, one of which is about 1,700 meters long and accepts the most extensive private jets but is not large enough to serve large commercial airlines. In addition, SNA has two large FBO stations with modern luxury terminals, hangar space, waiting areas, and complimentary refreshments for private jets in Los Angeles.
4. Hollywood Burbank Bob Hope Airport (BUR, KBUR)
Another option for landing a private jet in Los Angeles is Hollywood Burbank Bob Hope Airport, three miles from downtown Burbank in Los Angeles County. The airport serves cities in the western U.S. and is the main air gateway for those wanting to climb to the top of the movie Olympus or try their luck on the raging Pacific waves. BUR also serves private flights to the north side of the Greater Los Angeles Area.
Hollywood Burbank Bob Hope Airport is closer to many popular Los Angeles attractions like Hollywood, Universal Studios Hollywood, or Griffith Park. Moreover, it is the only airport in the region with a linear rail connection to downtown Los Angeles and can handle about 2 million passengers a year.
The 224-hectare facility has two asphalt-paved runways capable of accommodating both small and large aircraft with open approach areas and ILS. Also, BUR has two FBO stations on the northwest side of the airport with modern facilities and a wide range of services. In addition, Hollywood Burbank Bob Hope Airport has its police force and is suitable for private jet in Los Angeles clients who value security and less congestion.
5. LA/Ontario International Airport (ONT, KONT)
For customers with private charters to/from Los Angeles who prioritize safety, LA/Ontario International Airport is a superb choice, two miles from downtown California's San Bernardino County. The airport has been recognized for safety measures during the COVID-19 outbreak by the leading trade organization for airports globally. This is also an excellent landing option for those wishing to visit bars, gift stores, and clubs within 38 miles of downtown Los Angeles.
The local government manages LA/Ontario International Airport using some of the highest standards in private aviation and covers 705 acres. There are two asphalt paved runways, more than 3.1 thousand meters long each. In addition, the passenger terminal is presented in the form of two buildings with 29 gates for landing and U.S. Customs and Border Protection. Communication between terminals and remote parking lots is provided by bus. Additionally, ONT offers quick access to modern hotels through cab, shuttle, or car rental services.
6. Long Beach Airport (LGB, KLGB)
Long Beach Airport is one of the largest airports near downtown Los Angeles very close to many different attractions and luxury vacation spots. After landing, it is easy to get to the more southerly coastal areas like Huntington Beach or Palos Verdes from the airport.
A public Long Beach Airport is located just three miles from downtown Long Beach in California's Los Angeles County and 23 miles from Los Angeles' central business district. The 472-hectare site has three asphalt runways capable of accommodating aircraft of all sizes and six helipads. In addition, LGB has a small charter fleet and about four FBO stations on the south, west, and east sides of the airport with complimentary snacks and refreshments and executive conference services.
The passenger terminal also offers customers private jet in Los Angeles high-level amenities. Furthermore, it has been recognized as a historic-cultural landmark in the region because of its unique architectural complex.
7. Santa Monica Municipal Airport (SMO, KSMO)
Just three miles from Santa Monica, a popular vacation spot for many travelers with plenty of outstanding lodging, upscale shopping, and activities to take part in, Santa Monica Municipal Airport is a public facility with excellent service for private jets in Los Angeles.
Santa Monica Municipal Airport is in the category of reliever airport and is only 6 miles from the otherwise famous Los Angeles International Airport. SMO covers 87 hectares with one runway in good condition with navigational aids, a helipad, the Barker Hangar Recreation Center, and a small public park. There are also FBO stations with various services like hangars for rent or parking and several comfortable hotels in quick access from the airport after landing a private jet in Los Angeles.
Which airport to choose for a private jet in Los Angeles depends on personal preference and intended destination. However, each can take travelers right into the heart of Los Angeles and allow them to enjoy their stay along the way. In addition, traveling by private jet at a private airport in Los Angeles saves you a lot of time due to the plane's speed and the lack of lines at individual VIP terminals. To obtain a free quote, please use our online quoting tool, or call toll-free 1-877-281-3051.