Monarch Air Group provides private air charter in Sunny Isles Beach, Florida. Our clients benefit from top-notch service, unrelenting dedication to safety, wide selection of aircraft, and years of experience in chartering private jets. To obtain a free quote, please use our online quoting tool provided below, or call toll-free 1-877-281-3051
Charter a private jet in Sunny Isles Beach, FL:
About Sunny Isles Beach, Florida, United States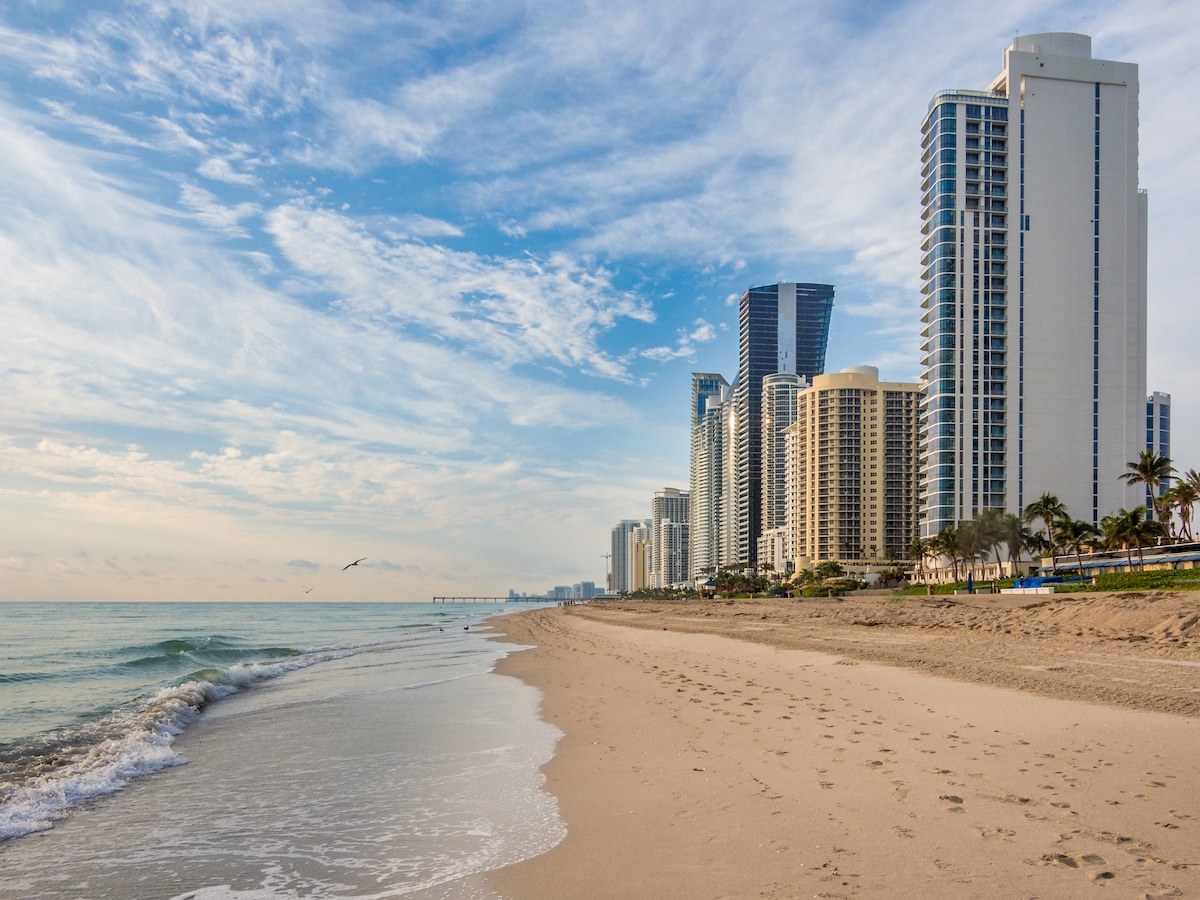 Monarch Air Group offers plenty of private jet charter options to and from Sunny Isles Beach, Florida, United States.
Nestled between the Atlantic Ocean and the Intracoastal Waterway, Sunny Isles Beach is a popular tourist destination in Florida known for its endless miles of white sand beaches and a great variety of recreational activities. Sunny Isles Beach lies on a barrier island in the northeastern part of Miami-Dade County. This resort city is renowned for its cultural diversity and has a total population of about 22,086 residents.
Sunny Isles Beach provides an easy access to a lot of attractions and besides the beaches has a fabulous park system. The most notable parks include the Heritage Park, Senator Gwen Margolis Park, Pier Park, and Town Center Park.
The nearest major airports to Sunny Isles Beach are Fort Lauderdale-Hollywood International Airport located 16 miles from the city center and Miami International Airport situated 23 miles from the city. Both airports provide domestic and international flights.
Sunny Isles Beach, FL Airports within 70 miles
1. BCT, Public, Boca Raton, United States
2. BIM, International, Bimini, Bahamas
3. CXY, Cat Cays, Cat Cays, Bahamas
4. FLL, Fort Lauderdale/Hollywood International, Fort Lauderdale, United States
5. FXE, Executive, Fort Lauderdale, United States
6. HST, AFB, Homestead, United States
7. HWO, North Perry, Hollywood, United States
8. JDM, Downtown Heliport, Miami, United States
9. KYL, Port Largo, Key Largo, United States
10. LNA, Palm Beach County Park, West Palm Beach, United States
11. MFW, Magaruque, Magaruque, Mozambique
12. MIA, Miami International Airport, Miami, United States
13. MPB, SPB, Miami, United States
14. NSB, North SPB, Bimini, Bahamas
15. OCA, Ocean Reef, Ocean Reef, United States
16. OPF, Opa Locka, Miami, United States
17. PBI, Palm Beach International, West Palm Beach, United States
18. PHK, Palm Beach Co Glades, Pahokee, United States
19. PPM, Pompano Beach, Pompano Beach, United States
20. TMB, Tamiami, Miami, United States
Hotels in Sunny Isles Beach, FL
1. DoubleTree Resort & Spa by Hilton Hotel Ocean Point – North Miami Beach, 17375 Collins Avenue, North Miami Beach
2. The Ritz-Carlton Bal Harbour, Miami, 10295 Collins Avenue, Bal Harbour
3. Residence Inn by Marriott Miami Aventura Mall, 19900 West Country Club Drive, Aventura
4. Acqualina Resort & Spa, 17875 Collins Avenue, Sunny Isles Beach
5. DoubleTree, 17375 Collins Avenue, North Miami Beach
6. Intracoastal by Spiaggia Hotel Residence, 16900 North Bay Road, Sunny Isles Beach
7. Golden Strand Ocean Villa Resort, 17901 Collins Avenue, Sunny Isles Beach
8. Turnberry Isle Miami, 19999 West Country Club Drive, Aventura
9. Marenas Beach Resort, 18683 Collins Avenue, Sunny Isles Beach
10. DoubleTree Resort & Spa by Hilton Hotel Ocean Point – North Miami Beach, 17375 Collins Avenue, North Miami Beach
11. Trump International Beach Resort, 18001 Collins Avenue, Sunny Isles Beach
12. Bal Harbour Quarzo Luxury Boutique Hotel, 290 Bal Bay Drive, Bal Harbour
13. Knights Inn Hallandale, 26 Diplomat Parkway, Hallandale Beach
14. Sole on the Ocean, 17315 Collins Avenue, Sunny Isles Beach
15. The Ritz-Carlton Bal Harbour, Miami, 10295 Collins Avenue, Bal Harbour
16. Residence Inn by Marriott Miami Aventura Mall, 19900 West Country Club Drive, Aventura
17. Newport Beachside Hotel & Resort, 16701 Collins Avenue, Sunny Isles Beach
18. Acqualina Resort & Spa, 17875 Collins Avenue, Sunny Isles Beach
19. AC Hotel by Marriott Miami Aventura, 20805 Biscayne Boulevard, Aventura
20. DoubleTree, 17375 Collins Avenue, North Miami Beach
21. Intracoastal by Spiaggia Hotel Residence, 16900 North Bay Road, Sunny Isles Beach
22. Beachwalk Resort, 2602 East Hallandale Beach Boulevard, Hallandale Beach
23. Golden Strand Ocean Villa Resort, 17901 Collins Avenue, Sunny Isles Beach
24. Turnberry Isle Miami, 19999 West Country Club Drive, Aventura
25. Marenas Beach Resort, 18683 Collins Avenue, Sunny Isles Beach
26. Crowne Plaza Hollywood Beach Resort, 4000 South Ocean Drive, Hollywood
27. Ramada Plaza Marco Polo Beach Resort, 19201 Collins Avenue, North Miami Beach