Monarch Air Group provides private air charter in Qatar. Our clients benefit from top-notch service, unrelenting dedication to safety, wide selection of aircraft, and years of experience in chartering private jets. To obtain a free quote, please use our online quoting tool provided below, or call toll-free 1-877-281-3051.
Charter a private jet to&from Qatar
Book a Private Jet Charter to Qatar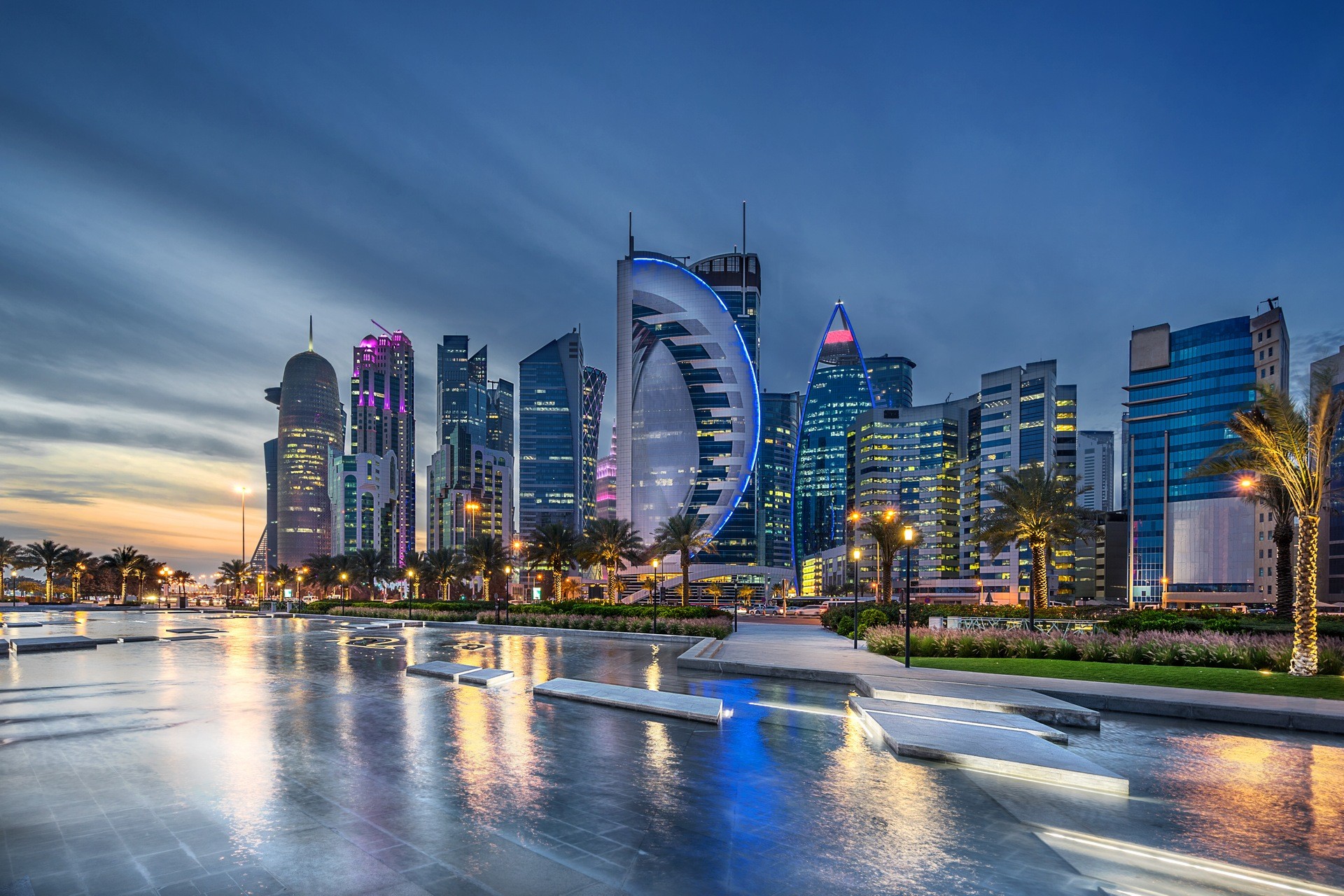 Monarch Air Group provides private jet charter flights in and out of Qatar.
A small country in the Middle East, Qatar is located on the Qatar Peninsula in the Persian Gulf. Due to the rapid development of the economy, private jet charter Qatar is popular. There are unique eco-friendly homes, ultra-modern cities, fashionable hotels, office centers, and expensive boutiques. The ocean coast with gorgeous golden beaches will make you fall in love with this beautiful country, with modern technology and comfort.
The climate of Qatar is quite dry and desert, so the most favorable time to travel is from October to May. However, autumn is perfect for a beach holiday in Qatar, and in summer, the heat becomes extreme here, so you should not schedule a trip. Instead, charter a private jet to Qatar, timed to various activities or other events, such as the FIFA World Cup.
The main resorts of Qatar are located along the coast. The ocean and beaches of Qatar are offered as the main tourist attractions. However, more than seaside resorts can impress travelers. Qatar has preserved many historical sites and fortifications. Amazing landscapes, architectural structures, luxurious restaurants, and a variety of parks will also give you a lot of impressions during a charter flight to Qatar.
With a private jet flight to Qatar, visit Doha, the main resort and capital of the country, where most hotels and almost all tourist infrastructure are concentrated. In the west of the city is an amusement park with an artificial lagoon and attractions for the whole family. Education City Mosque, Katara Cultural Village, the Museum of Islamic Art, the remaining forts, towers, and the old market will plunge you into the atmosphere of the ancient East.
Al Rayyan, Qatar's second-largest city, boasts a new park with a cafeteria and date palms, as well as the headquarters and arena of the Equestrian Federation. Other cities like Al Wakrah, with its historic architecture of mosques, old houses, and fort, or Al Zubara, whose ruins are recognized as a UNESCO World Heritage Site, also deserve attention on a private flight to Qatar.
Qatar Private Jet Airports
DOH, Doha
XJD, Al Udeid AB
XOZ, Doha Free Zone
FAQs: Private Jet Flights to Qatar
Why choose a private jet to Qatar with Monarch Air Group?
Monarch Air Group specializes in providing charter flight services, which is a unique and unbeatable way to fly on a private jet. With Qatar private charter flight, we will take you wherever you want to fly, either to a commercial or private airport. Qatar private jet charter is a great way to save time and travel efficiently.
How much does it cost to book a Qatar private jet charter?
The cost of a Qatar charter jet depends on several factors like the distance of the flight or the number of stops. We provide you with several Qatar jet options according to your requirements. Mid-size or super-midsize private jets cost $3,200 to $6,000 per flight hour, heavy and ultra-long range jets cost from $5,600 to $11,000, and VIP Airliners are around $16,000 to $23,000 per one hour of private travel.
What types of private jets can use for Qatar charter flights?
Monarch Air Group provides top-class Qatar jets in terms of interior and exterior to ensure flights are elegant and refined. We can assist you in selecting the right size aircraft for your or your colleagues' Qatar air charter service, corporate jet, or luxury private jet. Our experienced charter experts will help you plan your flight with all the nuances in mind.
What are the benefits of flying on a Qatar private jet?
At private jet charters Qatar, the quality of services offered is our top priority. In addition to arranging private plane charter in Qatar, we can also assist you with international travel, customs issues, ground transportation services, meals, and hotel reservations.
Popular destinations in Qatar by private jet
Al Khor – offers recreation, fishing and kayaking, and long beaches.
Al Wakrah – is a typical Arab city and a great place to escape the shadow of the capital's looming skyscrapers.
Mesaieed – adventures on the dunes make it an increasingly popular day trip destination in Qatar.
Al Zubarah – is one of the most amazing cities in Qatar and is a UNESCO World Heritage Site.
Al Rayyan – is a historical center with preserved fortifications and mosques of the 18th and 19th centuries.
Doha – is the most visited place for tourists exploring Arabian countries with its sandy desert landscape and the sparkling blue waters of the Persian Gulf.
Our clients travel on efficient and comfortable private jets. If you haven't found the answers to all your questions here, you can contact our experienced and reliable team at any time or visit our air charter FAQ page.