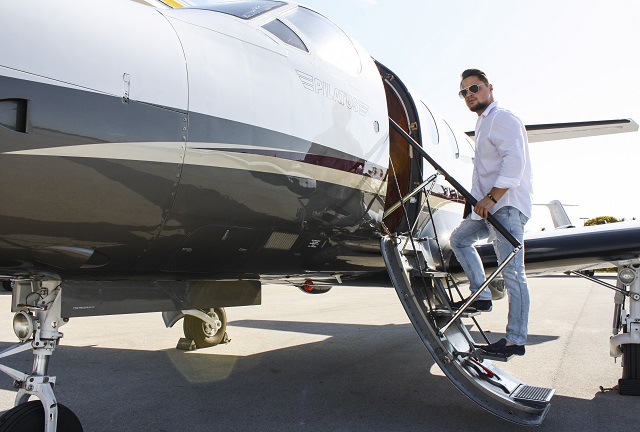 Football (soccer) is one of the few sports played in almost every country in the world. This massive dissemination will gather fans from all the world in the planet's largest nation: Russia.
Charter a private jet to the 2018 FIFA World Cup
Between 14 June – 15 July 2018, hundreds of thousands of fans will be arriving at the different host cities, where Moscow and Saint Petersburg separate from the other 9 venues not just for being the country's most important metropolis, but because they will host one of the semi-finals and the great World Cup final.
Arrive hours before the game
Getting there on a commercial airline might be a pain, though. Delays, cancellations and bad weather can prevent you from getting to a specific match and losing that front row ticket. Furthermore, common airport terminals get massive crowds in the host cities at all times, with long check-in lines from economy to first-class.
Private aviation, on the other hand, grants you with the possibility to arrive just hours before your game of interest, landing at a hustle-free private terminal. And after the match, the same jet will be waiting for you to take you and your acquaintances to the next venue on the schedule.
A record-breaking number of private jets are expected to land in Russia during the next couple of weeks, and not only in the main cities. Monarch Air Group, a private air charter provider based in Fort Lauderdale, has already a handful of full chartered jets for mid-June to diverse venues of the World Cup.
"Contrary to the belief, dozens of thousands of US citizens will be traveling to Russia amid the political and social tension between both countries and, most importantly, even though the US National squad is not qualified for the group stage," states David Gitman, Executive Director for the South Florida firm.
Private charter flexibility
The large list of amenities that separate private from commercial aviation is well known in the industry. Nevertheless, when flying private abroad you need to rely on the experience of private jet providers that have actually operated in the destination. Monarch Air Group has been providing services in Russia for more than 12 years, having operated in all 11 Word Cup venues: Moscow, Saint Petersburg, Sochi, Rostov-on-Don, Samara, Saransk, Kazan, Nizhny Novgorod, Kaliningrad, Ekaterinburg, and Volgograd.
Private charter's flexibility will adapt to the number of people flying, to the length of the flight and most importantly to the budget. Today's long-range private jets can take you non-stop from Miami to Moscow, without the need to arrive three hours prior to your flight and with the option to depart at any given time toward one of Russia's 11 time zones. And once the first game is over and all sightseeing has been settled, you can ride straight to the private terminal and take-off to the next 2018 World Cup host city.
Established in 2005, Monarch Air Group is a leading provider of the on-demand private jet charter, aircraft management, and long-term aircraft lease. Among Monarch's customers are Fortune 500 corporations, leading entrepreneurs, Government agencies and world-leading NGO's.