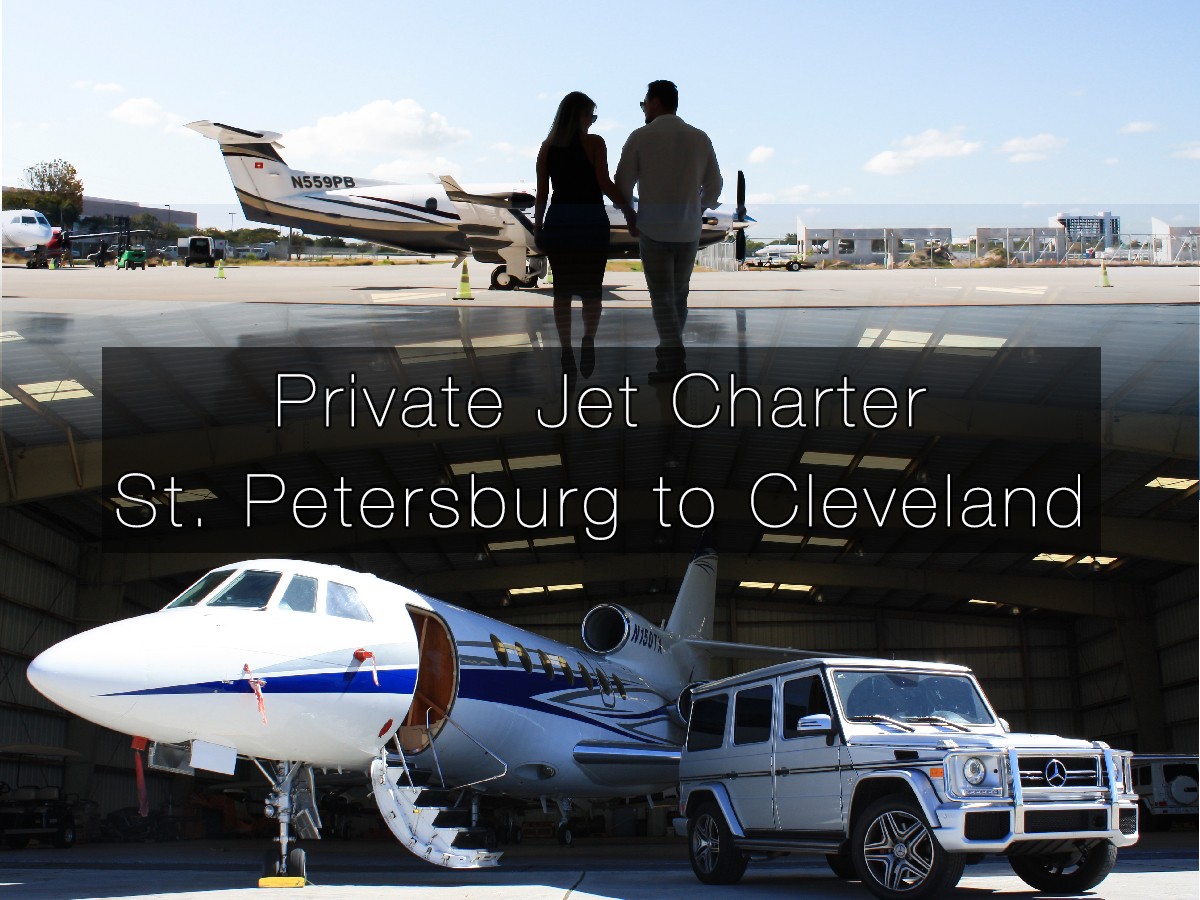 The city of Cleveland is in northern Ohio on the southern shore of Lake Erie. Cleveland is one of 100 U.S. cities committed to 100% clean and renewable energy. This commitment to sustainability has garnered the city nationwide recognition as a place to enjoy the great outdoors with recreational activities that include biking on tree-lined trails, kayaking, and spending time in the city's green spaces.
Cleveland is also home to some of the most popular attractions in the Midwest, including the Rock and Roll Hall of Fame, the Cleveland Aquarium, and West Side Market, a public market that began operation in 1912. Reminiscent of a European market, dozens of vendors offer fresh organic produce, meats, seafood, desserts, and prepared foods.
Charter a private jet St. Petersburg to/from Cleveland
Popular Attractions in Cleveland
Bedford Reservation
Children's Museum of Cleveland
Cleveland Botanical Garden
Cleveland Cultural Gardens
Cleveland History Center
Cleveland Institute of Art
Cleveland Lakefront Nature Preserve
Cleveland Metroparks Zoo
Cleveland Museum of Art
Cleveland Museum of Natural History
Cleveland Opera
Cleveland Orchestra
Dittrick Medical Museum
Edgewater Park
Franklin Castle
Greater Cleveland Aquarium
Great Lakes Brewing Company
International Women's Air & Space Museum
Italian Cultural Garden
Little Italy
North Chagrin Reservation
Old Arcade
Public Square
Rock & Roll Hall of Fame
Rockefeller Park & Greenhouse
Soldiers' and Sailors' Monument
The Cleveland Arcade
The Mall
Tower City Center
West Side Market
USS Cod Submarine Memorial
What Airport Should I Use for My Private Charter Flight from St. Petersburg to Cleveland?

Airports Serving Cleveland
When booking a private air charter to Cleveland, one primary airport serves the area.
Cleveland Hopkins International Airport (CLE) is 9 miles southwest of downtown.
What type of aircraft should I use for my private charter flight? 
Charter flights typically operate using super-midsize, midsize, or light aircraft types:

Super Midsize jet options include the Dassault Falcon 50EX, Gulfstream G280, and the Embraer Praetor 600.
The Dassault Falcon 50EX can accommodate up to ten passengers in a stand-up cabin. The 50EX is equipped with Honeywell Ovation Select, an intuitive cabin management system. The 50EX has a baggage capacity of 115 cubic feet.
The Gulfstream G280 features include an impressive range of 3,600 nautical miles and a spacious cabin with seating for up to 10 passengers in an executive configuration. The G280 has 154 cubic feet of baggage capacity.
Embraer's Praetor 600 offers performance, comfort, and technology with class-leading cabin comfort and the versatility to operate out of smaller airports with a short takeoff performance. The Praetor 600 has 155 cubic feet of baggage storage capacity.
Midsize jet options include the Citation XLS+, Gulfstream G150, and the Learjet 60XR.
The Cessna Citation XLS+ cabin design enhances the private flight experience with inviting color palettes and natural finishes, comfortable seating, and an intuitive cabin management system. The XLS+ features 90 cubic feet of baggage capacity.
The Gulfstream G150's cabin can accommodate up to seven passengers. The Gulfstream G150 has an impressive range of 3,395 miles. The G150 has 50 cubic feet of baggage capacity.
The Learjet 60XR is the largest of the Learjet family. This jet features a more spacious cabin than other jets in the Midsize class. The 60XR has an average baggage capacity for a midsize jet with 48 cubic feet of baggage capacity.
Midsize jets typically include digital entertainment, a galley, and Wi-Fi for in-flight entertainment.
Light jet options for the private charter route from St. Petersburg to Cleveland include the Hawker 400XP, Learjet 31, and Cessna Citation M2.
The Hawker 400XP features a flat floor design and an oval fuselage to maximize usable cabin space. The jet also includes large windows that naturally illuminate the cabin. The 400XP has 53 cubic feet of baggage capacity.
The efficient Learjet 31 has a cruising speed of Mach 0.80 and can operate at an altitude of 43,000 feet. The Learjet 31 has a baggage capacity of 40 cubic feet.
The fuel-efficient Cessna Citation M2 can accommodate up to six passengers in comfort. The M2's range of 1,550 nautical miles and baggage capacity of 43 cubic feet is ideal for this private charter route.
Light jets typically include digital entertainment, a galley, and Wi-Fi for in-flight entertainment.
Airport Distances and Flight Times
Private Jet from St. Petersburg (PIE) to Cleveland
Destination Airport
Airport Code
Distance (Nautical Miles)
Km
Miles
Estimated Flight Time
Super Midsize
Midsize
Light
Cleveland Hopkins Intl. Airport
CLE
811
1,503
934
2 hrs
17 min
2 hrs

5 min

2 hrs

5 min
Distances and flight times shown in the charts above should be considered as estimates only. One (1) nautical mile is equal to 1.1508 statute miles.
In conclusion, Cleveland is a forward-thinking city committed to a sustainable future. The city is a destination with unique landmark attractions, friendly hospitality, and a variety of places to explore the outdoors, from the shores of Lake Erie to dozens of green spaces throughout its urban areas.
A professional on-demand private charter coordinator will help you select the best jet options to suit your travel requirements for private jet charter St. Petersburg and private jet charter Cleveland, including seamless transportation to and from the airport.