Monarch Air Group provides private air charter in North Chicago, Illinois. Our clients benefit from top-notch service, unrelenting dedication to safety, wide selection of aircraft, and years of experience in chartering private jets. To obtain a free quote, please use our online quoting tool provided below, or call toll-free 1-877-281-3051.
Charter a private jet in North Chicago, IL:
Private Jet Charter to and from North Chicago, Illinois, United States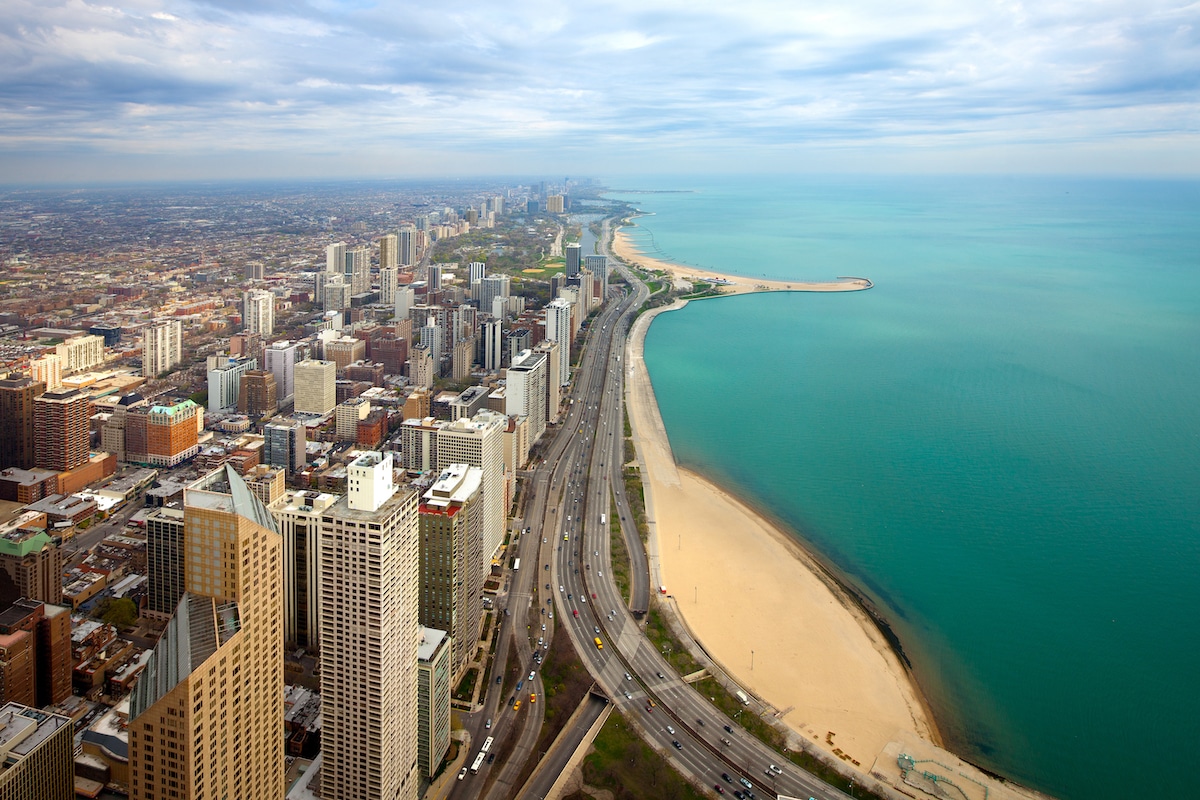 Monarch Air Group offers plenty of private jet charter options to and from North Chicago, Illinois, United States.
North Chicago, located in Lake County, is a picturesque Chicago Metropolitan Statistical Area suburb. With a population of around 29,951 residents, it offers the best of both worlds – the charm of a suburb and the convenience of a big city. Situated on the shores of Lake Michigan, North Chicago is famous for its stunning vistas and a wide range of outdoor recreational opportunities. Whether seeking adventure, relaxation, or a taste of local history, North Chicago private jet charter delivers it all.
North Chicago is home to the renowned Naval Station Great Lakes, the United States Navy's largest training facility. With a private jet to Noth Chicago, visitors can explore the captivating Naval Museum, which chronicles the history of the Navy through engaging exhibits and artifacts. Witnessing the precision and discipline of the recruits during their training is an awe-inspiring experience, and attending a graduation ceremony is a memorable event not to be missed.
Escape the urban bustle and immerse yourself in the serenity of the Illinois Beach State Park once you've chartered a private jet to North Chicago. This picturesque park spans six miles and features a diverse ecosystem, including dunes, marshes, and forests. Nature enthusiasts can enjoy hiking and biking trails, birdwatching, picnicking, and swimming along the pristine beaches.
Book a private jet to North Chicago and visit Independence Grove Forest Preserve which features a 115-acre lake and was once a gravel quarry. Visitors can rent kayaks, canoes, stand-up paddleboards, and fishing boats to explore the lake from spring to fall. On the southeast shore is Millennia Plaza, where a summer concert series takes place. Another hidden gem in the Chicago area is Foss Park Golf Course, which has welcomed golfers for nearly 50 years and is open to residents and non-residents.
Flying privately to and from North Chicago is the epitome of luxury and convenience. From business trips to vacation getaways, private jet charters offer unparalleled experiences. Charter a private flight to Chicago, a premier destination for both business and leisure trips in the U.S.
The nearest major airports to North Chicago are Chicago O'Hare International Airport, located 31 miles from the city center, and General Mitchell International Airport situated 52 miles from North Chicago.
North Chicago Private Jet Rental Cost
North Chicago's private jet rental ranges from $2,000 to $17,000 per billable flight hour or more. Turboprop jets cost from $1,800 to $2,400 per hour, light jets cost from $2,400 to $3,900, mid-size or super-midsize jets cost from $4,200 to $8,100 per flight hour, while heavy and ultra-long range jets per flight hour cost from $7,200 to $17,800.
Airports for Private Jets near North Chicago
ORD, KORD, Chicago O'Hare International Airport
MKE, KMKE, General Mitchell International Airport
MDW, KMDW, Chicago Midway International Airport
UGN, KUGN, Waukegan Regional Airport
PWK, KPWK, Chicago Executive Airport
ENW, KENW, Kenosha Regional Airport
RAC, KRAC, John H. Batten Airport
KBUU, BUU, Burlington Municipal Airport
XES, C02, Grand Geneva Resort Airport
DPA, KDPA, DuPage Airport
FAQ: Private Jet Flights to North Chicago
Why Choose a Charter Jet to North Chicago with Monarch Air Group?
Monarch Air Group provides fast transfers, flexibility, and private flights to and from North Chicago. We offer personalized service for those looking to rent a private jet. Creating a customized route is essential for a successful private jet charter to North Chicago. With a private aircraft, you have the freedom to choose your departure time, destination, travel companions, and sightseeing preferences. For any questions about charter flights to North Chicago, please contact our agents.
What Types of Private Jets Can Use for North Chicago?
We offer affordable charter flights to North Chicago using various aircraft options, including heavy, light, turboprop, and VIP planes. Your decision on which aircraft to choose will depend on factors such as your travel distance, your desired level of comfort, and the number of passengers. We will select the perfect business aircraft based on your specific needs and preferences.
What are the Benefits of Flying North Chicago Private Jet?
Renting a private aircraft offers several benefits compared to flying on a commercial flight. By opting for a private flight, you have the flexibility to select your desired airport of arrival, which helps you save time by avoiding the need to arrive hours before the flight. Passengers traveling on private flights in North Chicago can enjoy a high level of privacy, professional service, and a wide range of amenities.
Can I Bring My Pet on a Private Jet to North Chicago?
We are pleased to offer pet-friendly flights to North Chicago, demonstrating our love and respect for all animals. However, it is crucial to consider each flight's unique requirements and restrictions. Our main focus is ensuring your comfort, as well as the comfort of your fellow travelers.
Popular Destinations near North Chicago by Private Jet
North Chicago is located north of downtown Chicago. Chicago is a vibrant city known for its iconic skyline, cultural attractions, and diverse neighborhoods. You can visit famous landmarks like Millennium Park, Navy Pier, and the Art Institute of Chicago and explore museums, theaters, shopping districts, and restaurants.
Waukegan is a city neighboring North Chicago, just a few miles north. It offers attractions like the Genesee Theatre, Waukegan Harbor and Marina, and the Waukegan History Museum. You can also enjoy outdoor activities at the Waukegan Municipal Beach or explore Bowen Park.
Gurnee is situated west of North Chicago and is known for its popular attractions. Six Flags Great America is located in Gurnee, a large amusement park featuring thrilling rides and entertainment. You can also visit Gurnee Mills, one of the largest outlet malls in the Chicago area, offering a wide range of shopping and dining options.
Located south of North Chicago, Lake Forest is a picturesque suburb known for its historic estates and natural beauty. You can explore the scenic Lake Forest Beach, visit the stunning Market Square, or enjoy outdoor activities at the Lake Forest Open Lands nature preserves.
Our private aircraft's cutting-edge technology enhances flight efficiency and safety. Our mission is to provide outstanding customer service and to personalize your experience. Please refer to our "Frequently Asked Questions" section or contact us for additional information.