Monarch Air Group provides private air charter in Malaga, Spain. Our clients benefit from top-notch service, unrelenting dedication to safety, a wide selection of aircraft, and years of experience in chartering private jets. To obtain a free quote, please use our online quoting tool provided below, or call toll-free at 1-877-281-3051.
Charter a private jet to&from Malaga, Spain
Private Jet Charter to Malaga, Spain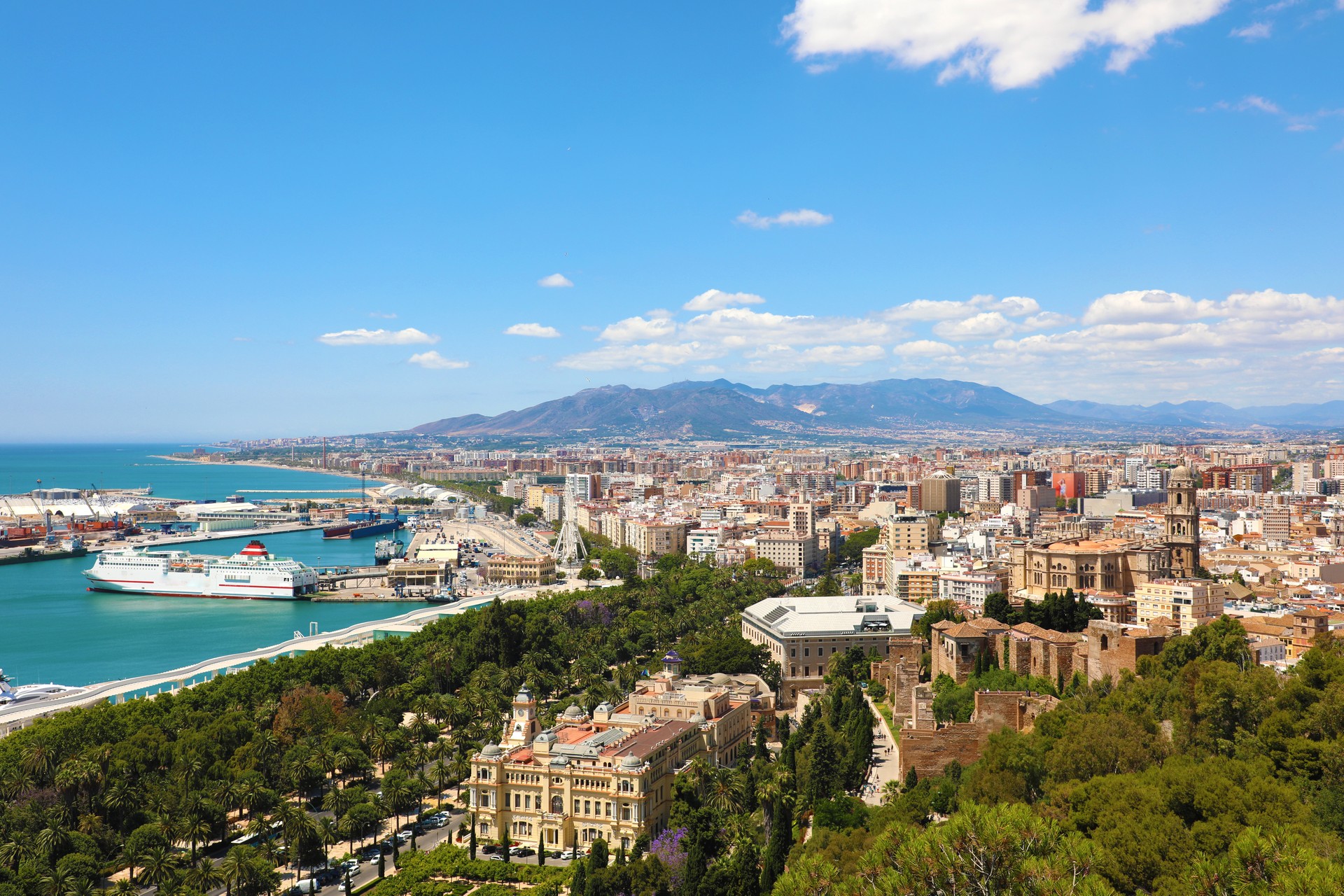 Monarch Air Group provides private jet charter flights in and out of Malaga, Spain.
Malaga is a vibrant city located on the southern coast of Spain. It's the capital of the province of Malaga and is known for its beautiful beaches, rich history, and vibrant culture. So whether you're a history buff or just looking for some fun in the sun, there's something for everyone renting a private jet to Malaga.
Nestled in the center of Malaga, the Alcazaba is a fortress of Moorish origin that stands out as one of the city's most recognizable landmarks. Its historical significance and captivating charm make it a must-visit destination for any traveler when booking a private jet to Malaga. Constructed during the 11th century, the fortress boasts beautiful gardens, ornate fountains, and magnificent vistas of the Mediterranean Sea and the city.
Once you've chartered a private jet to Malaga, immerse yourself in the captivating charm of Malaga's historic city center, a labyrinth of winding alleys and narrow streets flanked by quaint buildings, charming cafes, and boutique shops. Take your time strolling through the streets, uncovering hidden gems, and soaking in the vibrant atmosphere. Be sure not to miss the Cathedral of Malaga, situated in the heart of the city, and appreciate its stunning architectural beauty.
When you charter a private jet to Malaga, relax on the beach. Malaga is known for its beautiful beaches, with plenty to choose from. La Malagueta is the city's most popular beach and is just a short walk from the city center. It's a great place to relax, soak up some sun, and enjoy the Mediterranean Sea.
And, of course, make a stop at the Picasso Museum during your private jet flight to Malaga, as this is the birthplace of the iconic artist Pablo Picasso, who left an indelible mark on 20th-century art. Situated in the city's heart, the museum proudly showcases a remarkable collection of Picasso's works, and it's an absolute must-visit for art lovers and history buffs alike.
Málaga Airport, which has been renamed Málaga-Costa del Sol Airport since June 2011, is Spain's fourth busiest airport, following only Madrid-Barajas, Barcelona, and Palma de Mallorca.
Malaga Private Jet Rental Cost
The starting prices for private jet flights to Malaga (one way) vary based on the type of aircraft used. A turboprop typically costs around $1,800 – $2,600 USD per hour, while a light jet costs $2,400 – $3,900 USD per hour. A midsize and super-midsize jet comes in at $4,200 – $8,100 USD per hour, and a long-range jet or group charter flight on a VIP airliner can cost $7,200– $17,800 USD per hour or more.
Private Jet Airports Near Malaga
AGP, LEMG, Málaga-Costa del Sol Airport
FAQ: Private Jet Flight to Malaga
Why Choose a Private Jet to Malaga with Monarch Air Group?
When Monarch Air Group organizes your private jet flight to Malaga, our main priorities are your comfort, security, and enjoyment. In addition, our customized private aircraft tours are tailored to your specific needs and include luxuries that will make your trip more enjoyable.
What Types of the Private Jets Can Use for Malaga?
Private aircraft options for Malaga are determined by a variety of criteria, including the number of passengers, cost, needed range, and route. Our company offers tailored, one-of-a-kind private aircraft charters to ensure maximum privacy and time savings for a stress-free and joyful travel experience.
What are the Benefits of Flying a Malaga Private Jet?
Using a private plane to get to Malaga has several advantages over other modes of transportation. Our trusted private jet rental company offers flexible, cost-effective travel alternatives according to your needs, time limits, and budget.
Can I Bring My Pet on a Private Jet to Malaga?
Pets are welcome on our flights to Malaga. We recommend giving us advance notice to guarantee that the city's pet travel restrictions are followed. Choose a plane with a pet-friendly cabin to ensure your pet's safety and comfort.
Popular Destinations Near Malaga by Private Jet
Marbella – This upscale coastal town is located just 40 km from Malaga and is a popular destination for private jet travelers. It's known for its luxury resorts, high-end shopping, and vibrant nightlife.
Murcia – is the capital city of the region of the same name. It's known for its rich history, beautiful architecture, and traditional cuisine. Some of the top attractions in Murcia include the Cathedral of Murcia, the Real Casino de Murcia, and the Salzillo Museum.
Almeria – is known for its stunning beaches, beautiful architecture, and vibrant cultural scene. Some of the top attractions in Almeria include the Alcazaba of Almeria, the Cathedral of Almeria, and the Cabo de Gata-Nijar Natural Park.
Gibraltar – located at the southern tip of Spain, Gibraltar is a British Overseas Territory and is known for its stunning views, unique history, and famous rock formation. Some of the top attractions in Gibraltar include the Rock of Gibraltar, St. Michael's Cave, and the Gibraltar Nature Reserve.
At our company, we provide top-of-the-line private aircraft that are both modern and comfortable, catering to all your transportation needs. For more information, please visit our website's "Frequently Asked Questions" section. Our crew is always available to assist you with any queries you may have.