Monarch Air Group provides private air charter in Coral Gables. Our clients benefit from top-notch service, unrelenting dedication to safety, wide selection of aircraft, and years of experience in chartering private jets. To obtain a free quote, please use our online quoting tool provided below, or call toll-free 1-877-281-3051.
Charter a private jet in Coral Gables:
About Coral Gables, Florida, United States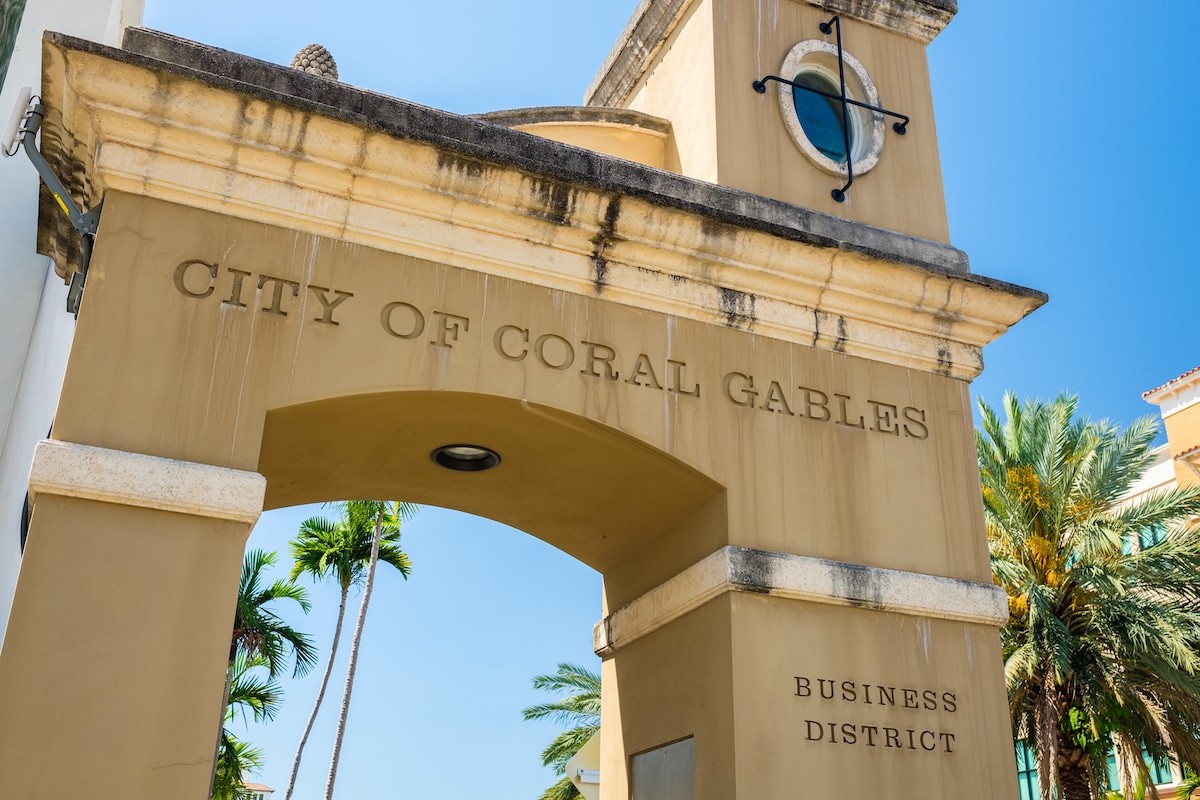 Monarch Air Group offers a wide variety of private jet charter options to and from Coral Gables, Florida, United States.
Situated southwest of Downtown Miami, Coral Gables is a pedestrian-friendly destination and a city in Florida's Miami-Dade County. It is a homeland for the University of Miami and up to 140 gourmet shops and dining establishments.
The city is also home to the Miami Biltmore Hotel, Venetian Pool, Fairchild Tropical Botanic Garden, Village of Merrick Park, and Douglas Entrance. Coral Gables hosts a number of festivals, including the Junior Orange Bowl Festival, Festival of Art, Festival Miami, and Carnival on the Mile.
The nearest major airports to Coral Gables are Miami International Airport located 7 miles from the city center, and Fort Lauderdale-Hollywood International Airport located 33 miles from the city. Both airports provide domestic and international flights.
Coral Gables Airports within 70 miles
1. BCT, Public, Boca Raton, United States
2. BIM, International, Bimini, Bahamas
3. CXY, Cat Cays, Cat Cays, Bahamas
4. FLL, Fort Lauderdale/Hollywood International, Fort Lauderdale, United States
5. FXE, Executive, Fort Lauderdale, United States
6. HST, AFB, Homestead, United States
7. HWO, North Perry, Hollywood, United States
8. JDM, Downtown Heliport, Miami, United States
9. KYL, Port Largo, Key Largo, United States
10. LNA, Palm Beach County Park, West Palm Beach, United States
11. MFW, Magaruque, Magaruque, Mozambique
12. MIA, Miami International Airport, Miami, United States
13. MPB, SPB, Miami, United States
14. NSB, North SPB, Bimini, Bahamas
15. OCA, Ocean Reef, Ocean Reef, United States
16. OPF, Opa Locka, Miami, United States
17. PBI, Palm Beach International, West Palm Beach, United States
18. PPM, Pompano Beach, Pompano Beach, United States
19. TMB, Tamiami, Miami, United States
20. TNT, Dade Collier, Miami, United States
Hotels in Coral Gables
1. Residence Inn Miami Coconut Grove, 2835 Tigertail Avenue, Coconut Grove
2. Biltmore Hotel Miami Coral Gables, 1200 Anastasia Avenue, Coral Gables
3. Hyatt Regency Coral Gables, 50 Alhambra Plaza, Coral Gables
4. The Westin Colonnade, 180 Aragon Ave, Coral Gables
5. Sonesta Coconut Grove, 2889 McFarlane Road, Miami
6. The Ritz-Carlton Coconut Grove, Miami, 3300 Southwest 27th Avenue, Miami
7. Hampton Inn by Hilton Miami-Coconut Grove/Coral Gables, 2800 Southwest 28th Terrace, Coconut Grove
8. Courtyard Miami Coconut Grove, 2649 South Bayshore Drive, Miami
9. Four Points by Sheraton Coral Gables, 3861 Southwest 40th Street, Coral Gables
10. The Mutiny Hotel, 2951 South Bayshore Drive, Miami
11. Courtyard Miami Coral Gables, 2051 South Le Jeune Rd., Coral Gables
12. Biltmore Golf Course, 1210 Anastasia Avenue, Coral Gables