Monarch Air Group provides reliable, and convenient private air charter service to Exuma, Bahamas. Based in Ft. Lauderdale and servicing countless domestic and international destinations, Monarch Air Group is in a strategic location to offer direct flights to the Bahamas and beyond. Through a combination of our Ft. Lauderdale based fleet and preselected operators, Monarch Air Group provides private air charter services guaranteed to meet your needs and budget.
Charter a private jet Florida to Exuma:
Piper Navajo to Exuma, Bahamas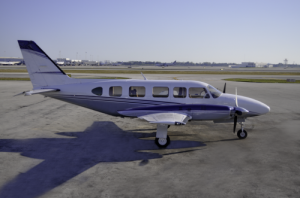 Monarch Air Group ensures customers are provided the most cost-effective solution for their travels. The Piper Navajo, a twin-engine aircraft, is one of the most popular choices for air charter to the Bahamas. Fully refurbished in 2012 including paint, interior, and insulation, Monarch Air Group's Piper Navajo features a comfortable executive interior with large tinted windows. The aircraft has a range of 600 miles and cruises at 200 mph. Operated by experienced flight crews and maintained by leading facilities, the Piper Navajo aircraft provides the ideal solution for your air charter requirement.
Comfortably accommodating up to seven passengers and their luggage, the Navajo provides a budget friendly solution to air charter in South Florida and across the Caribbean basin. If you are interested in booking a private charter flight to Exuma, Bahamas, contact +1 (954) 359 0059 to reach a charter representative.