Monarch Air Group provides private air charter to/from Zurich, Switzerland. Our clients benefit from top-notch service, unrelenting dedication to safety, wide selection of aircraft, and years of experience in chartering private jets. To obtain a free quote, please use our online quoting tool provided below, or call toll-free 1-877-281-3051.
Charter a private jet in Zurich:
About Zurich, Switzerland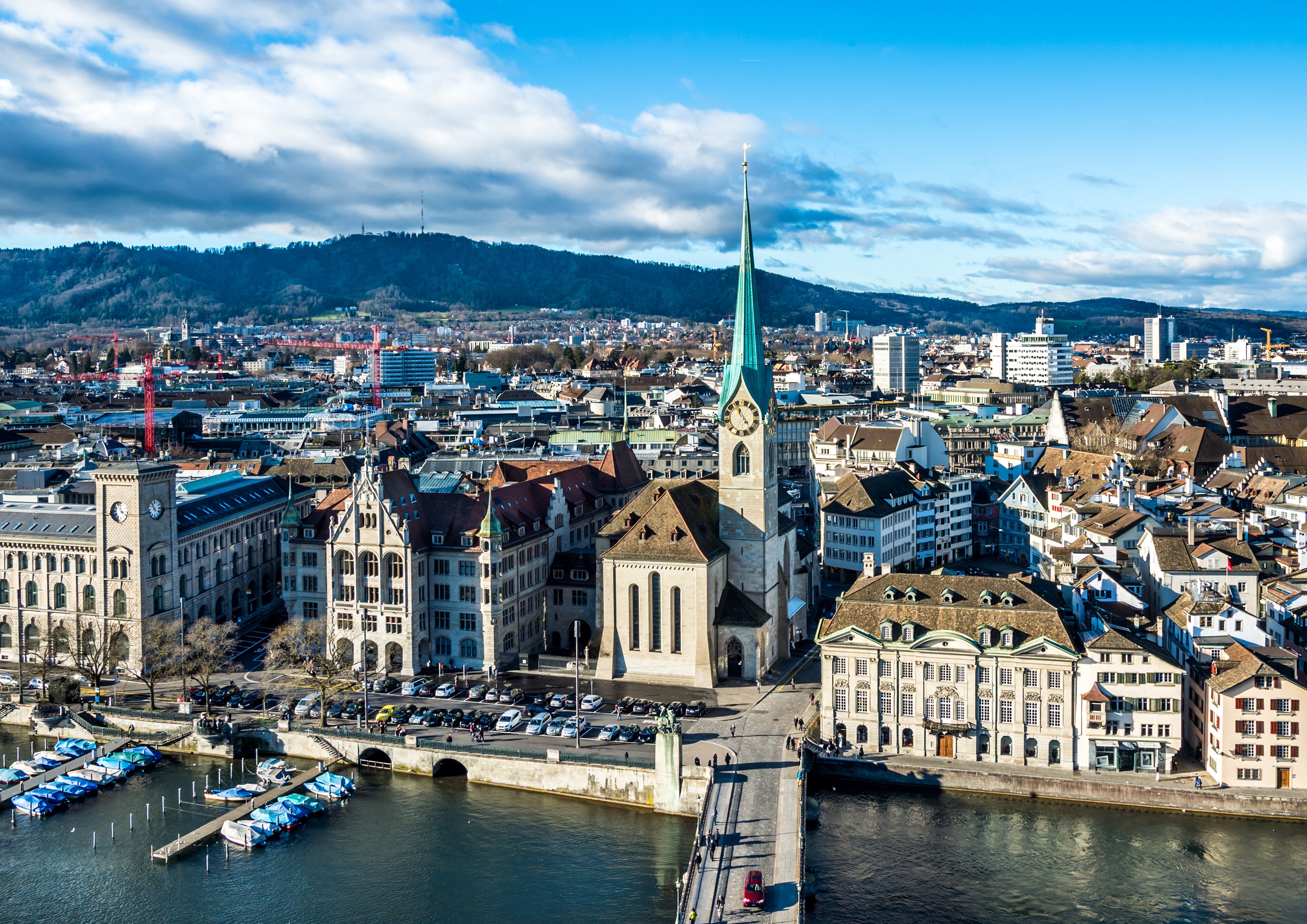 Monarch Air Group offers a wide variety of private jet charter options to and from Zurich, Switzerland.
The largest city in Switzerland, Zurich is a hub for air traffic, railways, and roads. It is a leading global city and one of the largest financial centers in the world. It is home to many banking giants and financial institutions. Zurich has been ranked one of the most liveable cities in the world as well as the world's city with the best quality of life and the wealthiest European city.
The major tourist attractions include the Zurich Museum of Art, No Show Museum, Centre Le Corbusier, Guild houses, Predigerkirche, Botanical Garden, Chinese Garden, Grossmunster, and many more. The Street Parade is one of the biggest and most popular annual events in Zurich. When it comes to nightlife, the city offers top-notch bars, restaurants, clubs, lounges, and hotels.
Zurich is served by Zurich Airport, the largest international airport of Switzerland located 13 kilometers north of city center.
Zurich Airports within 70 miles
1. ACH, Altenrhein, Altenrhein, Switzerland.
2. BRN, Belp, Berne, Switzerland.
3. BSL, Euroairport Basel Mulhouse Freiburg, Mulhouse/basel, Switzerland.
4. EML, Emmen, Luzern, Switzerland.
5. FDH, Friedrichshafen, Friedrichshafen, Germany.
6. HOH, Hohenems, Hohenems, Austria.
7. MLH, EuroAirport, Basel Mulhouse Freiburg, France.
8. QLX, Lauterach, Lauterach, Austria.
9. ZRH, Zurich-Kloten, Zurich, Switzerland.
Hotels in Zurich
1. Widder Hotel, Rennweg 7, Zürich.
2. BEST WESTERN Hotel Zürcherhof, Zähringerstrasse 21, Zürich.
3. Hotel du Théâtre *** by Fassbind, Seilergraben 69, Zürich.
4. Park Hyatt Zürich, Beethovenstrasse 21, Zürich.
5. Holiday Inn Zurich – Messe, Wallisellenstrasse 48, Zürich.
6. Sheraton Zurich Hotel, Pfingstweidstrasse 100, Zürich.
7. Sheraton Neues Schloss Zürich Hotel, Stockerstrasse 17, Zürich.
8. Hotel Adler Zürich, Rosengasse 10, Zürich.
9. Hotel St. Gotthard, Bahnhofstrasse 87, Zürich.
10. Zürich Marriott Hotel, Neumühlequai 42, Zürich.
11. Hotel California, Schifflände 18, Zürich.
12. B2 Boutique Hotel + Spa, Brandschenkestrasse 152, Zürich.
13. Hotel Bristol, Stampfenbachstrasse 34, Zürich.
14. Baur au Lac, Talstrasse 1, Zürich.
15. Courtyard Zurich North, Max-Bill-Platz 19, Zürich.
16. Four Points by Sheraton Sihlcity Zürich, Kalandergasse 1, Zürich.
17. Hotel Coronado, Schaffhauserstrasse 137, Zürich.