Monarch Air Group provides private air charter to/from Zurich, Switzerland. Our clients benefit from top-notch service, unrelenting dedication to safety, wide selection of aircraft, and years of experience in chartering private jets. To obtain a free quote, please use our online quoting tool provided below, or call toll-free 1-877-281-3051.
Charter a private jet in Zurich:
Book a Private Jet Charter to and from Zurich, Switzerland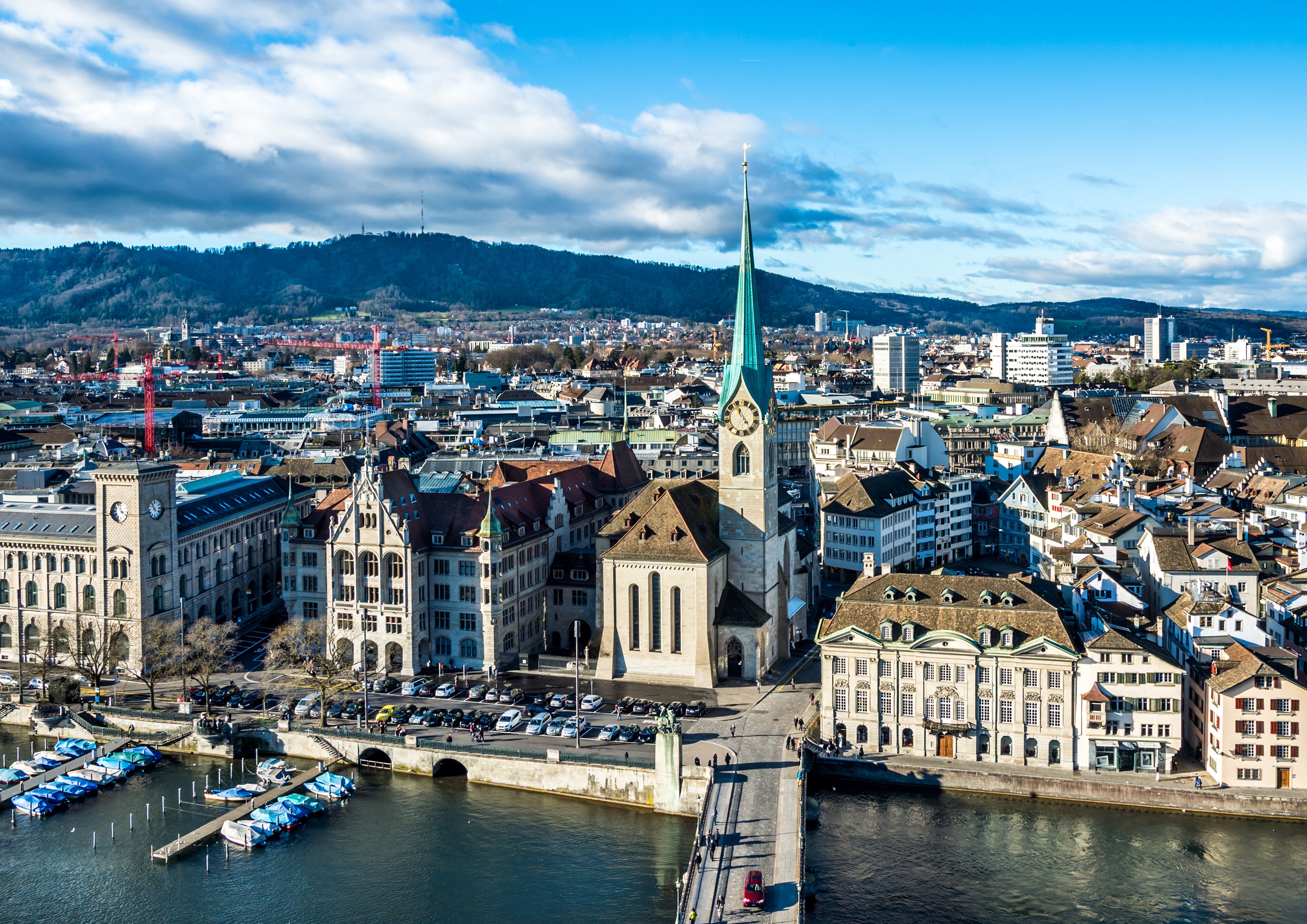 Monarch Air Group offers a wide variety of private jet charter options to and from Zurich, Switzerland.
The largest city in Switzerland, Zurich, is the center of air, rail and road communications. With a private jet to Zurich, you enter the world's leading city and one of the largest financial centers in the world. It is home to many banking giants and financial institutions.
Traveling on a private charter to Zurich, you will discover many fabulous places. Zurich has been ranked as one of the most livable cities in the world, as well as the city with the best quality of life and the wealthiest European city. There are many business opportunities here.
Zurich is magnificent and diverse, with beautiful streets that convey the atmosphere of antiquity, neat buildings, medieval houses, luxury shops, and cozy restaurants surrounded by imposing mountains.
Major tourist attractions that can be seen by chartering a private jet to Zurich include the Zurich Art Museum, No Show Museum, Le Corbusier Centre, Guild Houses, Predigerkirche, Botanical Garden, Chinese Garden, and Grossmünster.
The Street Parade is one of Zurich's largest and most popular annual events. As far as nightlife is concerned, the city has first-class bars, restaurants, clubs, lounges, and hotels where you can have an unforgettable time.
Zurich is served by Zurich Airport, Switzerland's largest international airport, located 9 miles north of the city center. The airport is suitable for private charter flights.
Zurich Private Jet Rental Cost
The cost of private jet rental in Zurich depends on factors such as the type of aircraft, flight time, destination, and date of travel. The cost to rent a private plane to or from Zurich varies from $2,000 – $11,000 per billable flight hour or more.
Zurich Private Jet Airports
ACH, Altenrhein, Altenrhein, Switzerland.
BRN, Belp, Berne, Switzerland.
BSL, Euroairport Basel Mulhouse Freiburg, Mulhouse/basel, Switzerland.
EML, Emmen, Luzern, Switzerland.
FDH, Friedrichshafen, Friedrichshafen, Germany.
HOH, Hohenems, Hohenems, Austria.
MLH, EuroAirport, Basel Mulhouse Freiburg, France.
QLX, Lauterach, Lauterach, Austria.
ZRH, Zurich-Kloten, Zurich, Switzerland.
Hotels in Zurich
Widder Hotel, Rennweg 7, Zürich.
BEST WESTERN Hotel Zürcherhof, Zähringerstrasse 21, Zürich.
Hotel du Théâtre *** by Fassbind, Seilergraben 69, Zürich.
Park Hyatt Zürich, Beethovenstrasse 21, Zürich.
Holiday Inn Zurich – Messe, Wallisellenstrasse 48, Zürich.
Sheraton Zurich Hotel, Pfingstweidstrasse 100, Zürich.
Sheraton Neues Schloss Zürich Hotel, Stockerstrasse 17, Zürich.
Hotel Adler Zürich, Rosengasse 10, Zürich.
Hotel St. Gotthard, Bahnhofstrasse 87, Zürich.
Zürich Marriott Hotel, Neumühlequai 42, Zürich.
Hotel California, Schifflände 18, Zürich.
B2 Boutique Hotel + Spa, Brandschenkestrasse 152, Zürich.
Hotel Bristol, Stampfenbachstrasse 34, Zürich.
Baur au Lac, Talstrasse 1, Zürich.
Courtyard Zurich North, Max-Bill-Platz 19, Zürich.
Four Points by Sheraton Sihlcity Zürich, Kalandergasse 1, Zürich.
Hotel Coronado, Schaffhauserstrasse 137, Zürich.
FAQs: Private Jet Flight to Zurich
What are popular aircraft for private jet charters in Zurich?
Some popular aircraft for private jet charters in Zurich include:
Light Jets: Cessna Citation CJ3, Embraer Phenom 100.
Mid-Size Jets: Hawker 800XP, Cessna Citation XLS.
Heavy Jets: Gulfstream G450, Bombardier Global 6000.
The type of aircraft chosen will depend on the number of passengers, flight distance, and personal preferences.
How much does it cost to book a private jet charter to Zurich?
Here are some approximate prices for private flights to Zurich (one-way)
:
| Location To/From | Private Jet | Flight Cost |
| --- | --- | --- |
| London | Phenom 100 | $8,700 |
| Paris | Hawker 900XP | $13,750 |
| Nice | Hawker 850XP | $13,400 |
What are the benefits of flying by private jet to Zurich?
Taking a private jet to Zurich offers numerous advantages over commercial flights. You will enjoy convenience, privacy, and luxury, as well as shorter travel times. There is no need to wait in queues at the airport, and the boarding procedure is usually much faster, lasting only 15 minutes from arrival to take off. Furthermore, you can make the most of your valuable time by holding business meetings, working efficiently, or relaxing before the flight.
Can I bring pets or special items on my private jet to Zurich?
Yes, you can bring pets and special items on a private jet to Zurich. However, you should check to determine any specific policies or restrictions regarding the transportation of pets and special items.
What is the baggage allowance for private jet flights to Zurich?
The baggage allowance for private jet flights to Zurich can vary depending on the type of aircraft and the charter company you are flying with. With a private jet, you typically have the flexibility to bring more luggage, sports equipment, or other items without having to worry about weight restrictions.