Monarch Air Group provides private air charter in York, UK. Our clients benefit from top-notch service, unrelenting dedication to safety, wide selection of aircraft, and years of experience in chartering private jets. To obtain a free quote, please use our online quoting tool provided below, or call toll-free 1-877-281-3051.
Charter a private jet to&from York, UK
Book a Private Jet Charter to and from York, UK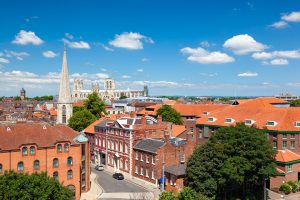 Monarch Air Group offers private jet charter services to and from York, UK.
Located 23 miles northeast of Leeds, 58 miles northeast of Manchester, and 175 miles northwest of London, York is a city in North Yorkshire, England, at the junction of the Rivers Foss and Ouse. The city has a rich history of more than 2,000 years, tracing back to the time of the Saxons, Romans, Normans, and Vikings, and nowadays, its long and rich history is apparent in its immense architecture and atmosphere of the city. Book a private jet to York, which is the seat of the Archbishop of York and is known for its majestic cathedral, York Minster.
It is a major industrial, transportation, business, and service center. The economy is mainly supported by financial services, education, health, tourism and retail, and telecommunications, while construction, chocolate manufacturing, and scientific and engineering products are still significant economic sectors.
With its gorgeous buildings, historical places, and winding, narrow, medieval streets, York has been a popular travel destination for centuries. Nowadays, it's one of the most exciting cities in the UK. With a private charter to York, the cultural capital in the north of England, visit plenty of cultural attractions and events. The most popular tourist attractions include the York Castle Museum, York Art Gallery, York Minster, Jorvik Viking Centre, York Maze, York City Walls, Shambles, Fairfax House, Grand Opera House, and Castle Howard, Merchant Adventurers Hall, and Treasurer's House.
York hosts many events and festivals all year round, including the York Festival of Traditional Dance, the Viking Festival, and the Work Beer&Cider Festival. For clients of private flights York, there are many things to offer, from entertaining cultural events, historic landmarks, and fantastic shopping to numerous restaurants, bars, and clubs. Moreover, York has a well-developed transportation system, providing its tourist's easy access to the city or other destinations around England.
Leeds Bradford International Airport (LBA), Birmingham International Airport (BHX), and Linton on Ouse Airport (HRT) serve charter flights to York.
Airports for Private Jet near York
LBA, EGNM, Leeds Bradford International Airport, Leeds, United Kingdom
MME, EGNV, Durham Tees Valley Airport, Darlington, United Kingdom
HUY, EGNJ, Humberside Airport, Kingston Upon Hull, United Kingdom
HRT, EGXU, RAF Linton-on-Ouse, Linton-on-Ouse, United Kingdom
DCS, Finningley, Doncaster, United Kingdom
SZD, EGSY, Sheffield City Airport, Sheffield, United Kingdom
Hotels in York
Hotel Indigo York, 88-96 Walmgate, York
Best Western York Pavilion Hotel, 45 Main Street, Fulford, York
Hampton by Hilton York, Toft Green, York
Holiday Inn York, Tadcaster Road York, York
York Marriott Hotel, Tadcaster Road Dringhouses, York
The Grand Hotel & Spa, York, Station Rise, York
Park Inn by Radisson York City Centre, North Street, York
Hotel 53, 53 Piccadilly, York
The Royal York Hotel, Station Road, York
The Queens Hotel, Queen's Staith Road, York
Hotel du Vin & Bistro York, 89 The Mount, York
Hotel Novotel York Centre, Fishergate, York
St Denys Hotel, 51 Saint Deny's Road, York
The Judge's Lodging, 9 Lendal, York
Hedley House, 3 Bootham Terrace, York
Middletons Hotel, Cromwell road, York
The Churchill Hotel, 65 Bootham, York
Hotel ibis York Centre, 77 The Mount, York
Middlethorpe Hall & Spa, Bishopthorpe Road, York
Grays Court Hotel, Chapter House Street, York
FAQ for a Private Jet Charter Flights to York, UK
Why choose a charter jet to York, UK with Monarch Air Group?
Monarch Air Group provides private flights to and from York, exclusive service, and private jets to suit your needs based on passenger numbers and budget. Our extensive flight experience and knowledge of local airports mean we can get you where you need to fly at the best price. So give one of our agents a call about charter jet York. Our team will meet all your requirements to ensure our services meet your York private jet charter expectations.
How much does it cost to book a York private jet charter?
The final cost of a York private jet depends on various factors, including the route, size and range of the aircraft, number of passengers, and luggage. Therefore, this service is calculated individually for each client. If you did not find the necessary information on air charter York, you could contact our experts. Moreover, you can get a flight cost estimate by using a private jet charter cost estimator.
Here are some approximate prices for private flights to York:
Charter a Private Jet to York from Milan: from $11,240;
Charter Flights to York from Paris: from $5,180;
Private Charter Flights to York from Geneva: from $9,440.
*Estimated price before taxes & fees.
What types of private jets can use for York charter flights?
Monarch Air Group offers its clients access to a vast network of private jets. They range from turboprops to heavy jets with all the luxury features for different types of York charter flights. First, our aircraft guide gives users a better understanding of the aircraft types available for charter. Then, we'll find the perfect business jet for your individual or group charter flight.
| Aircraft type | Passengers | Non-stop range | Cruising speed | Intended use |
| --- | --- | --- | --- | --- |
| Light Jet | up to 6 passengers | about 700 – 2000 miles | 476 to 518 mph | for comfortable short- to mid-range distances |
| Midsize Jet | up to 10 passengers | about 1300 – 1500 miles | 422 to 541 mph | to fly nonstop from coast to coast |
| Super midsize Jet | up to 10 passengers | about 3.500 – 4.000 miles | 490 to 590 mph | for longer flights |
| Heavy Jet | up to 18 passengers | about 6.000 miles | 480 to 551 mph | traveling overseas in luxury for an intercontinental flight |
| Turboprops | up to 10 passengers | about 600 – 1.900 miles | 220 to 360 mph | for short- to mid-range flights |
| Ultra-Long Range Jet | up to 19 passengers | about 2,800 – 7,685 miles | 460 to 594 mph | for long-haul travels |
| Helicopters | up to 28 passengers | about 250 – 600 miles | 150 to 175 mph | for passenger and cargo transportation |
What are the benefits of flying on a York private jet?
Renting a private jet has several undeniable advantages over commercial flights and allows you access to remote vacation destinations, specialty events, and those destinations that are considered difficult to reach. The flexibility of private jets gives you the time and freedom to enjoy any trip with maximum comfort. Our specialist is available 24/7 for all your private plane charter York needs. Using a private jet also offers access to remote terminals, expedited check-in, and security checks.
Popular destinations near York by private jet
Leeds – is one of the leading cities for business in Europe and one of the UK's top centers of financial and legal services.
Bradford – is one of the fastest growing of any major city, not including London.
Sheffield – in the north of England, is a regionally crucial commercial entertainment and cultural center, famous for producing cutlery and silverware.
Manchester – a metropolitan county in the northwest of England, had become a significant center of commerce, culture, and education.
Nottingham – has world-class accommodations, a fascinating history, respected universities, and unique cultural attractions.
Our clients travel on efficient and comfortable private jets. If you haven't found the answers to all your questions, you can contact our experienced and reliable team at any time or visit our air charter FAQ page.