Monarch Air Group provides private air charter in Xiamen. Our clients benefit from top-notch service, unrelenting dedication to safety, wide selection of aircraft, and years of experience in chartering private jets. To obtain a free quote, please use our online quoting tool provided below, or call toll-free 1-877-281-3051.
Charter a private jet in Xiamen:
About Xiamen, China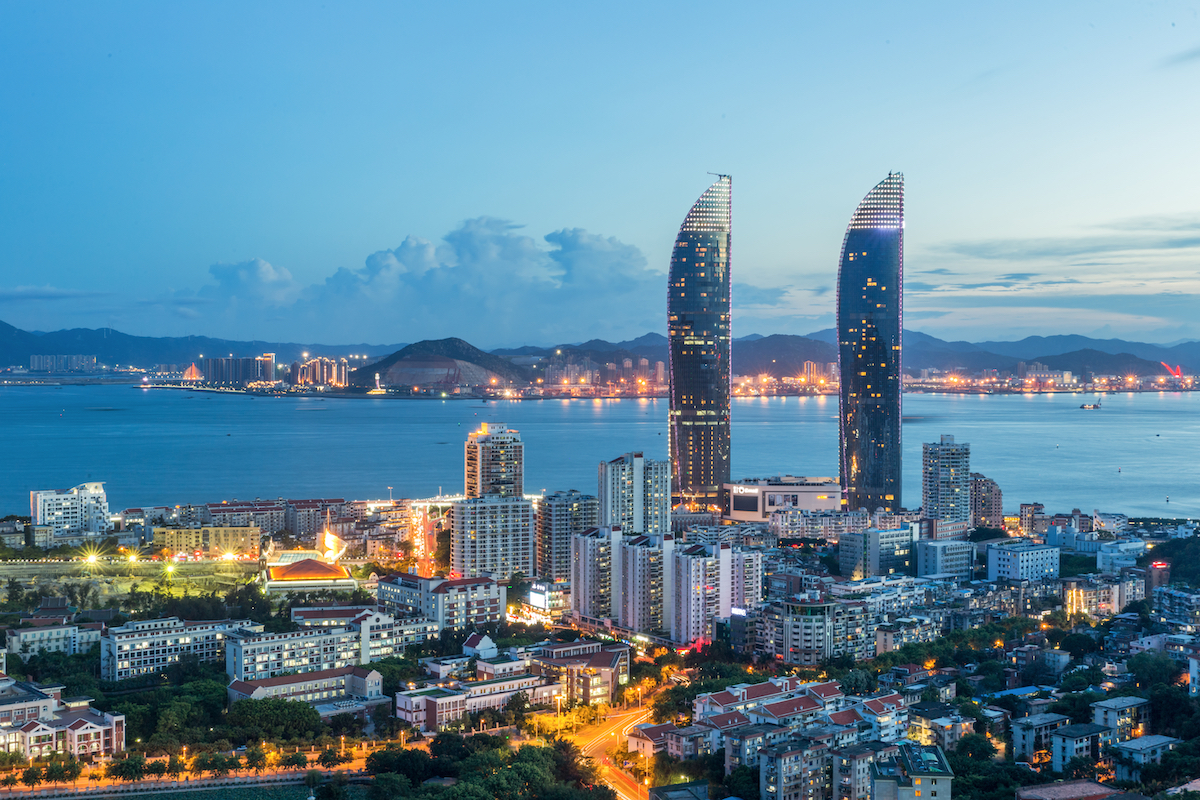 Monarch Air Group offers plenty of private jet charter options to and from Xiamen, China.
Xiamen is a leading city on the southeast coast of China. It is the largest Hokkien-speaking city in the country and one of the major ones in the world. Xiamen is home to a wealth of cultural and educational institutions and is known for its low pollution level, mild climate, and unusual architecture. It was named as the most romantic leisure city in China and a second most suitable city for living in China.
The most popular tourist attractions include the Gulangyu Island, Nanputuo Temple, Xiamen Piano Museum, Xiamen Botanical Garden, Kulangsu Huandao Road, Riguang Mountain, Xiamen Shuzhuang Garden, Huaijiu Gulangyu Museum, Xiamen Bailuzhou Park, Haiwan Park, Huli Mountain Fort, and Yuyuan Garden, among the others.
The city is served by Xiamen Gaoqi International Airport, which is located 11 km from the city center of Xiamen and provides both international and domestic flights.
Xiamen Airports within 70 miles
1. JJN, Jinjiang, Jinjiang, China
2. KNH, Shang-Yi, Kinmen, China
3. XMN, Xiamen, Xiamen, China
Hotels in Xiamen
1. 厦门喜来登酒店, 386-1 Jiahe Road, Huli, Xiamen
2. Crowne Plaza Paragon Xiamen, 199 Jiahe Road, Siming, Xiamen
3. Millennium Harbourview Hotel Xiamen, 12-8 Zhenhai Road, Siming, Xiamen
4. The Westin Xiamen, 398 Xianyue Road, Siming, Xiamen
5. 厦门马哥孛罗东方大酒店, 8 Jianye Road, Siming, Xiamen
6. Pan Pacific Xiamen, 19 Hubin North Road, Siming, Xiamen
7. Kempinski Hotel Xiamen, 98 Hubin Middle Road, Siming, Xiamen
8. Ramada Hotel Xiamen, Chongqing Chuancailou (New Port Head Office), Siming, Xiamen
9. Lujiang Harbourview Hotel, 54 Lujiang Road, Siming, Xiamen
10. Hongdu Park Hotel, 201 Bailuzhou Road, Siming, Xiamen
11. Xiamen City Hotel, 16 Huyuan Road, Siming, Xiamen
12. Xiamen Yeohwa Hotel, 101 Yuehua Road, Huli, Xiamen
13. Powerlong Hotel Xiamen, Postal Savings Bank of China (Hubin North Branch), Siming, Xiamen
14. Pan Pacific Xiamen, 19 Hubin Bei Road, 厦门市
15. Seashine Hotel, 819 Xiahe Road, Siming, Xiamen