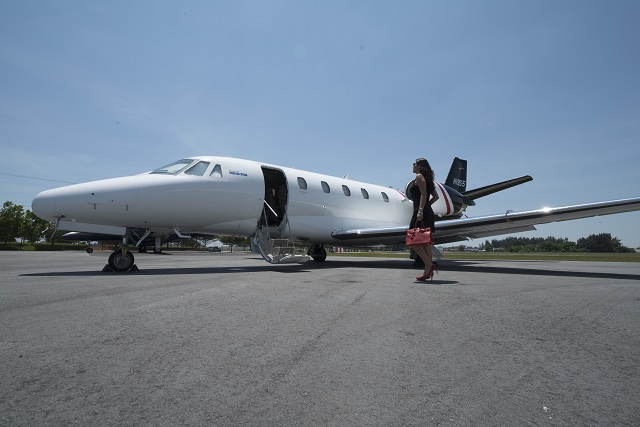 If you ask a person who hasn't flown on a private jet for his opinion regarding the business aviation industry, you will probably get a mix of reviews about how expensive, luxurious and celebrity-esque it is. Although from the outside it may seem that way, reality today is that the private jet market is as cost efficiency centered as it's ever been; no more a tool of extreme comfort, but a means for maximizing profits.
Business aviation might seem like a luxury because of all the variables that can surround it and especially thanks to how private jet providers market their services; high-end cars at the footsteps of the aircraft, extreme privacy and tailor-made inflight services just to name a few. But the truth is that according to private jet provider Monarch Air Group, almost 80% of all private flights are two hours or less and the majority are for business purposes, so choosing to add every amenity on the list is not a popular decision within today's modern private jet traveler. Time efficiency is.
Although without any direct competitors, private jet aviation could be compared with commercial first class on some routes; especially international ones due to price. Nevertheless, in every aspect of the process, when time is of the essence, private jet aviation beats commercial flight. There's no need to arrive hours before your flight (just 10 minutes prior), you can take off and land at the nearest airport to your next meeting and the aircraft will be waiting for you once your finished.
All this is finely represented by how professional golfers use private aviation to stay fresh and reduce travel time. In fact, an article by PrivateJetComparissons.com estimated that flight times were reduced by over 60%, allowing golfers "to save nearly 5 days of travel time in half a year by flying privately." The same can be said for company executives on business tours; according to Monarch Air Group, "while private aviation allows arranging six meetings in three days, commercial flight, if no setbacks happen, will allow you to hold only four in the same time frame".
Today time is money and with the immediacy provided by communication technologies, a 5-hour flight to meet a client or a group of employees needs to make financial sense. It makes a big difference when top executives leave office for two days instead of four, not just because of the fact they won't be physically available to amend a problem, but also to reduce hotel, taxi and meal expenses.
Charter a cost efficiency centered private jet
The previous is the exact reason why private aviation, today, is treated as a necessity instead of a luxury. The price paid by companies is marginal compared to the savings in efficiency, actual working hours and the overall rest obtained by top executives.
For information on chartering a private jet, contact Monarch Air Group at +1-954-359-0059 or price out your flight here for an instant quote.