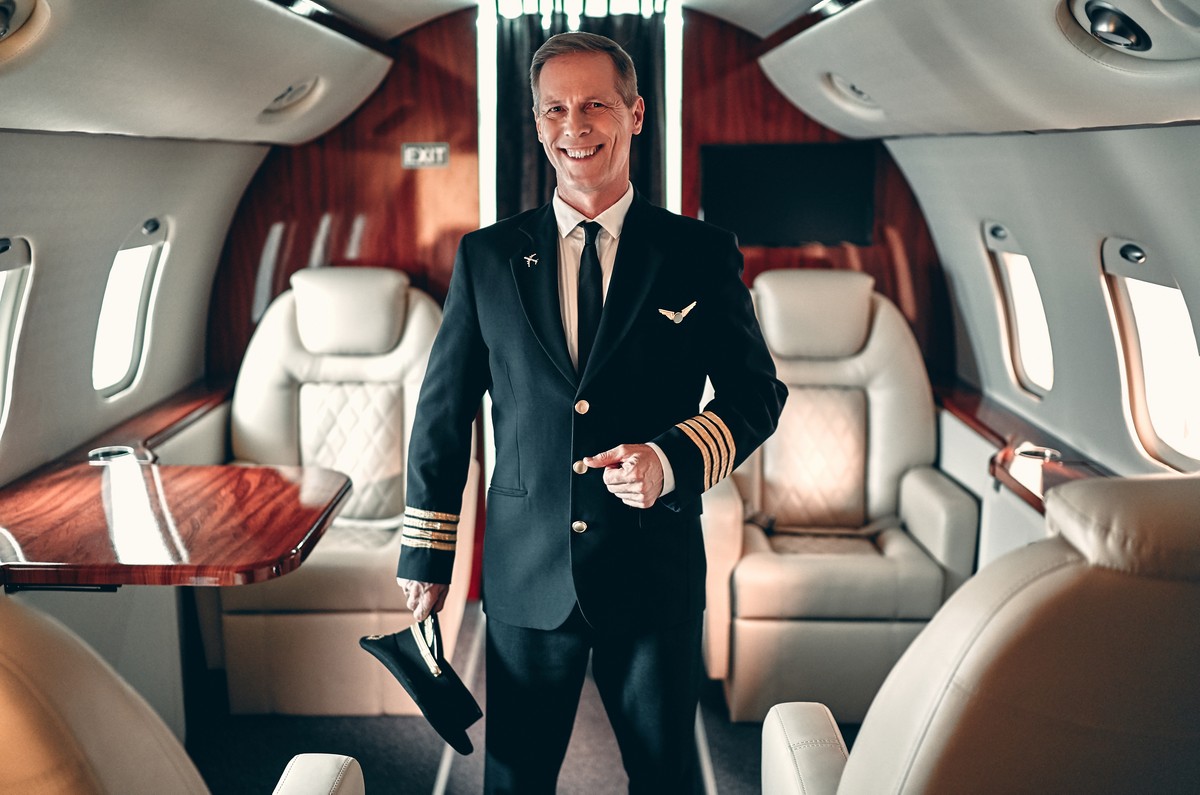 Commercial air travel has become increasingly more inconvenient than ever with constantly changing flying restrictions, long security lines, congested terminals, delayed or lost luggage and squeezing into an uncomfortable seat.
Private flying, on the other hand, offers an unmatched experience in convenience, privacy and extended flight ranges. With on-demand private flying, as a private charter client, you can minimize stress by traveling according to your personal schedule.
As a private charter client, you can make last-minute plans to travel and host family, friends or business colleagues in a spacious cabin.  Designed with ultra-comfortable seating, private jets are smartly configured to enhance business conversations, socializing with fellow passengers, efficient in-flight catering and relaxation. Intuitive cabin management systems will put the latest technology at your fingertips, for meeting presentations or entertainment options.
Moreover, with advanced engineering, engines that power business jets are more fuel efficient than ever before.
Here are 10 of the top favorite luxuries Monarch Air Groups on-demand private air charter clients enjoy:
1. Aircraft range
When it comes to time savings, non-stop long-range flights are one of the perks of flying private. The private jet industry's unprecedented advancements in technology reduce travel time and connect cities like never before. Monarch Air Groups' on-demand private charter clients are taking advantage of the benefits of  aircraft range when chartering private jets when traveling long distances.
Heavy jets have the most extended range for private jet charters and are designed to fly long range or ultra-longrange transcontinental flights non-stop with up to 19 passengers. Super Midsize jets offer the conveniences of Heavy jets with flat floors and a long range. Midsize and Light jets offer a mix of ranges for shorter private charter routes and include intuitive cabin management systems, as well as ultra- comfortable seating.
2. Comfort
Private jets offer passengers ultimate luxury and unsurpassed comfort. Cabins seating can be configured specifically for the purpose of the flight with a range of design options that include warm or cool color palettes and natural finishes and oversized windows allow natural light into the cabin.
Enhancing passenger comfort, your pet will travel comfortably in the cabin with you. On commercial flights, your pet will likely have to travel in the cargo hold if it is more than 15 pounds. Whether your pet is five pounds or fifty, you can rest assured your pet will be able to travel with you in the cabin on your privately chartered flight.
3. Fast climb rate
A rate of climb is used to describe how fast a jet can reach its cruising altitude. The quicker the rate of climb, the faster your jet will reach its cruising altitude and the smoother your ride will be. By flying at a higher altitude, you can leave inclement weather far below. The environment benefits from modern business jet technology, because jets burn fuel more efficiently at their optimal cruising speed.
4. Fewer logistics and less stress
You and your guests can avoid crowded airports and long security lines when flying private. As a private jet passenger, you can choose your aircraft, arrival and destination airports and travel according to your schedule.
5. Fuel-stop savings
Passengers who have traveled on commercial jetliners are familiar with the inconveniences of layovers at major hubs. Whether you travel through Chicago, Dallas, Atlanta or Detroit, catching a connecting flight can be stressful and time consuming, especially when traveling with children or pets.
When flying private, even if you land to refuel, the average fuel stop takes between 45 – 60 minutes. If your pilot calls ahead, the process can take as little as 30 minutes. Even if you are on the ground, you'll still be charged if you are paying an hourly rate. Non-stop flights not only offer better fuel economy, they spare on-the-ground expenses as well. Monarch Air Groups can match your route with the best jet with the appropriate range to avoid or minimize fuel-stops.
6. Less risk of losing your baggage
Baggage is loaded directly onto private jets by airport staff, so there is little risk, if any, of losing your baggage when flying private. Also, most private jets have storage areas in the cabin that can be easily accessed during flight. And, because there are fewer baggage restrictions on private flights, you can bring whatever you need for your trip. Many private jets include located built-in storage compartments in the cabin to allow passengers to easily stow and conveniently access personal items during flight.
7. Options: Access to the largest pool of jets available for charter
As an on-demand private jet charter company, Monarch Air Groups has access to all available private jets for charter, allowing maximum flexibility to experience a broader range of technology through access to more jets than offered by companies with a limited pool of jets owned by private owners, fractional owners or jet card memberships. Monarch Air Groups can provide you with options to experience a variety of aircraft models and configurations with a charter experience that is customized to your specific flight requirements.
8. Technology: Environmentally friendly design and intuitive digital interfaces
Business jets represent the pinnacle of aviation technology. Business jet designs maximize travel time and limit environmental impact with fuel-efficient advanced engines that allow jets to fly faster and farther while reducing noise and emissions. Cabin technology includes Internet access, unlimited digital entertainment options and intuitive cabin management systems with controls thoughtfully placed throughout the cabin. Monarch Air Groups offers intuitive an on-demand booking platform to help charterers find the flight options quickly and efficiently, backed with support from experienced charter professionals.
9. Timesavings
Speed is the ultimate time-saver and the reason why business executives turn to private jets as a tool to help them keep their businesses running smoothly. Executives can work more productively, relax more comfortably and seize opportunities not possible with commercial jetliner service. If you need speed, consider chartering one of the fastest private jets in the market, Cessna's Super Midsize jet, the Citation X+, can fly up to 711 miles per hour.
10. Versatility
With the versatility of private jets, you have access to a larger number of airports. As an example, private jets can take off on shorter runways. As a private jet charterer, you can use this advantage to depart from and arrive closer to your final destination to avoid traffic congestion that typically surrounds large metropolitan airports.
Super midsize jets are ideal for shorter runways because they can take off with full fuel tanks and fly non-stop for more than 3,200 miles. The Falcon 900LX is an example of a heavy jet with a large passenger capacity that has the capability to operate out of smaller regional airports. The jet can take off from runways of less than 4,000 feet at sea level and less than 6,000 feet up to a mile above sea level.
Experienced On-Demand Private Jet Charter Agents
With demanding business schedules and the pressures of running a business, private jet charterers turn to the experience charter coordinators at Monarch Air Groups for efficient planning of on-demand charter flights. A service business, we take pride in building long-term relationships with our charter clients. We take the time listen to our clients and pay close attention to the smallest details, whether our charter client requires a jet configured for a board meeting in the sky, an extended family holiday or a quick weekend getaway. Monarch Air Groups charterer coordinators endeavor to exceed expectations to create a memorable private flying experience, one flight at a time.