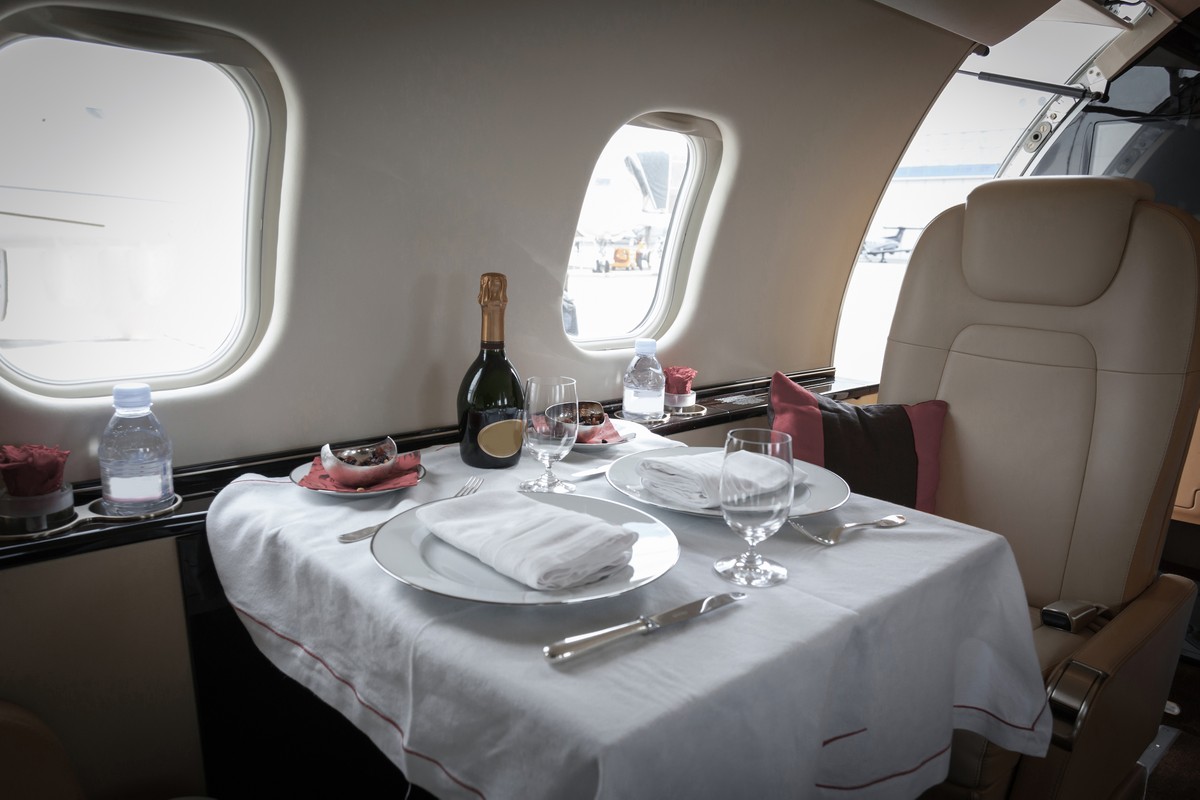 Finding the Right Catering for your Private Jet Flight Based on Aircraft, Galley Configurations and Taste
Private jet catering ranges from snack trays to takeout from top chefs to fast food and beyond. There are many amenities that can be arranged onboard your private jet charter that you booked on your ideal vacation or even simply to conduct your business meeting and return home for dinner with the family. However, one question that we receive a lot is: What are food choices are available for my upcoming Private Jet Charter, how much will they cost, and how do I make these arrangements?
How Does my Choice of Aircraft Impact Catering Options?
Whether it be on a light jet for a quick hop or an ultra long range heavy jet flight across Europe, catering can be an integral part of the private jet experience. Options are influenced by aircraft, galley space and the availability of a flight attendant to serve meals, but there is always a way to incorporate some of your favorite food and drink into your on-demand air charter.
How do Dining Options Shape the Private Jet Experience?
In regards to amenities, many aircraft are now equipped with high speed wifi service so that you can stay connected to everything even when you are cruising at 40,000 feet in the air. Your aircraft may even have in-flight entertainment systems so that you can kick back and watch your favorite movie. A good majority of the time, you will have your closest friends on the aircraft with you or maybe even a business associate.
All of these amenities will keep you busy and make the flight go quickly, but at the end of the day we are all human and will get hungry when we are onboard an aircraft for multiple hours at a time. Booking a multi-million dollar aircraft for your upcoming charter should have the finest of cuisine onboard for your enjoyment whenever the stomach starts to rumble.
Is Private Charter Catering Expensive?
One may assume that catering for a private jet may be on the expensive side, which can sometimes be the case. However, when we step back and think about the things that go into getting your food onto the jet, it does add up as to why the price is so significant. Costs include special needs ranging from the preparation utilizing specialized containers that can be heated up at 40,000 ft to the delivery logistics required to bring all the food to your airport and onto the ramp where your jet awaits.
Catering can be completely customized, whether its just a few sandwiches or even some fresh fish from Honolulu on your way back from vacation. Wouldn't a wine and cheese tray sound nice to combine everything you learned during multiple wine tastings following a holiday in the wine country of Napa or Sonoma?
How to get the most from private jet catering
There is a secret to getting the most out of your catering expectations you may have from your private jet charter booking. Ask your account manager what the local cuisine is. We are always able to make a phone call to the FBO you will be flying out of and inquire as to the best restaurants around the town. We are able to order from almost any restaurant so that you can taste the local cuisine from the city in which you just had to make a quick stop for a business meeting. Also, what better way to end a vacation then having a meal from the favorite restaurant you discovered during that week-long dream holiday?
The vacation doesn't stop onboard your flight back home. With a few phone calls, your on-demand air charter team can have your aircraft turned into a dining room in which you can enjoy a first class meal with your family, friends or colleagues onboard the aircraft.
Can my Flight Attendant Assist with On-Board Catering?
If you were lucky enough to book a super midsize or heavy jet, then your aircraft typically will have a flight attendant onboard who would be the person who is most versed in customer service and one of the most valuable members of the crew. With experience, a flight attendant will know all the best restaurants in different locations and would be able to fully oversee that your catering order is onboard, along with any recommendation he or she might have given to you.
Can I Order Catering even when I am Traveling Internationally?
Absolutely; in fact, on-board catering is encouraged if you are traveling from the United States internationally. Typically, your flight will be long, so it is recommended to have catering onboard for your enjoyment during the flight.
So I want to get Catering on my Flight. How Much Should I Order?
With it being very easy to rack up a $2,000 bill for catering for just 4 people, it can be helpful to keep in mind that portions ordered through local catering companies are typically 1 – 1.5 times the size of a normal dish that you would receive at your local favorite restaurant. This means that if you were to order a fruit tray for 4, you will actually receive an order large enough to accommodate 6 persons. It is very easy to over-order.
At times, the best idea will just to give your broker an idea of what you would like onboard; they can run with some ideas and work with flight attendants that may be onboard your aircraft to create an experience that goes above what your normal charter broker may provide.
Can I even arrange to have fast food picked up for my private jet charter?
The answer to this question is yes, absolutely. We can accommodate your craving for fast food onboard your aircraft by arranging a linesman that works at the local FBO to pick up your favorite fast food.
In Conclusion: Nearly All Types of Meals, Snacks and Spirits Can Be Made Available on a Private Jet
Whether its Hot Beef Sandwiches on Weck Sandwiches bread from Buffalo, fresh lobster tails from Maine or maybe even a cup of clam chowder from Nantucket when you're in town, your on-demand air charter team will be able to create a custom catering order to ensure that you never arrive to your vacation spot or even your business meeting on an empty stomach.