Monarch Air Group provides private air charter in Vienna, Austria. Our clients benefit from top-notch service, unrelenting dedication to safety, wide selection of aircraft, and years of experience in chartering private jets. To obtain a free quote, please use our online quoting tool provided below, or call toll-free 1-877-281-3051.
Charter a private jet to&from Vienna, Austria
Book a Private Jet Charter to and from Vienna, Austria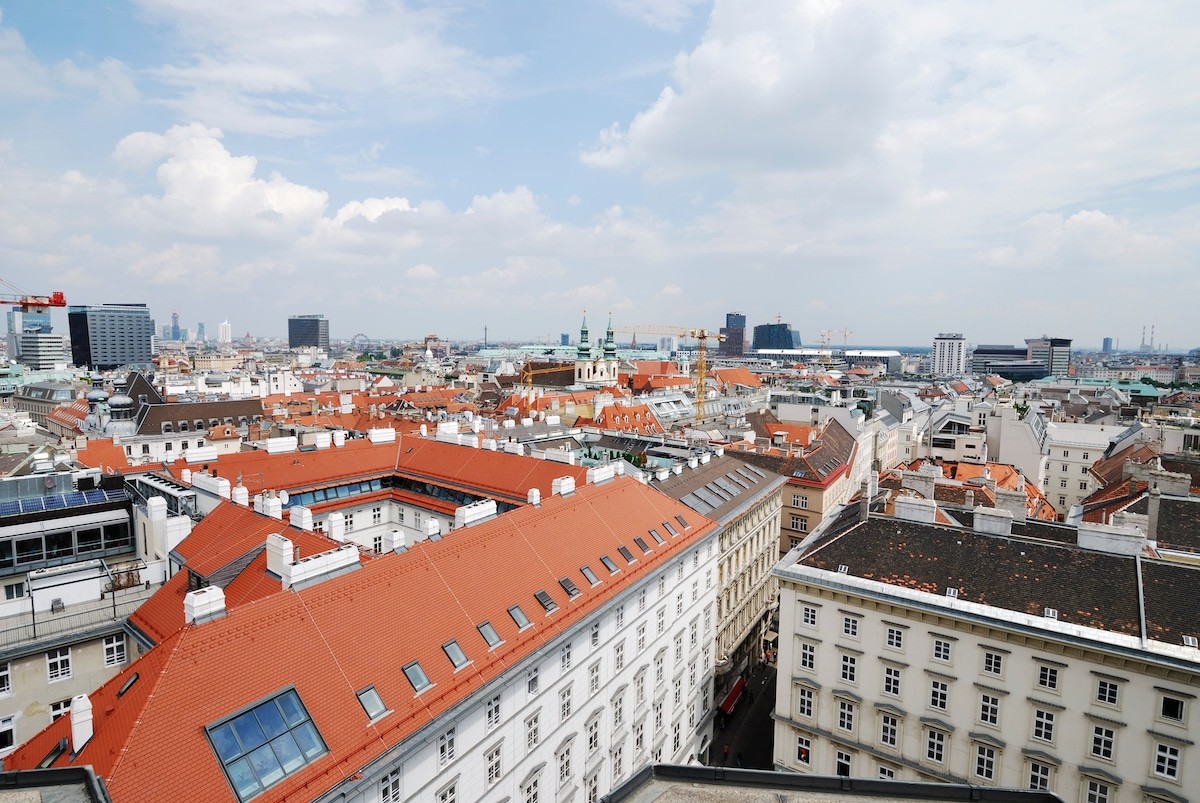 Monarch Air Group offers private jet charter services to and from Vienna, Austria.
Vienna is the largest capital city of Austria, known as the cultural, political, and economic center. It has long been a center of the arts, especially music, Mozart, the Strauss family, and Beethoven were among the great composers who lived and worked there. When traveling by private jet charter to Vienna, experience the charm and inspiration and marvel at the splendor of the local architecture.
Absolutely every part of the city boasts unique sights when you take a charter jet to Vienna. Beautiful art nouveau buildings are from turn-of-the-century architects like Adolf Loos and Otto Wagner. However, the Spanish Riding School's renowned Lipizzaner stallions, the Vienna State Opera, and the Vienna Boys Choir are the most popular tourist attractions.
Travelers on charter flights to Vienna can spend an entire day in the city's heart, picking up details in the form of unusual sculptures and wandering through narrow streets. Also, you can take a water tour of the Danube and admire the city from the water. Good weather and long daylight hours make for an unforgettable vacation in Vienna.
There is only one airport in Vienna, called Vienna Schwechat International Airport (VIE/LOWW), and located 12 miles away from the city center. Therefore, it can also be referred to as Vienna or Vienna Intl. Monarch Air Group will arrange everything you need to charter a private jet to Vienna.
Vienna Private Jet Airports
VIE, LOWW, Vienna International Airport, Vienna, Austria
VOS, LOAV, Bad Voslau Airport, Bad Voslau, Austria
LOAD, Voltendorf Airport, Sankt Polten, Austria
FAQ for a Private Jet Charter Flights to Vienna
Why choose a charter jet to Atherton with Monarch Air Group?
Monarch Air Group provides private flights to and from Vienna and offers a full range of charter jet services that you can take advantage of. We will coordinate any special wishes you may have, follow up on your trip and provide 24/7 support. Contact us when your travel requirements are beyond the capabilities of our regular aircraft, and we can help make the arrangements. Also, call one of our agents for charter jet Vienna rentals.
How much does it cost to book a Vienna private jet charter?
Several factors determine the cost of renting a Vienna private jet. The determining factor is the size and the range of the aircraft. If you can not find the necessary information on the Vienna private jet charter price, please get in touch with our specialists. Additional charges may include boarding, meals, and crew expenses. You can get a rough flight cost estimate by using the private jet charter cost estimator.
Here are some approximate prices for private flights to Vienna:
Charter a Private Jet to Vienna from London: from $11,530;
Charter Flights to Vienna from Paris: from $11,260;
Private Flights to Vienna from Milan: from $5,180.
*Estimated price before taxes & fees.
What types of private jets can use for Vienna charter flights?
Whether planning a business trip, a group charter flight with colleagues, or an extended family vacation, our airline industry experience provides a stress-free and personalized flight experience. Planes for Vienna charter flights have a particular cabin layout and are suitable for different types of travel. The choice depends on the flight distance, the luggage volume, the required comfort level, and the number of passengers.
| Aircraft type | Passengers | Non-stop range | Cruising speed | Intended use |
| --- | --- | --- | --- | --- |
| Light Jet | up to 6 passengers | about 700 – 2000 miles | 476 to 518 mph | for comfortable short- to mid-range distances |
| Midsize Jet | up to 10 passengers | about 1300 – 1500 miles | 422 to 541 mph | to fly nonstop from coast to coast |
| Super midsize Jet | up to 10 passengers | about 3.500 – 4.000 miles | 490 to 590 mph | for longer flights |
| Heavy Jet | up to 18 passengers | about 6.000 miles | 480 to 551 mph | traveling overseas in luxury for an intercontinental flight |
| Turboprops | up to 10 passengers | about 600 – 1.900 miles | 220 to 360 mph | for short- to mid-range flights |
| Ultra-Long Range Jet | up to 19 passengers | about 2,800 – 7,685 miles | 460 to 594 mph | for long-haul travels |
| Helicopters | up to 28 passengers | about 250 – 600 miles | 150 to 175 mph | for passenger and cargo transportation |
What are the advantages of flying on a Vienna private jet?
Renting a private jet has several undeniable advantages over commercial flights. First, nothing beats the peace of mind of private travel. We are flexible to accommodate your schedule, provide the level of privacy you need, and provide access to regions that are hard to reach. Also, with private plane charter Vienna it is possible to arrange hotel transfers, meals on board, choose the number of crew, and more.
Popular destinations near Vienna by private jet
Bratislava – is the largest city in Slovakia, full of charm, magnificent alpine scenery, and well-preserved architecture.
Budapest – serves as Hungary's political and cultural center, boasting graceful boulevards and regal bridges.
Salzburg – close to the German border- is a picturesque city with unique castles, palaces, and breathtaking valleys.
Prague is the largest city in the Czech Republic and a famous tourist center.
Our clients travel on efficient and comfortable private jets. If you haven't found the answers to all your questions, you can contact our experienced and reliable team at any time or visit our air charter FAQ page.