Monarch Air Group provides private air charter in Venice, Italy. Our clients benefit from top-notch service, unrelenting dedication to safety, wide selection of aircraft, and years of experience in chartering private jets. To obtain a free quote, please use our online quoting tool provided below, or call toll-free 1-877-281-3051.
Charter a private jet to& from Venice, Italy
Private Jet Charter to and from Venice, Italy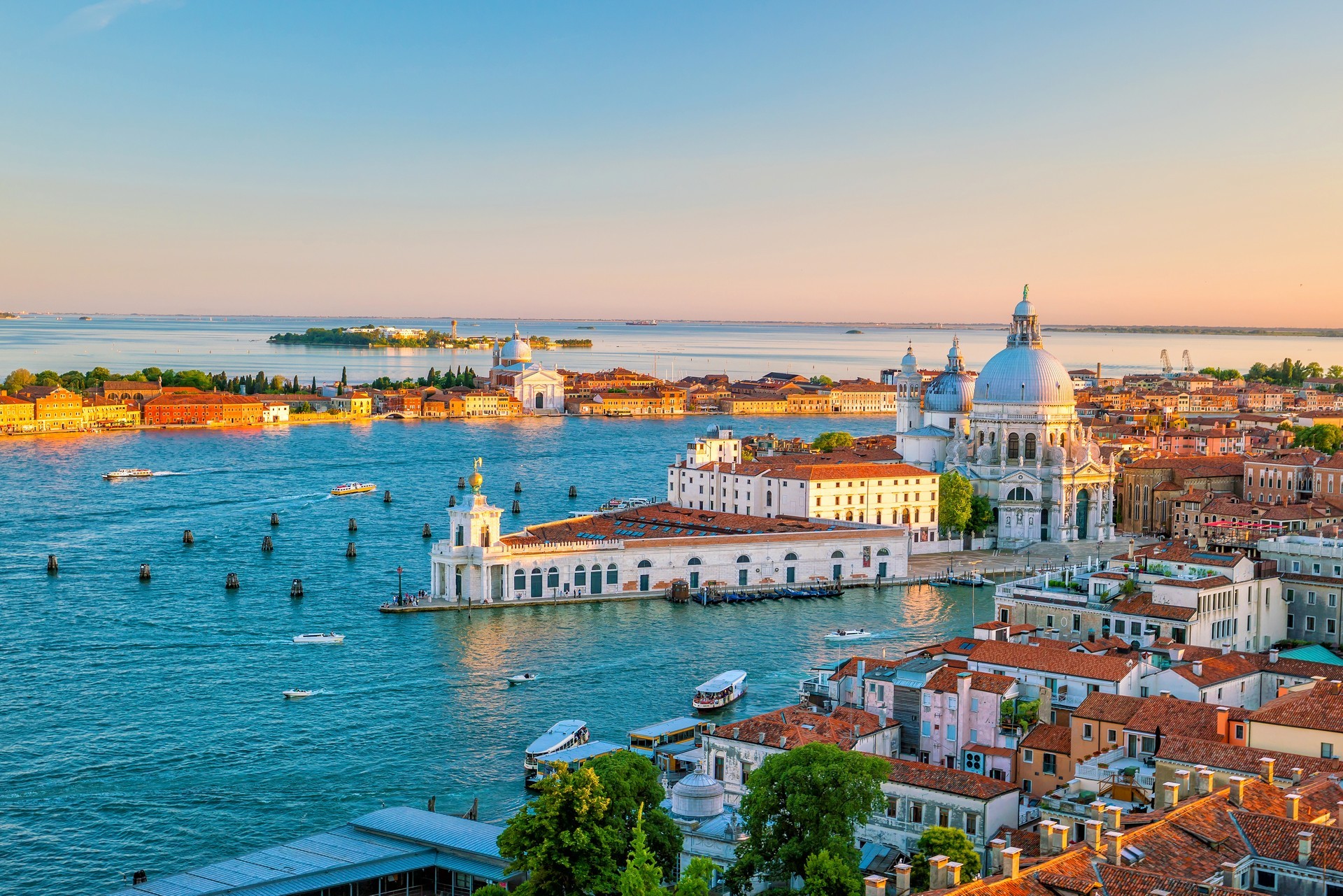 Monarch Air Group provides private jet charter flights to and from Venice, Italy.
Venice is a city in northeastern Italy situated on an Adriatic Sea lagoon. Commonly referred to as the "City of Water," "Queen of the Adriatic," "The Floating City," and "City of Bridges," Venice is considered one of the most romantic destinations in Europe. It is the capital of the Veneto region and a significant tourist, cultural, and economic hub in Italy. Transport, shipbuilding, communication, public administration, financial services, metals and metal goods, footwear, chemical products, and glass products are the primary contributors to the city's economy.
St. Mark's Basilica is, without a doubt, the most well-known building that will catch your attention once you've chartered a private jet to Venice. It is a magnificent example of architecture that has withstood the test of time since it was built in 1092 and continues to be one of the most significant religious structures in Northern Italy. This church is impressive in every way, from the intricate carvings, sculptures, and artwork on the front facade to the exquisitely painted frescoes and Byzantine artwork inside the domed roof.
In addition, when renting a private jet to Venice, you'll be impressed with its most well-known square St. Mark's Square. This square is significant to Venice and is an absolutely breathtaking spot to visit. It is situated on the great canal, across from the island of San Giorgio Maggiore. A collection of elaborate structures with arched walkways surround the Piazza and perfectly frame it. Moreover, the plaza is home to a number of significant buildings, including the Torre dell'Orologio, the Doge's Palace, St. Mark's Campanile, and St. Mark's Basilica.
With a private jet to Venice, visit the largest canal, the Canal Grande, which connects the numerous islands that make up the city. Venice contains hundreds of waterways literally. This enormous canal, which resembles a river, runs through the middle of Venice in the shape of a big S. It connects the city's two sides. The canal's banks are lined with more than 170 buildings, some of which date back as far as the 13th century. The canal has been a crucial waterway for the city for hundreds of years. Consider strolling alongside the canal while viewing the structures that line it and taking in Venice's hectic water traffic.
Of course, there are a lot more attractions to visit and see when booking a private jet flight to Venice. A variety of international events and festivals, such as the Venice Biennale and the Venice Film Festival, which draw tourists from all over the world, are held in Venice, as well as the restaurants and cafes that line the banks of the canals. Venice, one of the world's most alluring and exquisite cities of art, is a well-liked Italian tourist destination and a significant hub for tourism, drawing around 20 million tourists annually.
Venice Marco Polo Airport (VCE), Treviso-Sant'Angelo Airport (TSF), and Padova Airport all provide service to the city (QPA).
Venice, Italy Private Jet Rental Cost
The cost of chartering a private jet to Venice, Italy, can vary greatly depending on several factors, including the size and type of the aircraft, the distance of the flight, and the duration of the rental.
The cost of renting a light jet, such as a Citation CJ1, from London to Venice for a one-way trip can start from around $13,200. For a turboprop plane, such as a Pilatus PC-12 cost can range from $14,100 for a one-way trip.
Private Jet Airports near Venice, Italy
VCE, LIPZ, Venice Marco Polo Airport
TSF, LIPH, Treviso-Sant'Angelo Airport
QPA, LIPU, Padua Airport
FAQs: Private Jet Flight to Venice, Italy
Why Choose a Private Jet to Venice with Monarch Air Group?
Monarch Air Company offers a flexible schedule for private jet charters to Venice, depending on your needs. Our luxurious private charter flights to Venice offer the finest levels of luxury and service, optimizing your arrival at your destination. To fulfill your expectations for a private jet hire to Venice, we will meet all of your requirements.
How Much Does It Cost to Charter a Private Jet to Venice?
The cost varies between $2,000 to $17,000 or more per billable flight hour, according to your location, route, and type of aircraft.
What Types of Private Jets Can Use for Venice Charter Flights?
Monarch Air Group offers a selection of aircraft according to the number of passengers, flight distance, and quality of on-board facilities necessary. The more information you can provide on the private jet charter to Venice, the better. We can provide the best aircraft and service for Venice air charter service due to our years of experience.
What Are the Benefits of Flying a Venice Private Jet?
Private jet charters to Venice appear to offer distinct benefits over commercial flights. First, there is a reputable jet rental agency that provides flexible, rapid, economical and time-saving travel choices. We can create a proposal for a private jet charter to Venice to your precise needs, timeline, and budget.
Is it Possible to Travel with Pets to Venice on a Private Jet?
Yes, animals are permitted on private aircraft. They may be in the cabin with you on a private jet, whereas they would be in the cargo hold on commercial airlines. Your pets can depart from one of the many pet-friendly airports and enjoy being a part of the private pet set so long as their documentation is up to date.
Popular Destinations near Venice by Private Jet
Milan in Italy – Milan is a well-liked destination for fine dining, upscale shopping, and art and culture. A one-hour flight will take you from Venice to Milan.
Vienna in Austria – Vienna is renowned for its historical sites, architecture, and classical music. The flight takes roughly one hour and thirty minutes.
Zurich in Switzerland. In addition to being well-known for its upscale dining and shopping, Zurich is a popular location for outdoor sports like hiking and skiing. The flight takes roughly one hour and twenty minutes to get from Venice to Zurich.
German city of Munich. Munich is renowned for its beer gardens, ancient buildings, and extensive cultural history. From Venice to Munich, the flight takes roughly one hour and fifteen minutes.
Dubrovnik in Croatia – Dubrovnik is a charming seaside city renowned for its ancient walls and breathtaking Adriatic Sea vistas. The flight takes roughly one hour and twenty minutes to get from Venice to Dubrovnik.
Our customers fly on private jets that are both comfortable and effective. You may always get in touch with our knowledgeable and dependable crew or check out our air charter FAQ page if you haven't been able to find the answers to all of your questions.