Monarch Air Group provides private air charter in Valparaiso, Chile. Our clients benefit from top-notch service, unrelenting dedication to safety, wide selection of aircraft, and years of experience in chartering private jets. To obtain a free quote, please use our online quoting tool provided below, or call toll free 1-877-281-3051.
Charter a private jet to&from Valparaiso
About Valparaiso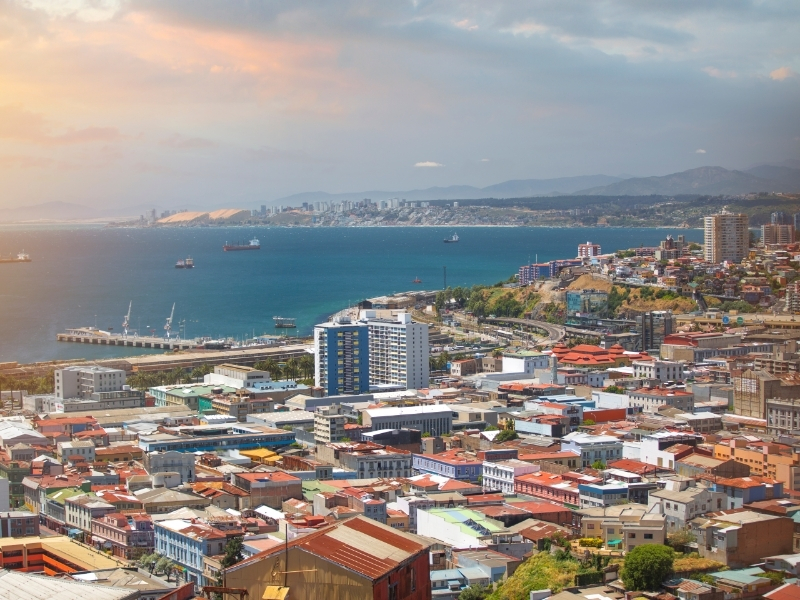 Monarch Air Group offers private jet charter services to and from Valparaiso.
Valparaiso is located on the central coast of Chile. Founded in 1536, Valparaiso was an important port city serving as a link between the Atlantic and Pacific oceans via the Strait of Magellan. The city also served as a hub for trade between Chile and Peru. Seafarers who sailed to the port city referred to Valparaiso as the Jewel of the Pacific. Today, Valparaiso is the second largest metropolitan city in Chile, characterized by its steep streets, colorful buildings and sweeping ocean vistas.
Valparaiso is an ideal destination for urban explorers and wine lovers. Before heading to the wine country, explore a few of the city's most popular attractions, including the Historic Quarter of the Seaport City of Valparaiso. The architecture, funicular transportation system and seaport is well-preserved. The quarter remains much the way it was during the city's urbanization in the 19th and 20thcenturies before the opening of the Panama Canal. Visitors can choose to spend time here exploring quaint cafes, restaurants and shops that line the steep cobblestone streets. Another popular attraction is La Sebastiana, the former home of Chilean poet Pablo Neruda. It is no wonder why Neruda selected this site for his home. The panoramic views of the Pacific Ocean are spectacular.
The nearby Casablanca Valley is one of Chile's most important wine regions. Located between the mountains and the sea, the valley's climate and altitude is ideal for growing grapes that produce delicious white wines produced by some of Chile's most popular wineries.
Popular with eco-tourists, Emiliana is the largest organic winery in the world. The winery is also home to a herd of alpacas who play an important role in the sustainability practices at the winery. Guests tour options include learning about the winemaking process, pairing wine with cheese or settling in for a romantic picnic to enjoy on the grounds. Choosing between a peppery blend of Cabernet Sauvignon or the Chilean Carménère may be the most difficult decision you will have after choosing to spend time visiting Valparaiso's beautiful wine country.
The nearest airport to Valparaiso is Arturo Merino Benitez International Airport (SCEL), known by locals as Pudahuel. The airport is 71 miles (115 km) from Valparaiso. Empty legs and transient aircraft are very popular in the region.
Valparaiso Map
Airports within 70 miles For Private Jets to Valparaiso
1. SCL, Comodoro Arturo Merino Benítez International Airport, Santiago, Chile
2. KNA, Vina del Mar Airport, Vina del Mar, Chile