Monarch Air Group provides private air charter in Valletta, Malta. Our clients benefit from top-notch service, unrelenting dedication to safety, wide selection of aircraft, and years of experience in chartering private jets. To obtain a free quote, please use our online quoting tool provided below, or call toll-free 1-877-281-3051.
Charter a private jet to&from Valletta
About Valletta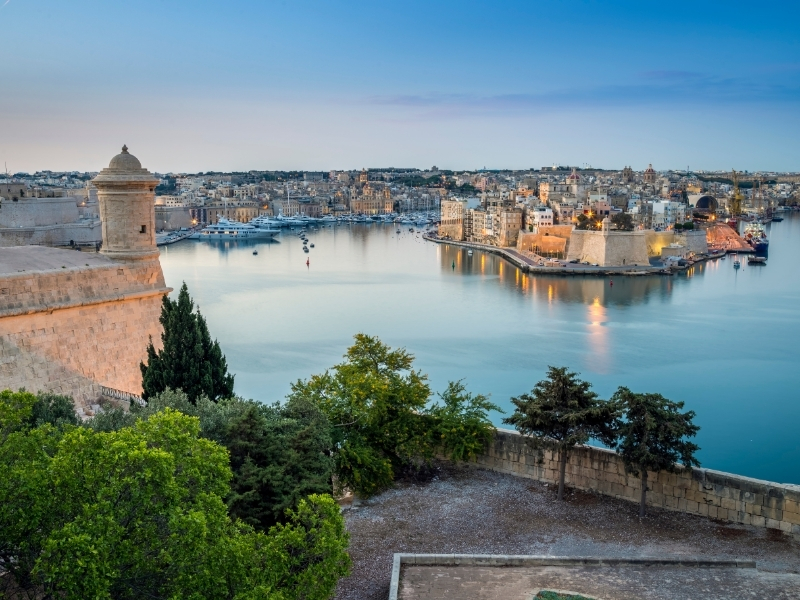 Monarch Air Group offers private jet charter services to and from Valletta, Malta.
Valletta is a small capital city located on the Mediterranean island of Malta. One of three islands of the Maltese archipelago, Malta is the largest island. The city was established in the 1500s by the Knights of St. John, a Roman Catholic order. Known for its stunning ocean views and Grand Harbour, the city of Valletta is often described by visitors as one of the most beautiful European cities in the Mediterranean.
Valletta is a place to discover treasures of the past, including the Baroque period architecture of its museums, palaces and churches. Valletta is also a modern global city with a bustling business center. Throughout the year, Valletta hosts world-class cultural events, including live concerts and opera.
The Valletta Waterfront features 19 historical warehouses that were built during the Baroque period. As you stroll along the promenade, you will notice that the warehouses extend to the historical Quay where Knights of St. John and European merchants traded. If you would like to stop for a while and take in the sights and sounds of the waterfront, there are a variety of quaint cafés, restaurants and wine bars to choose from.
Among the many attractions in the area, one of the most intriguing is a subterranean Neolithic temple called Hypogeum of Ħal Saflieni, the only one of its kind in the world. Discovered in the early 20th Century, archaeologists believe the temple served as a sanctuary and necropolis.
Other landmarks include St. John's Co-Cathedral, home to Caravaggio's masterpiece "The Beheading of Saint John." Considered to be one of the most important works in Western painting, the painting was commissioned by the Knights of Malta as an altarpiece.
One of the most popular family attractions in Valletta is the Malta National Aquarium. The aquarium features a diversity of marine life from Malta's western shorelines, including sharks, the most popular residents at the aquarium, especially with enthusiastic young stewards of the marine environment.
The nearest airport to Valletta is Malta International Airport (LMML). The airport is located 4.35 miles (7 km) from the city center of Malta. Empty legs and transient aircraft are extremely popular in the region.
Valletta Map
Airports within 70 miles For Private Jets to Valletta
1. MLA, Malta International Airport, Luqa, Malta
2. CIY, Comiso Airport, Comiso, Italy
3. CTA, Catania-Fontanarossa Airport, Catania, Italy
4. PMO, Falcone-Borsellino Airport, Palermo, Italy
5. LMP, Lampedusa Airport, Lampedusa, Italy
6. PNL, Pantelleria Airport, Pantelleria, Italy
7. REG, Reggio Calabria Airport, Reggio, Italy