Monarch Air Group provides private air charter in Tulum. Our clients benefit from top-notch service, unrelenting dedication to safety, wide selection of aircraft, and years of experience in chartering private jets. To obtain a free quote, please use our online quoting tool provided below, or call toll-free 1-877-281-3051.
Charter a private jet to&from Tulum
About Tulum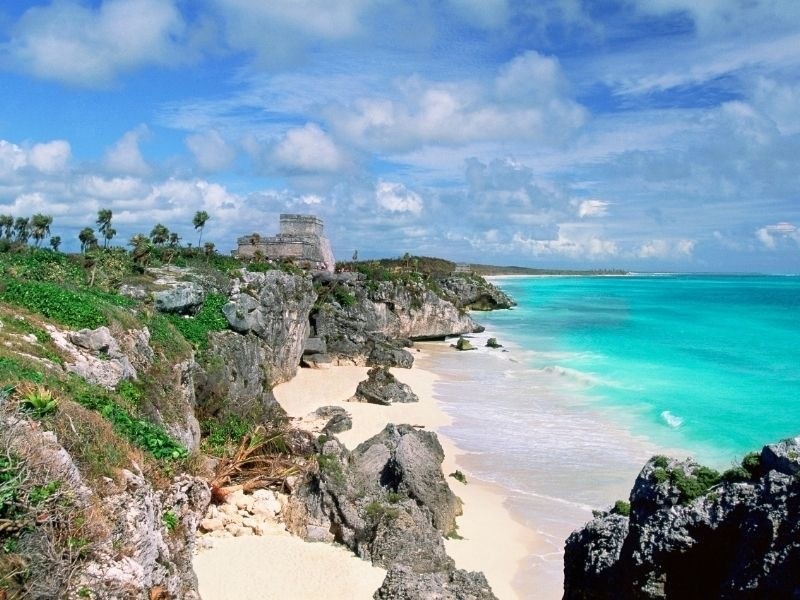 Monarch Air Group offers private jet charter services to and from Tulum.
Exploring the ecosystems of the Caribbean coastline is a popular activity for active leisure travelers who visit Tulum, a city situated on Mexico's Yucatán Peninsula. Tulum is known for its wide variety of outdoor activities, including sunny beaches and Casa Cenote, a popular snorkeling and cave diving site. Casa Cenote is famous for being located above the largest underground cave system in the world. Each year, cave divers travel to Tulum from around the world to explore this unique underwater cave system.
Tulum is the site of a pre-Columbian Mayan city that was protected by stone walls. The city was one of the last built by the Mayan people around 1200 AD and was abandoned in the early 1500s. Researchers believe the Mayan people referred to Tulum as Zama. In ancient Mayan, Zama means dawn. Educational guided tours take visitors through the history of El Castillo (castle), the main building that sits on the top of the cliffs that tower above the Caribbean Sea. Near the ruins of El Castillo are park grounds where visitors can explore coastal mangroves and Tulum's sinkholes that have been naturally formed over thousands of years in the limestone rock. Popular day tours are a convenient way to access several adventures on a short visit. These trips can include snorkeling on the colorful coral reef of Tankah Bay and exploring the highlights of Tulum's wonderous cave and cavern system.
The nearest airport is Cancun International Airport (MMUN), approximately 73 miles (118 km) from Tulum. Empty legs and transient aircraft are very popular in the region.
Tulum Map
Airports within 70 miles For Private Jets to Tulum
1. CZM, Cozumel International Airport, Cozumel, Mexico
2. CUN, Cancún International Airport, Cancun, Mexico
3. CZH, Corozal Airport, Corozal, Belize
4. CUK, Caye Caulker Airport, Caye Caulker, Belize
5. ORZ, Orange Walk Airport, Orange Walk, Belize
6. BZE, Philip S. W. Goldson International Airport, Belize City, Belize
7. TZA, Belize City Municipal Airport, Belize City, Belize
8. MID, Manuel Crescencio Rejón International Airport, Merida, Mexico
9. CTM, Chetumal International Airport, Chetumal, Mexico
10. CZH, Corozal Airport, Corozal, Belize