Monarch Air Group provides private air charter in Trondheim, Norway. Our clients benefit from top-notch service, unrelenting dedication to safety, wide selection of aircraft, and years of experience in chartering private jets. To obtain a free quote, please use our online quoting tool provided below, or call toll-free 1-877-281-3051.
Charter a private jet to&from Trondheim
About Trondheim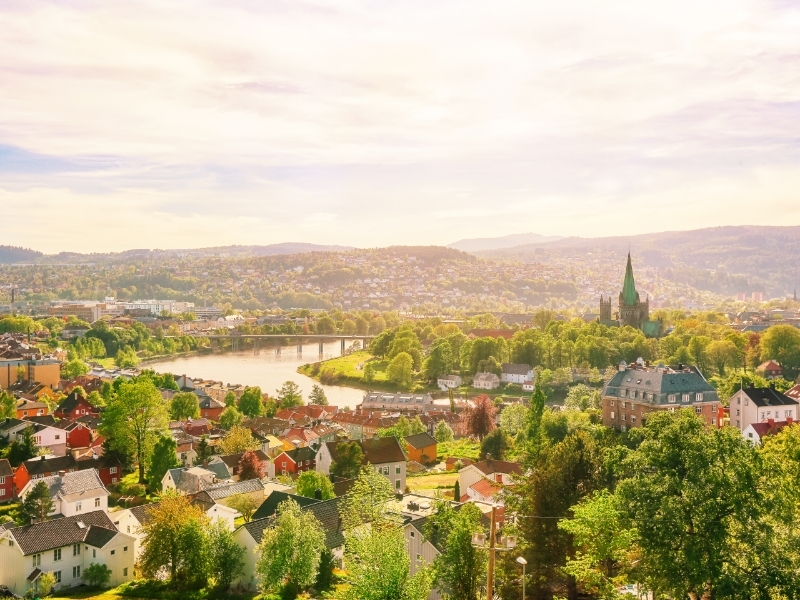 Monarch Air Group offers private jet charter services to and from Trondheim, Norway.
Trondheim is located on Trondheim Fjord in Norway. The city was founded in the 11th Century. A land of Viking legends, Trondheim's scenic riverbanks and distinctive Norwegian architecture can be explored on a pleasant walk or bicycle ride. Leisure travelers visit Trondheim to experience its nature in its purest form. Norway is famous for its Northern Lights or aurora borealis. This natural phenomenon is a beautiful natural display of colors draped across the night sky and can be seen occasionally in Trondheim, especially during strong solar activity.
Trondheim landmarks include the Bakklandet neighborhood on the east side of the Nidelva River. The neighborhood is characterized by its small wooden houses and narrow streets. The Old Town Bridge, completed in 1685, is a distinctive bridge that reflects the maritime culture and history of Trondheim. Music enthusiasts enjoy touring the Ringve Museum, a specialized museum dedicated to music and musical instruments. The museum is a former manor house and barn. Buildings on the property have origins from four different centuries.
The botanical gardens on the grounds are filled with a variety of flowers and plants, a delightful place for gardeners and photographers to explore. For more explorations in Trondheim, visit the Kristiansten Fortress. Built on a hill above the city in 1684, today the fortress is used to host Trondheim's cultural events and other important festivities held throughout the year.
Trondheim Airport, Værnes (ENVA) is located 10 miles (19 km) from Trondheim.Empty legs and transient aircraft are extremely popular in the region.
Trondheim Map
Airports within 70 miles For Private Jets to Trondheim
1. TRD, Trondheim Airport Station, Trondheim, Norway
2. KSU, Kristiansund Airport, Kvernberget, Kristiansund, Norway
3. MOL, Molde Airport, Årø, Molde, Norway
4. AES, Ålesund Airport, Vigra, Alesund, Norway
5. OLA, Ørland Main Air Station, Orland, Norway
6. RRS, Røros Airport, Roros, Norway
7. OSY, Namsos Airport, Høknesøra, Namsos, Norway