Monarch Air Group provides private air charter in Toulouse, France. Our clients benefit from top-notch service, unrelenting dedication to safety, wide selection of aircraft, and years of experience in chartering private jets. To obtain a free quote, please use our online quoting tool provided below, or call toll-free 1-877-281-3051.
Charter a private jet to&from Toulouse, France
Private Jet Charter to and from Toulouse, France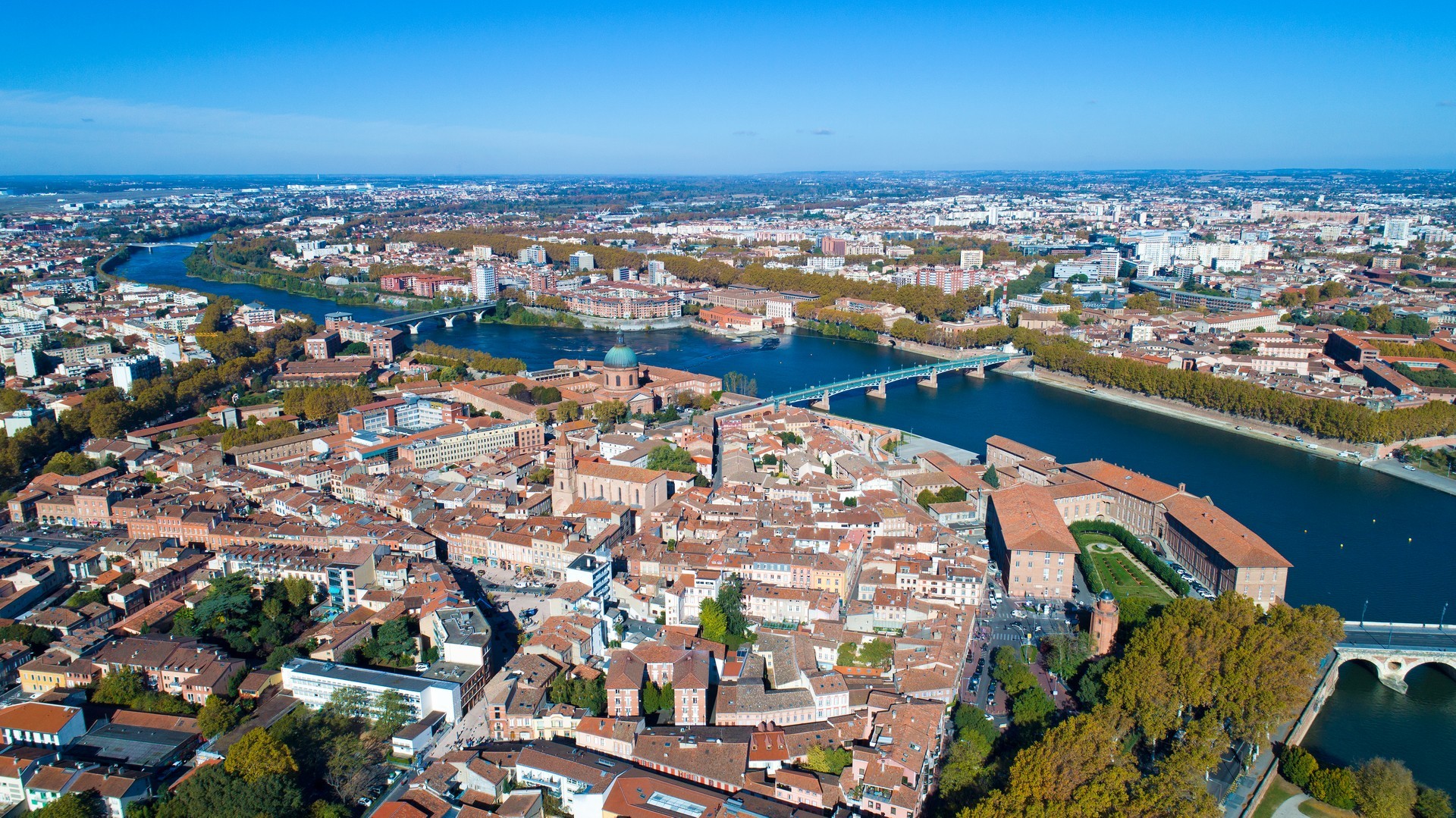 Monarch Air Group offers private jet charter services to and from Toulouse, France.
Nestled in the heart of southwestern France, the picturesque city of Toulouse beckons travelers with its rich history, stunning architecture, and lively atmosphere. Known as La Ville Rose (The Pink City) due to the distinctive pink-hued bricks adorning many of its buildings, Toulouse private jet charter offers a unique blend of medieval heritage and modern vibrancy. From its fascinating landmarks to its thriving cultural scene and delectable gastronomy, there is no shortage of things to see and experience in this enchanting city.
Once you've chartered a private jet to Toulouse, embark on a journey back in time as you explore the Basilica of Saint-Sernin, a UNESCO World Heritage site and one of the largest Romanesque churches in Europe. Admire its impressive architecture, intricate sculptures, and magnificent rose windows. Step inside to witness the serene beauty of the interior, including the awe-inspiring crypt.
Book a private jet and take a leisurely walk through the charming Old Town of Toulouse, where narrow streets and quaint squares reveal centuries of history. Discover the iconic Place du Capitole, the city's main square, lined with elegant buildings and home to the majestic Capitole de Toulouse, the city hall. Enjoy the lively atmosphere, browse local boutiques, and savor coffee at one of the charming cafés.
Art enthusiasts should not miss the Musée des Augustins, housed in a former convent, when renting a private jet to Toulouse. This museum showcases a remarkable collection of sculptures and paintings from the medieval period to the early 20th century. Admire masterpieces by renowned artists such as Rubens, Delacroix, and Toulouse-Lautrec, while immersing yourself in the region's rich artistic heritage.
With a private jet to Toulouse, escape the hustle and bustle of the city by embarking on a relaxing boat ride along the Canal du Midi, a UNESCO World Heritage site. Immerse yourself in the serene beauty of the canal as you pass by picturesque countryside, quaint villages, and magnetic locks. Pack a picnic and enjoy a leisurely day on the water, soaking in the tranquility of this idyllic setting.
When chartering a private jet to Toulouse, embark on an out-of-this-world adventure at the Cité de l'Espace, an interactive space museum and theme park. Explore fascinating exhibits, including life-size replicas of spacecraft, an IMAX cinema, and a planetarium. Delve into the wonders of astronomy and space exploration through hands-on activities, making it an unforgettable experience for visitors of all ages.
Toulouse is renowned for its culinary delights, particularly its rich and flavorful cuisine. Charter your private jet to Toulouse and sample the iconic dish of Cassoulet, a hearty bean stew with various types of meat, and indulge in other local specialties such as foie gras and saucisse de Toulouse. Explore the lively food markets, such as the Victor Hugo Market, to savor regional products, including cheese, wine, and pastries.
Montauban Airport (XMW), Muret-Lherm Airport (LRH), and Toulouse-Blagnac International Airport (TLS) provide private charter flights for international business and leisure travelers.
Toulouse Private Jet Rental Cost
Toulouse's private jet rental ranges from $2,000 to $17,000 per billable flight hour or more. Turboprop jets cost from $1,800 to $2,400 per hour, light jets cost from $2,400 to $3,900, mid-size or super-midsize jets cost from $4,200 to $8,100 per flight hour, while heavy and ultra-long range jets per flight hour cost from $7,200 to $17,800.
Airports for Private Jets near Toulouse
TLS, LFBO, Toulouse Blagnac Airport
FAQ: Private Jet Flights to Toulouse
Why choose a charter jet to Toulouse with Monarch Air Group?
Choosing Monarch Air Group to handle every aspect of your journey to Toulouse ensures that your safety and comfort come first at all times. Our private airplanes are equipped with cutting-edge technology to enhance your flight experience. Your travel ought to be pleasurable, spectacular, and unforgettable.
What Types of the Private Jets Can Use for Toulouse?
Before selecting a private aircraft for a flight to Toulouse, Monarch Air Group considers several variables. The number of passengers, price, route, and required range are all included. Your comfort, safety, and enjoyment are our main priorities when providing charter services, and our organization offers a variety of aircraft.
What are the Benefits of Flying Toulouse Private Jet?
Traveling via private aircraft has a variety of benefits. When you reserve a private flight to Toulouse, you can choose the people and places you wish to see. Depending on the number of people and available seats for departure, we can provide you with a private aircraft. Our travel agent is here to assist you with your travel needs 24 hours a day, seven days a week.
Can I Bring My Pet on a Private Jet to Toulouse?
Monarch Air Group is glad to provide pet-friendly flights to Toulouse since we cherish and respect all animals. However, it is crucial to consider each flight's unique requirements and limitations. Our main priority is the safety of your fellow travelers.
Popular Destinations near Toulouse by Private Jet
Approximately an hour's drive from Toulouse, Carcassonne is famous for its medieval fortress, La Cité de Carcassonne, a UNESCO World Heritage site. It offers well-preserved ramparts, narrow streets, and a rich history.
Situated northeast of Toulouse, Albi is renowned for its impressive red brick cathedral, Sainte-Cécile, a UNESCO World Heritage site. The town features charming medieval streets, a picturesque old town, and the Toulouse-Lautrec Museum, dedicated to the works of the famous painter.
Located northwest of Toulouse, Montauban is another historic town with a beautiful old quarter. It boasts stunning architecture, including the pink brick Saint-Jacques Church and the Place Nationale, a picturesque square surrounded by arcades.
Our private aircraft are equipped with cutting-edge technology to improve flight efficiency and safety. We work hard to provide top-notch customer service and personalize your experience. Please visit our "Frequently Asked Questions" section or get in contact with us for additional details.