Monarch Air Group provides private air charter in Toledo, OH. Our clients benefit from top-notch service, unrelenting dedication to safety, wide selection of aircraft, and years of experience in chartering private jets. To obtain a free quote, please use our online quoting tool provided below, or call toll-free 1-877-281-3051.
Charter a private jet in Toledo:
Private Jet Charter to and from Toledo, Ohio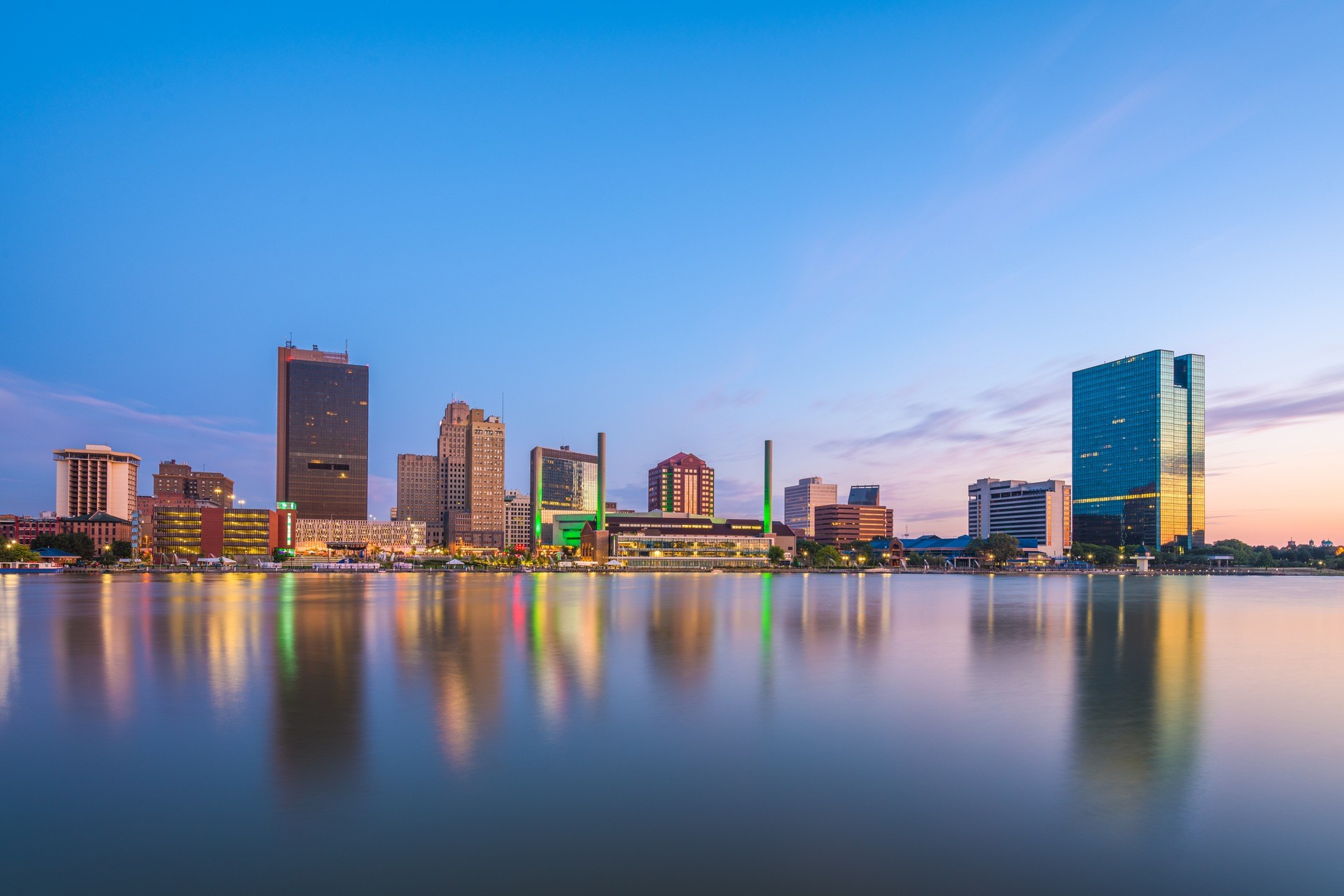 Monarch Air Group provides private jet charter flights in and out of Toledo, Ohio, USA.
Toledo, Ohio, a city rich in history and culture, offers an array of attractions that cater to a diverse range of interests. Toledo, located in northwestern Ohio, is an industrial city and port on Lake Erie. With a population of approximately 287,208 individuals, the city ranks as the fourth most populous in the state. From art enthusiasts to history buffs, nature lovers, Toledo private jet charter has something to captivate every visitor.
Book a private jet to Toledo and visit the Toledo Museum of Art, which houses an impressive collection that spans over 5,000 years of artistic history. The museum's extensive galleries showcase artworks from different cultures and eras, ensuring an enriching experience for art lovers. Notable exhibits include masterpieces by renowned artists like Rembrandt, Monet, and Van Gogh.
Nature enthusiasts will find solace in the serene beauty of the Toledo Botanical Garden when renting a private jet to Toledo. With meticulously landscaped gardens and walking trails, it's a haven for those seeking a tranquil escape. The garden's themed areas, including a Japanese Garden and a Butterfly House, offer unique and immersive experiences throughout the year.
With a private jet to Toledo, dive into the maritime history of the Great Lakes region at this informative museum. Visitors can learn about the evolution of the region's transportation, trade, and industry through captivating exhibits and artifacts. The museum also sheds light on the challenges and triumphs associated with these iconic bodies of water.
For those looking for a touch of entertainment and excitement, charter a private flight to Toledo and try your luck at the Hollywood Casino, which offers gaming, dining, and live entertainment. Whether you're testing your luck at the slot machines or enjoying a delicious meal, the casino provides an entertaining night out.
A perfect destination for families when booking a private jet to Toledo, the Toledo Zoo combines entertainment and education through its diverse animal exhibits. From the Arctic tundra to the African savannah, visitors can get up close with various animals, including elephants, lions, and penguins. The adjacent aquarium adds an aquatic dimension to the adventure, featuring captivating marine life displays.
With a private flight to Toledo, outdoor enthusiasts will enjoy exploring the diverse landscapes of Oak Openings Preserve. This expansive Metropark features sandy dunes, wetlands, and rare ecosystems, making it a hotspot for hiking, birdwatching, and nature photography.
Toledo Express Airport (TOL / KTOL), 19 miles outside the city, and Detroit Metropolitan Wayne County Airport (DTW / KDTW), 45 miles apart, both provide air service to Toledo.
Toledo Private Jet Rental Cost
Toledo's private jet rental ranges from $2,000 to $17,000 per billable flight hour or more. Turboprop jets cost from $1,800 to $2,400 per hour, light jets cost from $2,400 to $3,900, mid-size or super-midsize jets cost from $4,200 to $8,100 per flight hour, while heavy and ultra-long range jets per flight hour cost from $7,200 to $17,800.
Airports for Private Jets near Toledo
ADG, Lenawee County, Adrian, United States.
ARB, Municipal, Ann Arbor, MI, United States.
DEO, Hyatt Regency H/P, Dearborn, United States.
DET, Detroit City, Detroit, United States.
DFI, Memorial, Defiance, United States.
DTR, Decatur Island, Decatur Island, United States.
DTW, Detroit Metropolitan Wayne County, Detroit, MI, United States.
FDY, Findlay, Findlay, United States.
JXN, Reynolds Municipal, Jackson, United States.
PTK, Pontiac, Pontiac, United States.
SKY, Griffing Sandusky, Sandusky, United States.
TDZ, Toledo, Toledo, United States.
TOL, Toledo Express, Toledo, OH, United States.
YIP, Willow Run, Detroit, MI, United States.
YQG, Windsor, Windsor, Canada.
FAQ: Private Jet Flights to Toledo
Why Choose a Charter Jet to Toledo with Monarch Air Group?
Monarch Air Group provides first-class private jet charters to Toledo, tailoring our services to your specific travel requirements. To ensure that your private jet charter experience is safe, comfortable, and cost-effective, we prioritize adaptability and luxury.
What Types of the Private Jets Can Use for Toledo?
Monarch Air Group offers a variety of flight options to Toledo, depending on variables such as flight distance, intended comfort, and passenger count. We provide superior aircraft that are pet-friendly and outfitted with in-flight entertainment systems. After you provide them with tour details, our charter specialists will assist you in selecting the optimal aircraft and service for your Toledo charter flights.
What are the Benefits of Flying Toledo Private Jet?
Toledo aircraft charters provide direct flights to your desired destination on the date and time of your choosing, making them ideal for individuals with a busy timetable. Our private jet trips allow you to customize your trip with hotel transfers, in-flight meals and beverages, and even onboard business meetings, regardless of traveling with family or coworkers. Our team specializes in tailoring private jet rentals to your specific requirements.
Can I Bring My Pet on a Private Jet to Toledo?
Yes, but please be aware that each flight to Toledo has specific regulations and restrictions regarding pets. Our greatest concern is the safety and well-being of all passengers, including their cherished companions.
Popular Destinations near Toledo by Private Jet
Detroit boasts a rich history, cultural attractions, and revitalized neighborhoods. Visit the Henry Ford Museum, explore the Detroit Institute of Arts, or catch a game at Comerica Park or Ford Field.
Known for its Rock and Roll Hall of Fame, Cleveland also offers a variety of museums, parks, and waterfront activities. The Flats district, Cleveland Museum of Art, and the West Side Market are highlights.
If you're looking for family fun, Sandusky is home to Cedar Point, one of the most famous amusement parks in the world. Enjoy thrilling rides and entertainment options.
Modern technology is used on our private aircraft to improve flight effectiveness and guarantee passenger safety. Our first goal is the happiness of our customers, and we tailor our services to suit particular requirements. Please refer to our "Frequently Asked Questions" section or get in contact with us for further details.