Monarch Air Group provides private air charter in Tokyo, Japan. Our clients benefit from top-notch service, unrelenting dedication to safety, wide selection of aircraft, and years of experience in chartering private jets. To obtain a free quote, please use our online quoting tool provided below, or call toll-free 1-877-281-3051.
Charter a private jet in Tokyo, Japan
About Tokyo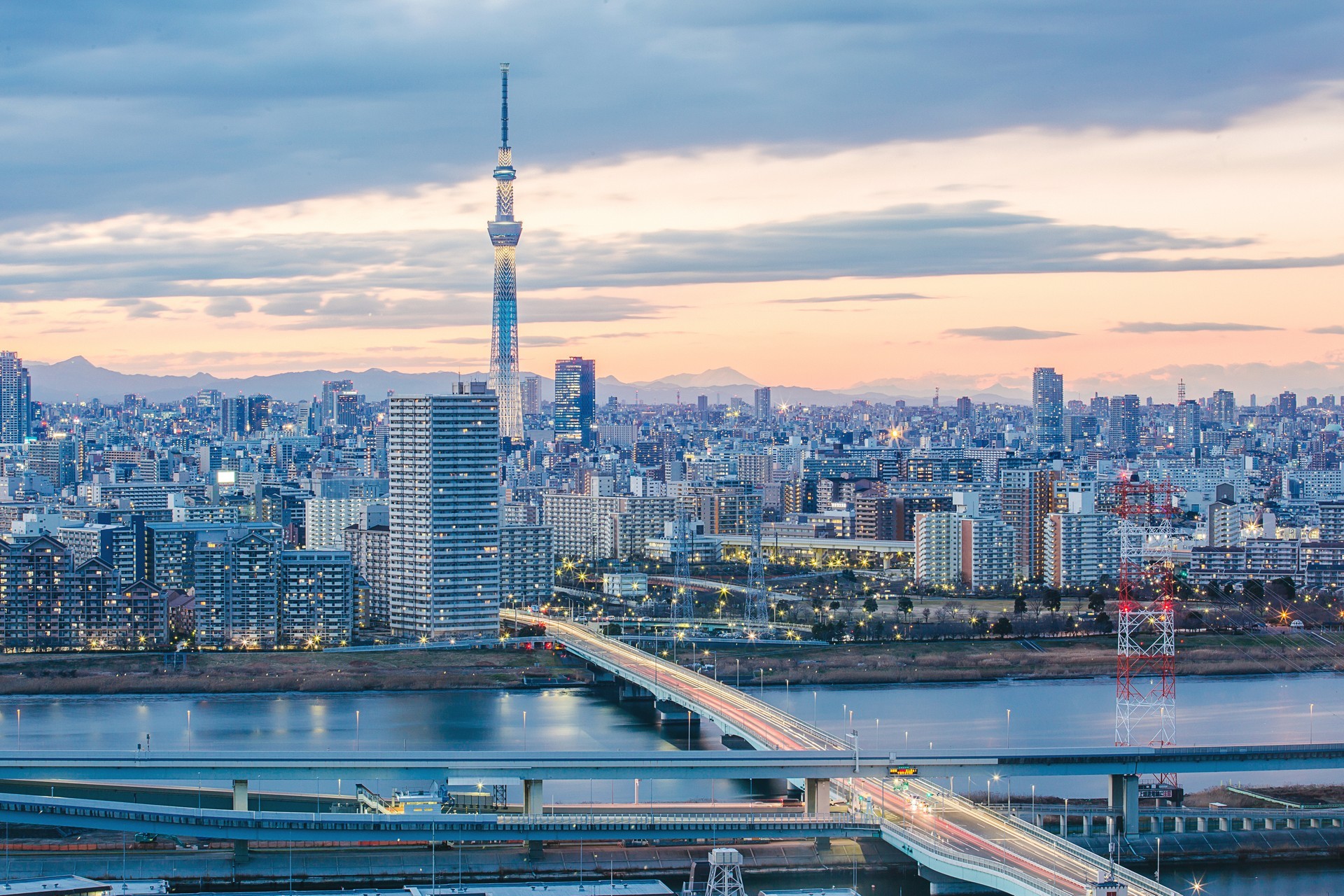 Monarch Air Group provides private jet charter flights in and out of Tokyo, Japan.
Tokyo is one of the busiest cities in the world, attracting millions of tourists every year. The city is served by Yokota Air Base (OKO), Narita International Airport (NRT) and Tokyo Haneda International Airport (HND).
Located in the southeastern part of the island of Honshu on Tokyo Bay, Tokyo is the largest city and the capital of Japan. It is the financial, administrative, industrial, educational, and cultural center of the country. Being one of the world's leading finance centers, Tokyo has the largest metropolitan economy in the world. The city's economy is based mainly on publishing, printing, broadcasting, automobile, financial services, electronic, heavy and chemical industries and transportation.
Tokyo is home to the 3rd largest stock exchange in the world – the Tokyo Stock Exchange. There are also the headquarters of some large companies, such as Nissan Chemical Industries Limited, Tokyo Electric Power, Tokyo Electron Limited, East Japan Railway Company and Toshiba Corporation. Being one of the three world's financial leading centers, Tokyo plays an important role in the global economy.
Tokyo is the cosmopolitan city with excellent museums, historic monuments, old temples, beautiful gardens, fantastic parks, and traditional wooden houses. Tokyo is home to the Imperial Palace as well as to the Imperial Family.
The most notable tourist attractions are Tokyo Metropolitan Government Buildings, the Tokyo National Museum, Akasaka Palace, Sensoji Temple, Meiji Shrine, Hayashi Memorial Hall, Gokuku-ji Temple, Buddha Statue Kamakura, Kabuki Theatre, Nogawa Park, Hachiko Statue, Nakagawa Park, Higashi Shirahige Park, Naganuma Park, Imperial Park East Gardens, Ryonan Park, and Higashimurayama Chuo Park. There are many amazing events and festivals including Buddhist Obon Festival, Asakusa Samba Carnival, Bunkyo Tsutsuji Matsuri, Fukagawa Hachiman Matsuri, Fuji Matsuri, Fukuro Festival, Kagurazaka Awa Festival, Hinode Matsuri, and many others.
Tokyo Airports within 70 miles
1. HND, Haneda, Tokyo, Japan.
2. NJA, Atsugi NAS, Atsugi, Japan.
3. NRT, Narita International Airport, Tokyo, Japan.
4. OIM, Oshima, Oshima, Japan.
5. OKO, Yokota Afb, Tokyo, Japan.
6. OMJ, Omura, Omura, Japan.
7. YOK, Yokohama, Yokohama, Japan.
Hotels in Tokyo
1. Hotel Sunroute Plaza Shinjuku, 東京都渋谷区代々木2-3-1,151-0053.
2. Century Southern Tower Hotel, 東京都渋谷区代々木2-2-1.
3. Hilton Tokyo Hotel, 6-2 Nishi-Shinjuku 6-chome, 新宿区.
4. Sakura Hotel Ikebukuro, 2-40-7, 豊島区池袋.
5. Shinjuku Washington Hotel, 東京都新宿区西新宿3-3-15.
6. Keio Plaza Hotel, 2丁目-2−1 Nishishinjuku, Shinjuku.
7. Odakyu Southern Tower, 渋谷区 代々木2-2-1.