Monarch Air Group provides private air charter in Tel Aviv, Israel. Our clients benefit from top-notch service, unrelenting dedication to safety, wide selection of aircraft, and years of experience in chartering private jets. To obtain a free quote, please use our online quoting tool provided below, or call toll-free 1-877-281-3051.
Charter a private jet to/from Tel Aviv, Israel
Private Jet Charter to and from Tel Aviv, Israel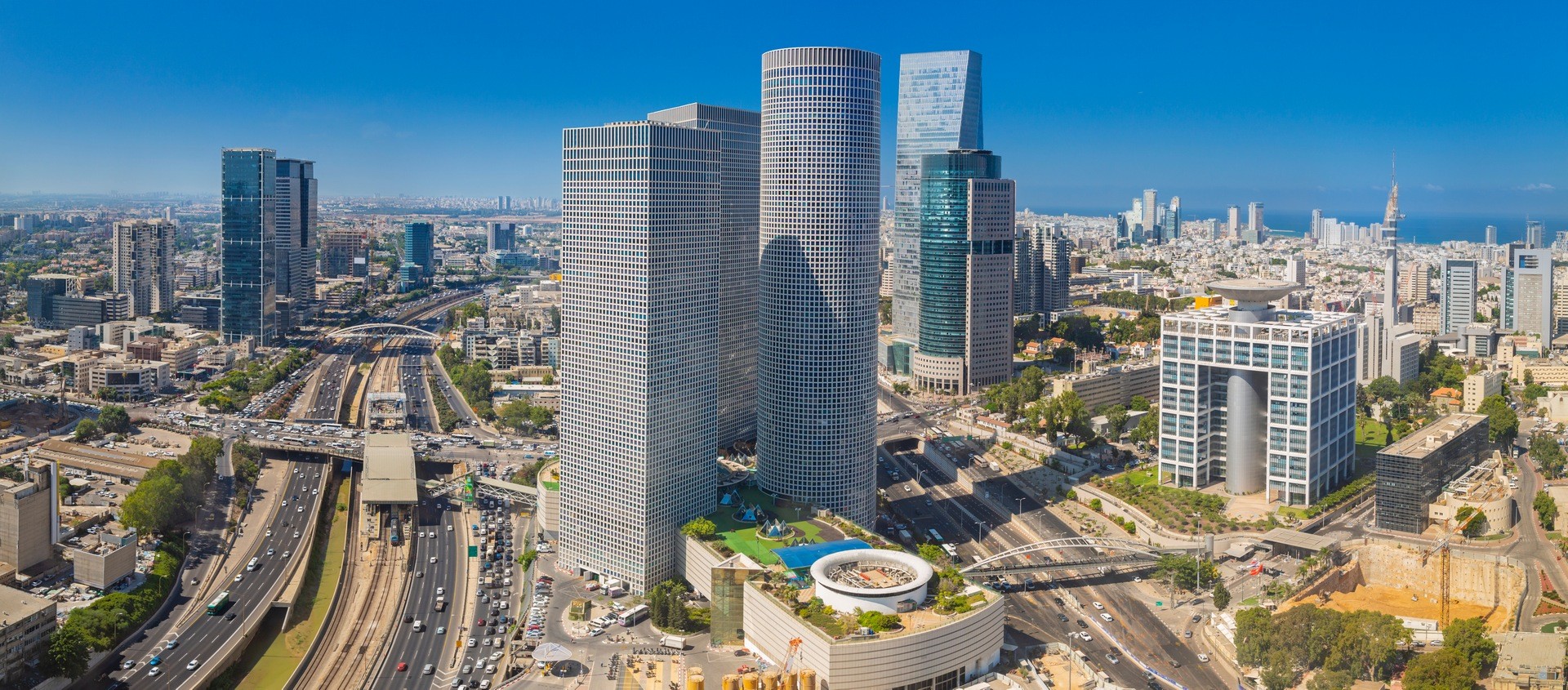 Monarch Air Group offers private jet charter services to and from Tel Aviv, Israel.
Tel Aviv, located on the Mediterranean coast, is the second largest city in Israel, with a population of approximately 426,138. The modern, vibrant, and dynamic city is home to Bauhaus-era structures listed by Unesco, a magnificent coastline, five-star hotels, nightclubs, and restaurants of the highest caliber. Known as the "city that never stops," Tel Aviv private jet charter offers many activities and attractions catering to various interests.
Once you've chartered a private jet to Tel Aviv, discover the Bauhaus Architecture. Tel Aviv boasts a remarkable collection of more than 4,000 buildings designed in the iconic Bauhaus style that emerged during the 1930s and 1940s. Recognized by UNESCO as a World Heritage site in 2003, these buildings are a testament to the city's unique architectural heritage. You can go on a walking tour of the White City to admire the striking architecture or visit the Bauhaus Center, which offers an in-depth exploration of the history and evolution of this influential design movement.
When renting a private jet to Tel Aviv, explore Jaffa. Situated just south of Tel Aviv, Jaffa is a captivating ancient port city that blends history and modernity. Its charming maze of ancient alleyways and picturesque courtyards offer a fascinating glimpse into the past, while trendy cafes and boutiques breathe new life into the city. In addition, you can explore the Jaffa Flea Market, wander through the historic Old City, or enjoy stunning views from the Jaffa Port.
Tel Aviv boasts some of the most breathtaking beaches along the 14 km coastline of the Mediterranean. With a variety of beaches to choose from, including the lively Banana Beach, family-friendly Frishman Beach, and popular Gordon Beach, there's something for everyone when booking a private jet to Tel Aviv. You can sunbathe, take a refreshing swim in the sea, play beach volleyball, or simply unwind with a good book.
With a private jet to Tel Aviv, enjoy its nightlife. Renowned for its electrifying nightlife, Tel Aviv offers an array of bars, clubs, and music venues throughout the city, with popular spots located in the Port, Florentin, and Rothschild Boulevard areas. So whether you're in the mood for dancing or just relaxing with friends over a cocktail, Tel Aviv's diverse scene promises an unforgettable night out for all.
Located 15 kilometers southeast of Tel Aviv, Ben Gurion Airport serves both domestic and international flights, making it the primary airport for the city. Meanwhile, Sde Dov Airport primarily handles domestic flights, providing another convenient option for travel within the country.
Tel Aviv Private Jet Rental Cost
The starting prices for private jet flights to Tel Aviv (one way) vary based on the type of aircraft used. A turboprop typically costs around $1,800 – $2,600 USD per hour, while a light jet costs $2,400 – $3,900 USD per hour. A midsize and super-midsize jet comes in at $4,200 – $8,100 USD per hour, and a long-range jet or group charter flight on a VIP airliner can cost $7,200– $17,800 USD per hour or more.
Private Jet Airports near Tel Aviv
SDV, LLSD, Sde Dov Airport
TLV, LLBG, Ben Gurion Airport
FAQs: Private Jet Flight to Tel Aviv
Why Choose a Private Jet to Tel Aviv with Monarch Air Group?
When you select Monarch Air Group for your flight to Tel Aviv, your well-being, safety, and satisfaction are our top priorities. We prioritize your privacy and time-saving benefits when you choose our first-class private jet charters.
What Types of the Private Jets Can Use for Tel Aviv?
When choosing a private aircraft for your trip to Tel Aviv, Monarch Air Group takes into account various factors such as the route, the number of passengers, and the onboard amenities. Therefore, we require as much information as possible to provide you with the most suitable charter flights and services. In addition, we conduct a comprehensive evaluation process to ensure that we deliver the best private jet for your specific requirements.
What are the Benefits of Flying a Tel Aviv Private Jet?
Compared to other modes of transportation, traveling to Tel Aviv by private jet offers numerous advantages. At our reputable private jet rental company, we provide affordable and customized travel options that cater to your time constraints, specific needs, and budget.
Is it Possible to Travel with Pets to Tel Aviv on a Private Jet?
We warmly welcome pets on our exclusive flights to Tel Aviv. However, to ensure compliance with the city's regulations regarding pet travel, we advise you to contact us in advance for more information. When selecting an aircraft, please consider your pet's size and choose one with adequate space to ensure its safety and comfort during the flight.
Popular Destinations near Tel Aviv by Private Jet
Jerusalem – historical and religious city that attracts millions of visitors every year, Jerusalem is just a 50-mile ride away from Tel Aviv. Visit the Western Wall, explore the Old City, and take in the stunning views from the Mount of Olives.
Dead Sea – is a unique natural wonder that is located just 40 miles from Tel Aviv. Known for its therapeutic properties and high salt content, the Dead Sea is a must-visit destination for anyone visiting Israel.
Caesarea – located just 30 miles from Tel Aviv, Caesarea is an ancient Roman city that is now a popular tourist destination. Visit the ruins of the ancient city, explore the Caesarea National Park, and take in the stunning views of the Mediterranean Sea.
Our passengers are transported in the most luxurious and state-of-the-art private aircraft. To get answers to any questions you may have, we invite you to visit the frequently asked questions section on our private charter website. Alternatively, our knowledgeable crew is available to assist you in finding the answers you need. Don't hesitate to get in touch with us.