Monarch Air Group provides private air charter in Sydney. Our clients benefit from top-notch service, unrelenting dedication to safety, wide selection of aircraft, and years of experience in chartering private jets. To obtain a free quote, please use our online quoting tool provided below, or call toll-free 1-877-281-3051.
Charter a private jet in Sydney:
Private Jet Charter to and from Sydney, Australia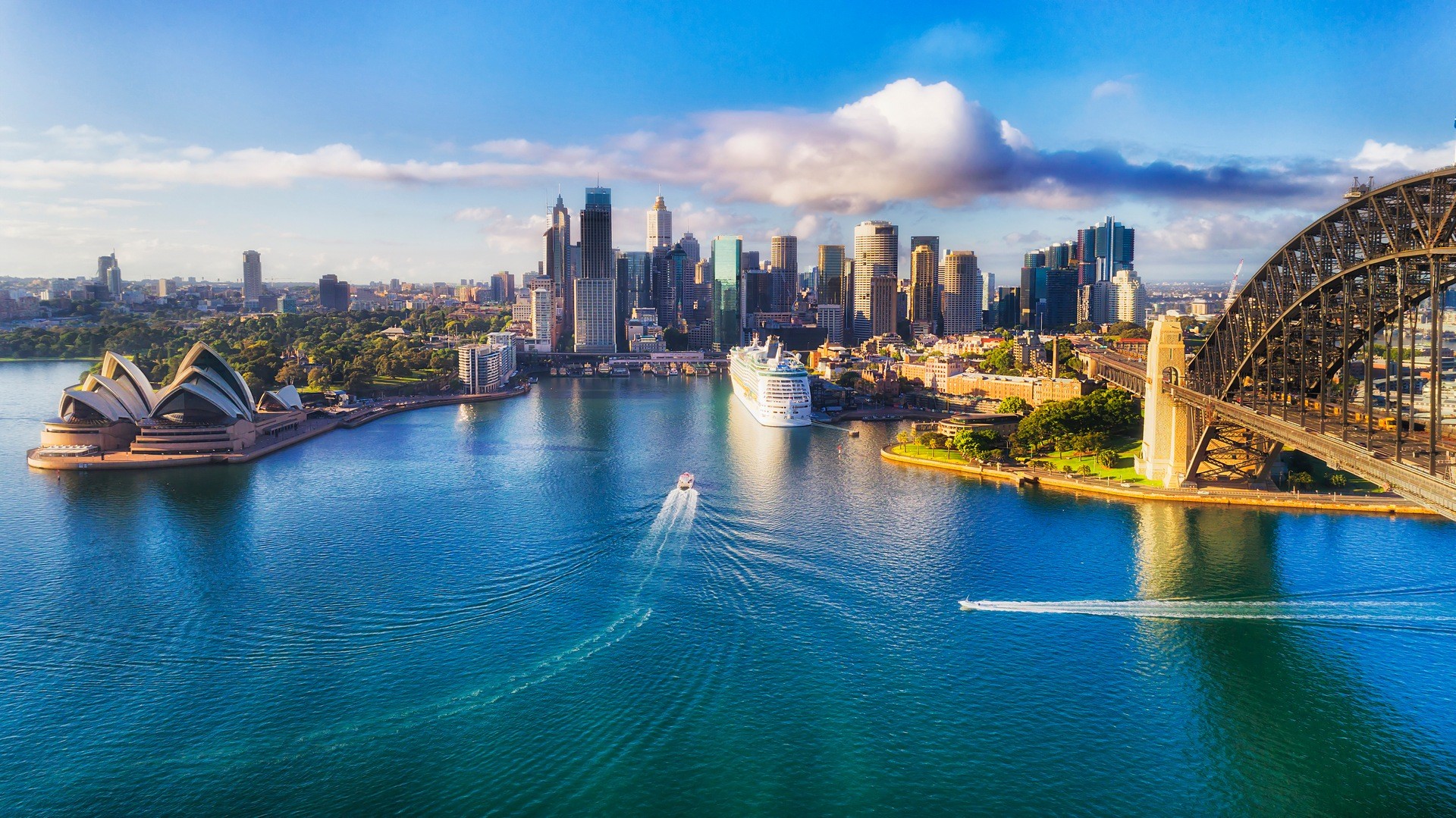 Monarch Air Group offers private jet charter services to and from Sydney, Australia.
Sydney, the most populous city in Australia and the state capital of New South Wales is situated on the country's east coast. This city is bounded to the west by the Blue Mountains and has the world's biggest natural port. Sydney is also the country's historical, educational, and artistic capital. With over 250 languages spoken, Sydney is one of the world's most ethnically varied and multi-ethnic cities. Whether you are a local or a visitor, many things to see and do with Sydney private jet charter guarantee you unforgettable memories.
When renting a private jet to Sydney, there are many walking routes and bike paths to explore, as well as the stunning Royal National Park, if you're looking for an outdoor adventure. The Royal National Park is near Cronulla, about an hour's drive from Sydney. The area has breathtaking views, plenty of wildlife, and nearby activities such as kayaking and rock climbing. Alternatively, you can take a ferry to Manly Beach, a famous surf destination with a lengthy boardwalk and plenty of shops and restaurants.
Once you've chartered a private jet to Sydney, explore some of the world's finest museums and art galleries. Along with the Australian National Maritime Museum, the Art Gallery of New South Wales, and the Museum of Contemporary Art are all worthwhile stops. The Sydney Opera House, the Sydney Theatre Company, and the Sydney Symphony Orchestra are some additional cultural landmarks.
Be sure to relax on the beach when booking a private jet to Sydney. With its golden sand, waves, and surfers, Bondi beach is the most famous in eastern Sydney. There are numerous additional beaches to investigate, ranging from Coogee to Manly. In addition, you should visit the Blue Mountains. Here, you can explore the extensive wilderness, take in the breathtaking scenery, and visit the Three Sisters.
Charter Flights to Sydney
When chartering a private jet to Sydney, you should consider the aircraft type and size, depending on your travel needs and group size.
Sydney is serviced by Sydney Kingsford-Smith International Airport, which is 13 miles south of the city center in the suburb of Mascot and provides both domestic and international flights.
Sydney Private Jet Rental Cost
The starting prices for private jet flights to the Sydney (one way) vary based on the type of aircraft used. A turboprop typically costs around $1,800 – $2,600 USD per hour, while a light jet costs $2,400 – $3,900 USD per hour. A midsize and super-midsize jet comes in at $4,200 – $8,100 USD per hour, and a long-range jet or group charter flight on a VIP airliner can cost $7,200– $17,800 USD per hour or more.
Private Jet Airports near Sydney
BEO, Belmont, Newcastle, Australia
BWU, Sydney Bankstown, Sydney, Australia
 CDU, Camden, Camden, Australia
GOS, Gosford, Gosford, Australia
LBH, Palm Beach SPB, Sydney, Australia
RSE, Rose Bay, Sydney, Australia
SWZ, Sydney West, Sydney, Australia
SYD, Kingsford Smith, Sydney, Australia
WOL, Wollongong, Wollongong, Australia
FAQs: Private Jet Flight to Sydney
Why Choose a Private Jet to Sydney with Monarch Air Group?
Your convenience, comfort, and safety are our top priorities when you choose Monarch Air Group to plan your private jet hire for a trip to Sydney. To meet your unique requirements, our opulent flights are created with privacy and time-saving amenities.
How Much Does it Cost to Charter a Private Jet to Sydney?
Several factors, including the kind of aircraft, the flight path, and the location, influence the price of a private jet to Sydney. The price of one flight hour could range from $2,000 to $17,000.
What Types of the Private Jets Can Use for Sydney?
The number of passengers, the distance to be traveled, and the desired onboard amenities are some of the criteria used by Monarch Air Group to choose the finest private aircraft. In order to provide you with the best aircraft and support for your charter trip to Sydney, please provide us with as much information as you can. We ensure you get the finest private aircraft for your particular needs thanks to our selection procedure.
What are the Benefits of Flying a Sydney Private Jet?
Compared to other forms of transportation, private jet charters to Sydney have a number of benefits. Based on your unique requirements, budget, and schedule, our dependable private jet rental company provides prompt and adaptable travel choices.
Is it Possible to Travel with Pets to Sydney on a Private Jet?
You can travel to Sydney with your pet, but only after getting in touch with us and learning about the city's canine entry regulations. In order to ensure your pet's safety and comfort throughout the flight, you might need to book a bigger aircraft, depending on their size.
Popular Destinations Near Sydney by Private Jet
Melbourne is a bustling city renowned for its art, culture, and culinary scene. It's a well-liked vacation and business traveler location.
Gold Coast: The Gold Coast is a Queensland coastal metropolis well-known for its nightlife, theme parks, and beaches. Both families and young people enjoy going there.
Byron Bay is a beachfront community in New South Wales that is renowned for its laid-back attitude, surf culture, and scenic surroundings. For people looking for a calm retreat, it's a well-liked location.
Adelaide is a quaint city in South Australia that is well-known for its wine regions, cultural events, and historic buildings. It's a well-liked vacation spot for wine and cuisine lovers.
Our clients fly in opulent, contemporary private aircraft. Please contact our welcoming and competent team anytime if you can't find the answers to your questions on our frequently asked questions about the private charter page.