Monarch Air Group provides private air charter in Staunton, Virginia. Our clients benefit from top-notch service, unrelenting dedication to safety, wide selection of aircraft, and years of experience in chartering private jets. To obtain a free quote, please use our online quoting tool provided below, or call toll-free 1-877-281-3051.
Charter a private jet in Staunton, VA:
About Staunton, Virginia, United States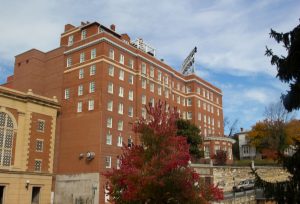 Monarch Air Group offers plenty of private jet charter options to and from Staunton, Virginia, United States.
The principal city of the Staunton-Waynesboro Metropolitan Area, Staunton is an independent city with a population of about 23,746 people. The city is famous for being the birthplace of the 28th U.S. president, Woodrow Wilson. Staunton boasts a great quality of life, abundant opportunities, and recreation activities. It boasts award-winning schools and is home to the Mary Baldwin University.
There are a host of places to discover and things to experience in Staunton, including the Wilson Park, Betsy Bell Wilderness Park, R.R. Smith Center for History & Art, Bruce A. Elder Antique and Classic Automobiles Museum, Camera Heritage Museum, Gypsy Hill Park, Woodrow Wilson Birthplace, Woodrow Wilson Presidential Library and Museum, and Frontier Culture Museum, among the others.
The two nearest major airports to Staunton are Shenandoah Valley Regional Airport located 19 miles from the city center and Charlottesville Albemarle Airport situated 46 miles from the city.
Staunton, VA Airports within 70 miles
1. CHO, Albemarle, Charlottesville, United States.
2. EKN, Elkins, Elkins, United States.
3. GVE, Municipal, Gordonsville, United States.
4. HSP, Ingalls Field, Hot Springs, United States.
5. LOW, Louisa, Louisa, United States.
6. LYH, Preston-Glenn Field, Lynchburg, United States.
7. PGC, Grant County, Petersburg, United States.
8. SHD, Shenandoah Valley, Staunton, United States.
Hotels in Staunton, VA
1. Stonewall Jackson Hotel, 24 South Market Street, Staunton.
2. Quality Inn & Suites, 200 Frontier Drive, Staunton.
3. Sleep Inn, 222 Jefferson Highway, Staunton.
4. Berkeley House Bed & Breakfast, 303 Berkeley Place, Staunton.
5. Red Roof Inn, 42 Sangers Lane, Staunton.
6. Best Western Staunton Inn, 92 Rowe Road, Staunton.
7. The Bard's Nest, 108 East Beverley Street, Staunton.
8. Frederick House, 28 North New Street, Staunton.
9. Hampton Inn Staunton, 40 Payne Lane, Staunton.
10. Inn at Old Virginia, 1329 Commerce Road, Staunton.
11. The Storefront Hotel, 14 South New Street, Staunton.
12. Olde Staunton Inn, 260 North Lewis Street, Staunton.
13. MiddleRidge Bed and Breakfast, 125 Berry Farm Road, Staunton.
14. Ubon Thai Victorian Restaurant Inn, 515 West Frederick Street, Staunton.