Monarch Air Group provides private air charter in South Africa. Our clients benefit from top-notch service, unrelenting dedication to safety, wide selection of aircraft, and years of experience in chartering private jets. To obtain a free quote, please use our online quoting tool provided below, or call toll-free 1-877-281-3051.
Charter a private jet in South Africa:
Book a Private Jet Charter to and from South Africa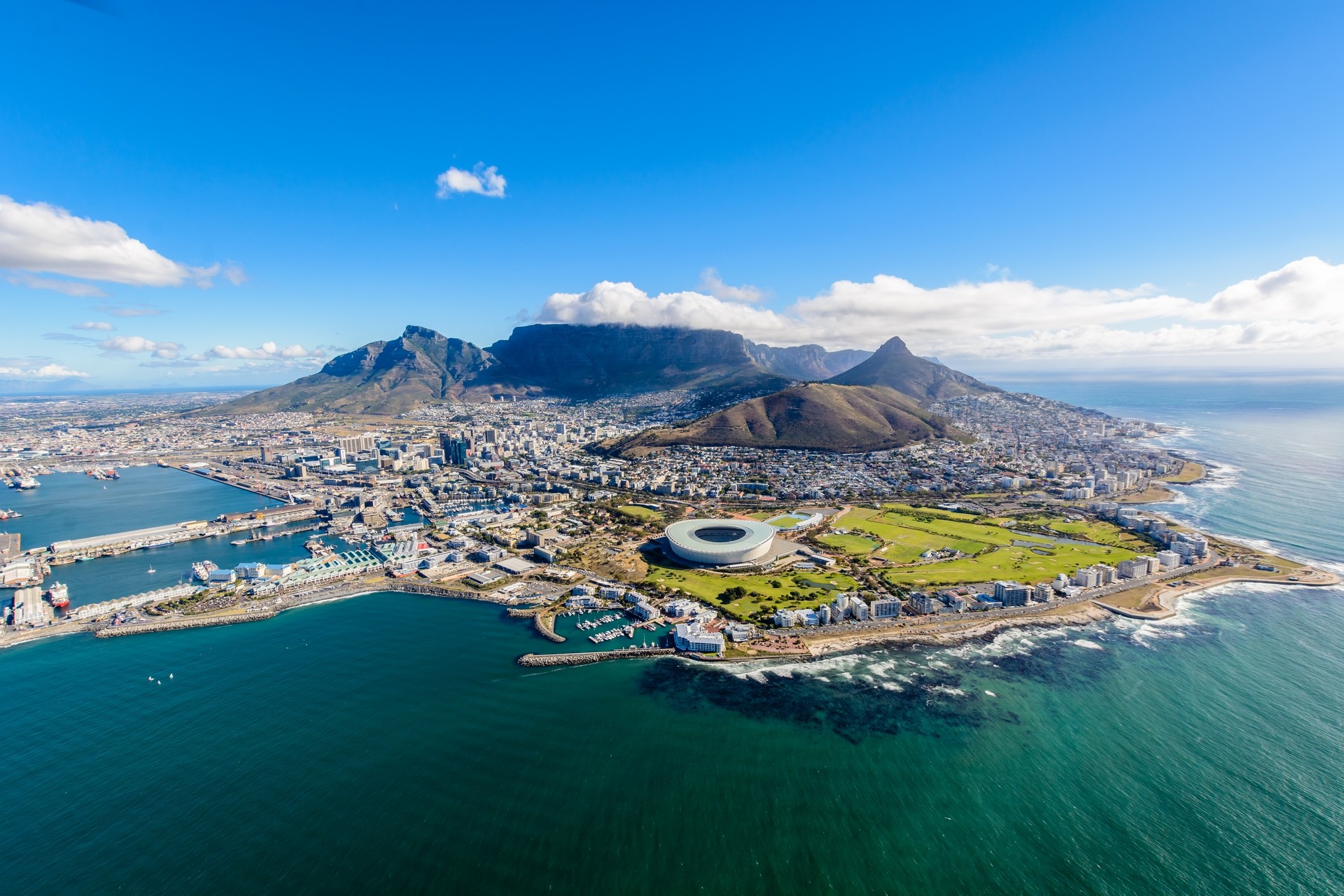 Monarch Air Group provides private jet charter flights in and out of South Africa.
Officially the Republic of South Africa, South Africa is a country situated at the southern tip. It is divided into nine provinces and has 1,739 mi of coastline. With a population of over 48 million people, South Africa is the 24th most populous country and the 25th largest country in the world by area. It has the biggest economy in the continent and the twenty-eighth-largest in the world. Moreover, as a popular destination for private jet charters South Africa, a significant portion of the country's revenue comes from tourism. Being a multi-ethnic nation, South Africa has diverse cultures and languages.
Attractions in South Africa are primarily natural and colonial. The most exciting places in the Western Cape province are the famous Cape Town, the Cape Peninsula with the legendary Cape of Good Hope, Table Mountain, and Garden Route. The Eastern Cape features hilly landscapes and a beautiful coastline. Traveling by private jet South Africa, visit one of the many national parks like Tsitsikamma, Natchez Valley, and Donkin.
South Africa is famous all year round because of its white sand, mild climate, and warm ocean. It boasts some of the best beaches in the world, which explains the popularity of private flights in South Africa. Hotels in the country are high class and meet international standards.
South Africa's most popular sports are cricket, rugby and soccer, swimming, golf, athletics, boxing, netball, and tennis. Also, for charter flights South Africa travelers, there are kiting, surfing, diving, yachting, and sea fishing for tuna and sharks.
South Africa Private Jet Airports within 70 miles
JNB, OR Tambo International Airport
CPT, Cape Town International Airport
DUR, King Shaka International Airport
GRJ, George Airport
HLA, Lanseria Airport
PLZ, Port Elizabeth Airport
BFN, Bram Fischer International Airport
ELS, Ben Schoeman Airport
HDS, Hoedspruit Air Force Base Airport
KIM, Kimberley Airport
MQP, Kruger Mpumalanga International Airport
MGH, Margate Airport
PHW, Hendrik Van Eck Airport
PZB, Pietermaritzburg Airport
PTG, Polokwane International Airport
RCB, Richards Bay Airport
UTN, Pierre Van Ryneveld Airport
UTT, K. D. Matanzima Airport
FAQ for a Private Jet Charter Flights to South Africa
Why choose a charter jet to South Africa with Monarch Air Group?
Monarch Air Group provides private flights to and from South Africa, offering the perfect symbiosis of comfort, time savings, and the ability to reach your destinations. We provide luxury jets for South Africa private jet charters, easy reservations, flexible departure times, experienced cabin crew, and fast terminal check-in. Call one of our agents for charter jet South Africa.
How much does it cost to book a South Africa private jet charter?
Several factors determine the cost of renting a South Africa private jet. These include the chosen aircraft's model and the route's specifics. You can contact our specialists if you can't find the necessary information on air charter South Africa. Moreover, you can get a rough flight cost estimate by using a private jet charter cost estimator.
Here are some approximate prices for private flights to South Africa:
Charter a Private Jet to South Africa from Sydney: from $211,720;
Charter Flights to South Africa from London: from $128,700;
Private Charter Flights to South Africa from Brasilia: from $121,840.
*Estimated price before taxes & fees.
What types of private jets can use for South Africa charter flights?
We can provide VIP jets, airliners, heavy, light, or turboprop jets at competitive prices for South Africa charter flights. Some, like heavy jets, can carry up to 19 passengers; others, like turboprops, can only carry four passengers. Choosing the right aircraft depends mainly on the route and the number of passengers on board. We will find an option ideally suited to your needs and wishes when renting a private jet.
| Aircraft type | Passengers | Non-stop range | Cruising speed | Intended use |
| --- | --- | --- | --- | --- |
| Light Jet | up to 6 passengers | about 700 – 2000 miles | 476 to 518 mph | for comfortable short- to mid-range distances |
| Midsize Jet | up to 10 passengers | about 1300 – 1500 miles | 422 to 541 mph | to fly nonstop from coast to coast |
| Super midsize Jet | up to 10 passengers | about 3.500 – 4.000 miles | 490 to 590 mph | for longer flights |
| Heavy Jet | up to 18 passengers | about 6.000 miles | 480 to 551 mph | traveling overseas in luxury for an intercontinental flight |
| Turboprops | up to 10 passengers | about 600 – 1.900 miles | 220 to 360 mph | for short- to mid-range flights |
| Ultra-Long Range Jet | up to 19 passengers | about 2,800 – 7,685 miles | 460 to 594 mph | for long-haul travels |
| Helicopters | up to 28 passengers | about 250 – 600 miles | 150 to 175 mph | for passenger and cargo transportation |
What are the advantages of flying on a South Africa private jet?
Renting a private jet has some undeniable advantages over commercial flights. However, if you are starting to fly on a private jet, some of these reasons, time savings, increased safety, flying to more destinations, and comfort is essential when flying a private plane charter in South Africa. You have more space than flying first class, considering you have a whole plane at your disposal. Additionally, private jets can fly to more airports than commercial airlines.
Popular destinations near South Africa by private jet
Cape Town – is South Africa's second most popular destination, surrounded by nature, high mountains, and a turquoise-colored sea.
Stellenbosch – is famous for the many wineries where you can taste wine tastings.
Hermanus – named the whale capital of South Africa.
Johannesburg – called the "City of Gold," South Africa's most populous city- receives rave reviews from private aviation clients.
Our clients travel on efficient and comfortable private jets. If you haven't found the answers to all your questions, you can contact our experienced and reliable team at any time or visit our air charter FAQ page.