Monarch Air Group provides private air charter in Skiathos, Greece. Our clients benefit from top-notch service, unrelenting dedication to safety, a wide selection of aircraft, and years of experience in chartering private jets. To obtain a free quote, please use our online quoting tool provided below, or call toll-free at 1-877-281-3051.
Charter a private jet to&from Skiathos
Book a Private Jet Charter to and from Skiathos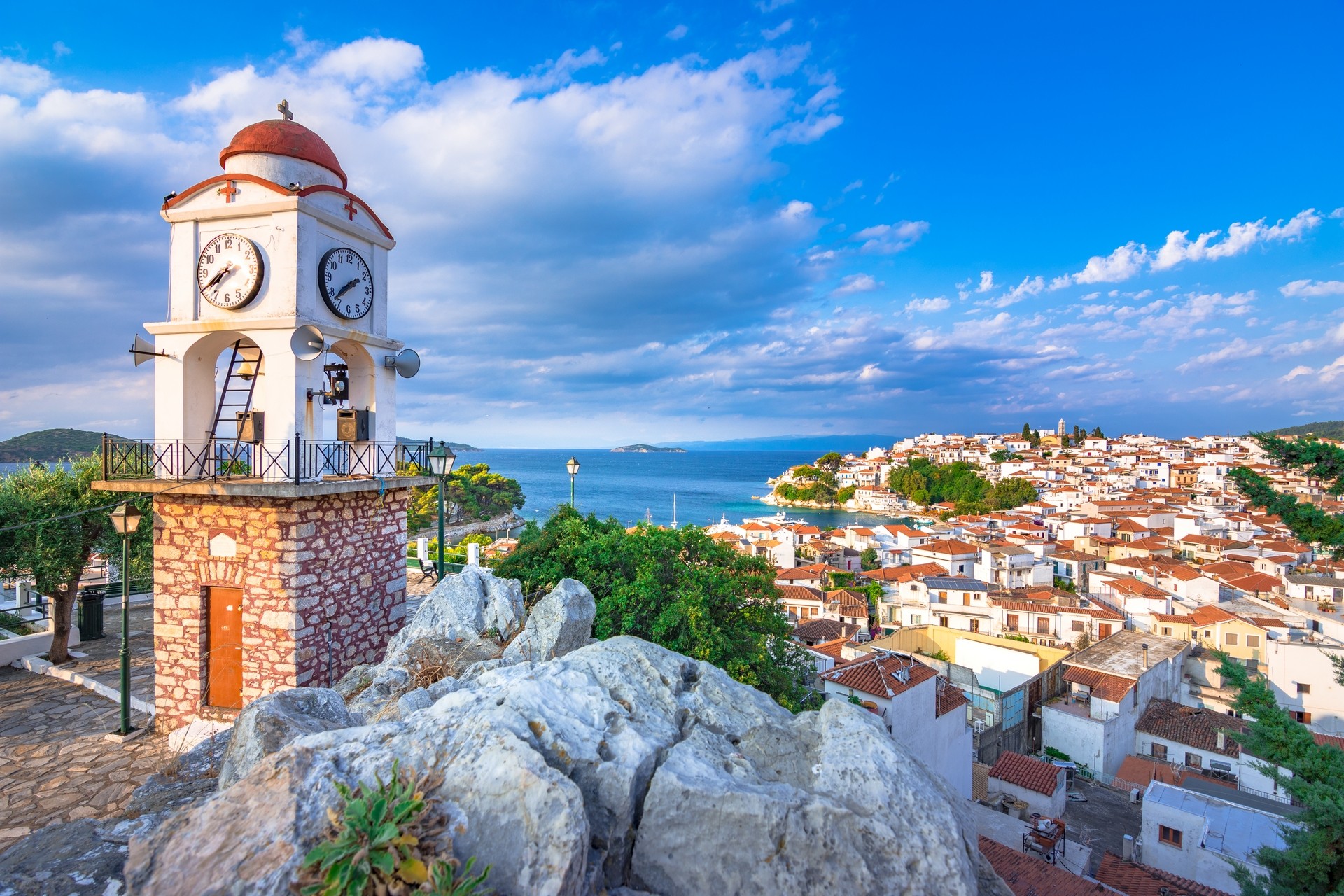 Monarch Air Group provides private jet charter flights to and from Skiathos.
Skiathos is a small Greek island in the Aegean Sea, the westernmost of the Northern Sporades archipelago. The island has a population of little more than 6,000 people. Most of the population, almost 5,000, lives in Skiathos's administrative center. Skiathos island is unique compared to the rest of Greece: breathtaking natural beauty, abundant flora, sand and pebble beaches, and a clean environment. A private jet charter to Skiathos is the best way to get there.
In addition to its natural beauty, Skiathos jet charter has a number of historical, religious, and cultural things to offer visitors. The remains of the medieval fortress Kastro are a must-see for history lovers. It is noteworthy to pay attention to the home of the well-known author Alexandros Papadiamantis. It is now a museum that tells tourists about the painter's life and work. The Church of the Three Hierarchs, located in the city's higher reaches, is a well-known religious site intertwined with several intriguing stories and traditions.
When booking a private jet to Skiathos, remember that between the middle of May until the end of October, the weather is perfect for outdoor activities of all kinds. Water sports and sailing enthusiasts are in for a treat during the holidays; there are a number of diving schools in the city, and you can also ride in a canoe or learn how to water ski.
Renting a private flight to Skiathos, you'll admire stunning bays, beaches, and century-old pine forests. The island has around 60 beaches, both vibrant and peaceful. Many beaches are provided for sports and families, so you may relax all day. Koukounaries beach in the southwest is magnificent. Elias and Mandraki beaches are peaceful and secluded. Their beauty and harmony will attract you immediately. Megali Ammos, Kanapitsa, and Banan are the beaches for those who wish to go scuba diving or participate in other activities while on vacation.
Skiathos Airport (JSI) is the best choice for a travel hub due to its extremely close location to the city, only 10 minutes from the center.
Airports for Private Jet near Skiathos
TAB, Arthur Napoleon Raymond Robinson, Skiathos, Greece
POS, Piarco International Airport, Port of Spain, Greece
FAQ for a Private Jet Charter Flights to Skiathos
Why choose a charter jet to Skiathos with Monarch Air Group?
Monarch Air Group provides private flights to and from Skiathos, offering luxury private jets suitable for you depending on the number of passengers and departure seats. We can provide VIP jets, airliners, heavy, light, or turboprop aircraft, at competitive prices for private charter flights to Skiathos. When you rent a private jet to Skiathos with us, we ensure that we will meet all of your requirements. Taking a private plane means you may decide when and where you want to travel, as well as who you want to bring along and what you want to see while you're flying.
How much does it cost to book a Skiathos private jet charter?
Our experts will assist you in arranging a private jet charter to Skiathos without any problems. Skiathos private jet rental costs are influenced by various factors, including the flight duration, the flight date, how many people are aboard, and the aircraft used to get them there.
Here are some approximate prices for private flights to Skiathos:
Charter a Private Jet to Skiathos from London: from $19,100;
Charter Flights to Skiathos from Paris: from $17,220;
Private Charter Flights to Skiathos from Madrid: from $19,310.
*Estimated price before taxes & fees.
What types of private jets can use for Skiathos charter flights?
Our transport fleet includes aircraft of different capacity, class, and comfort levels, with different technical characteristics. Due to the wide range of choices, you can easily find a suitable private aircraft on the Skiathos and order the required flight by plane at any time. The interior layout of Skiathos private jet charter aircraft can be customized to suit your individual needs and tastes.
| Aircraft type | Passengers | Non-stop range | Cruising speed | Intended use |
| --- | --- | --- | --- | --- |
| Light Jet | up to 6 passengers | about 700 – 2000 miles | 476 to 518 mph | for comfortable short- to mid-range distances |
| Midsize Jet | up to 10 passengers | about 1300 – 1500 miles | 422 to 541 mph | to fly nonstop from coast to coast |
| Super midsize Jet | up to 10 passengers | about 3.500 – 4.000 miles | 490 to 590 mph | for longer flights |
| Heavy Jet | up to 18 passengers | about 6.000 miles | 480 to 551 mph | traveling overseas in luxury for an intercontinental flight |
| Turboprops | up to 10 passengers | about 600 – 1.900 miles | 220 to 360 mph | for short- to mid-range flights |
| Ultra-Long Range Jet | up to 19 passengers | about 2,800 – 7,685 miles | 460 to 594 mph | for long-haul travels |
| Helicopters | up to 28 passengers | about 250 – 600 miles | 150 to 175 mph | for passenger and cargo transportation |
What are the advantages of flying on a Skiathos private jet?
enting a charter flight on Skiathos is convenient for quick flight arrangements and, reducing travel time and confidentiality, speeding up check-in procedures at the sending and receiving airports. If during your flight on the Skiathos, there is a need to make adjustments to your itinerary, you will be accompanied by a manager throughout the trip. Booking a business charter on Skiathos is a way to arrange a luxury trip to fit your personal schedule. Renting an aircraft on Skiathos with a crew will allow traveling comfortably for a large group, family, or small team.
Popular destinations near Skiathos by private jet
Koukounaries Beach – is the oldest and most picturesque beach on the island of Skiathos, with excellent infrastructure.
Kanapitsa, in the south of Skiathos, is a perfect place for a quiet and relaxing vacation for those who want to try surfing, diving, water-skiing and jet skiing.
Skopelos – is one of the oldest islands in the Northern Sporades Islands, which preserved its pristine nature. It's full of architectural monuments and unique gifts of nature.
Anonisos is a secluded island with beautiful views. Here you can also visit the National Marine Park with many species of quite rare animals and plants.
Kyra Panagia – is a small island in Greece with beautiful beaches and cliffs.
Our clients travel on efficient and comfortable private jets. If you haven't found the answers to all your questions, you can contact our experienced and reliable team at any time or visit our air charter FAQ page.