Monarch Air Group provides private air charter in Sitka, Alaska. Our clients benefit from top-notch service, unrelenting dedication to safety, wide selection of aircraft, and years of experience in chartering private jets. To obtain a free quote, please use our online quoting tool provided below, or call toll-free 1-877-281-3051.
Charter a private jet to&from Sitka
About Sitka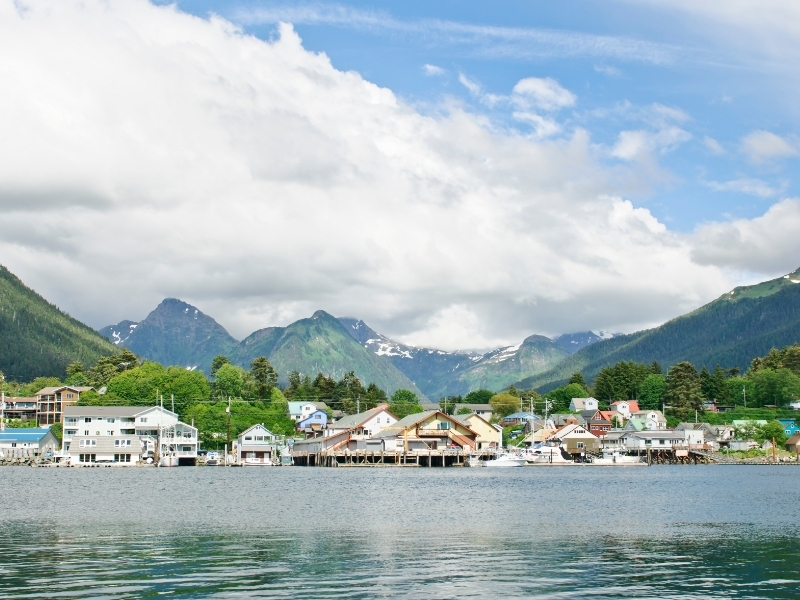 Monarch Air Group offers private jet charter services to and from Sitka.
Sitka is located on the outer coast of Alaska's Inside Passage. Throughout Sitka, visitors have many opportunities to learn about Alaska's rich cultural history and the area's wildlife including humpback whales, otters and one of the largest populations of bald eagles in the United States. Hikers enjoy Sitka National Historical Park's Totem Trail, a trail that loops through a dense rainforest.
Along the trail, hikers can stop and learn about the cultural significance of more than a dozen totem poles carved by Tlingit and Haida artists. Families enjoy the Sitka Sound Science Center's educational touch tanks with live sea urchins, sea anemones and starfishes that inhabit the coastal waters of Sitka. An 800-gallon saltwater tank is also a key feature of this popular museum. Visitors interested in learning about Sitka's cultural history also enjoy The Sheldon Jackson Museum's collection of Alaska Native ethnographic material, organized by the Sitka Fine Arts Camp, an organization that provides opportunities in arts, culture and recreation in an inspirational environment.
Sitka Rocky Gutierrez Airport (SIT) is located two miles west of downtown Sitka. Empty legs and transient aircraft are very popular in the region.
Sitka Map
Airports within 70 miles For Private Jets to Sitka
1. SIT, Sitka Rocky Gutierrez Airport, Sitka, AK
2. AGN, Angoon Seaplane Base, Angoon, AK
3. TKE, Tenakee Seaplane Base, Tenakee Springs, AK
4. PEC, Pelican Seaplane Base, Pelican, AK
5. HNH, Hoonah Airport, Hoonah, AK
6. KPB, Point Baker Seaplane Base, Point Baker, AK
7. PPV, Port Protection Seaplane Base, Port Protection, AK
8. ELV, Elfin Cove Seaplane Base, Elfin Cove, AK
9. RXB, Rodman Bay Airport, Rodman Bay, AK
10. FAK, False Island Airport, False Island, AK
11. DGJ, Deep Bay Airport, Deep Bay, AK
12. OOB, Cobol Alaska/Scaled/, Cobol, AK
13. KLP, Kelp Bay Airport, Kelp Bay, AK
14. WCL, Whalers Cove Lodge Airport, Whalers Cove Lodge, AK
15. HBY, Hood Bay Airport, Hood Bay, AK