Monarch Air Group provides private air charter in Sicily, Italy. Our clients benefit from top-notch service, unrelenting dedication to safety, wide selection of aircraft, and years of experience in chartering private jets. To obtain a free quote, please use our online quoting tool provided below, or call toll-free 1-877-281-3051.
Charter a private jet to&from Sicily, Italy
Private Jet Charter to and from Sicily, Italy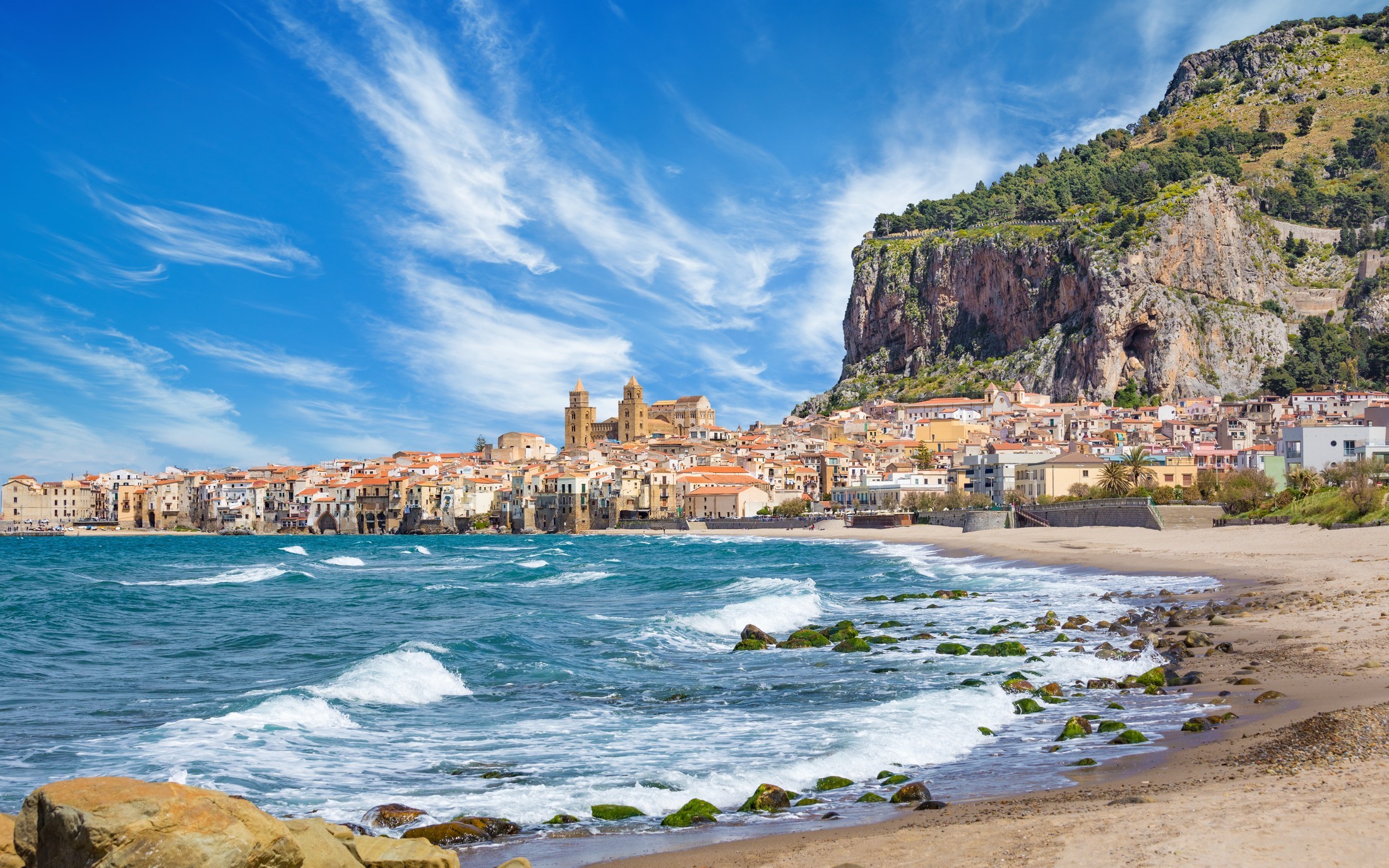 Monarch Air Group provides private jet charter flights in and out of Sicily, Italy.
Sicily, the largest island in the Mediterranean Sea, is a treasure trove of history, culture, and natural beauty. With its rich tapestry of ancient ruins, picturesque coastal towns, mouthwatering cuisine, and awe-inspiring landscapes, Sicily private jet charter offers a truly captivating experience for every traveler.
Once you've chartered a private jet to Sicily, start your Sicilian adventure by immersing yourself in the vibrant capital city of Palermo. Explore its bustling markets, such as Ballarò and Vucciria, where you can taste local delicacies and soak up the lively atmosphere. Discover the architectural marvels of Palermo, including the stunning Palermo Cathedral, the imposing Palazzo dei Normanni, and the exquisite Quattro Canti.
With a private jet to Sicily, travel back in time to ancient Greece as you visit the Valley of the Temples in Agrigento. This UNESCO World Heritage Site boasts remarkably preserved Doric temples, including the Temple of Concordia, which is considered one of the best-preserved Greek temples in the world. Take a leisurely stroll through this archaeological wonder and let its historical significance captivate your imagination.
When renting a private jet to Sicily, make sure to include a visit to Syracuse—a city immersed in captivating history. The Neapolis Archaeological Park is a must-visit destination, where you can marvel at remarkable attractions such as the Greek Theater, the Ear of Dionysius, and the Roman Amphitheater. Take advantage of the chance to explore Ortigia, the historical core of Syracuse, boasting enchanting narrow streets, picturesque squares, and extraordinary architectural marvels.
Sicily is well-served by multiple airports catering to different regions on the island. Travelers can choose from Trapani-Birgi Airport (TPS) in Trapani, Catania and Palermo International Airport (PMO), and Catania-Fontanarossa Airport (CTA).
Sicily Private Jet Rental Cost
Sicily private jet rental range from $2,000 – $17,000 per billable flight hour or more. Turboprop jets cost from $1,800 to $2,400 per hour, light jets cost from $2,400 to $3,900, mid-size or super-midsize jets cost from $4,200 to $8,100 per flight hour, while heavy and ultra-long range jets per flight hour cost from $7,200 to $17,800.
Airports for Private Jet near Sicily
LICC, CTA, Catania Airport
LICJ, PMO, Palermo–Punta Raisi Airport
LICT, TPS, Trapani–Birgi Airport
FAQ: Private Jet Flights to Sicily
Why choose a charter jet to Sicily with Monarch Air Group?
When reserving a private flight to Sicily, choosing Monarch Air Group, your comfort and safety come first. Our private aircraft are outfitted with opulent amenities to enhance the comfort of your flight. Moreover, our goal is to make your trip memorable, unique, and pleasurable.
What Types of the Private Jets Can Use for Sicily?
When choosing a private aircraft for the journey to Sicily, Monarch Air Group considers a number of essential factors. The cost, required range, passenger capacity, and itinerary are included. Due to the careful consideration of these factors by our staff throughout our charter services, your happiness, safety, and comfort are our top priorities.
What are the Benefits of Flying a Sicily Private Jet?
Private aircraft offer numerous advantages over alternative modes of transportation when traveling to Sicily. As a reputable provider of private jet rentals, we understand how important it is to consider your preferences, budget, and schedule. We are committed to offering flexible travel options, allowing us to tailor your trip to your specifications and create a unique, seamless experience.
Can I Bring My Pet on a Private Jet to Sicily?
Monarch Air Group is pleased to provide flights to Sicily that are pet-friendly because we respect and honor all animals. Nonetheless, it is crucial to comprehend each route's particular rules and restrictions. We guarantee the security and comfort of your traveling companions.
Popular Destinations near Sicily by Private Jet
Located just south of Sicily, Malta is a small archipelago nation known for its rich history, stunning architecture, and beautiful beaches. Visitors can explore the fortified capital city of Valletta, visit ancient temples, and enjoy the vibrant Mediterranean culture.
Situated west of Sicily, Sardinia is the second-largest island in the Mediterranean. It boasts pristine beaches with crystal-clear waters, rugged mountains, and ancient ruins. The Costa Smeralda region is famous for its luxury resorts and picturesque coastal landscapes.
Across the Mediterranean Sea to the south of Sicily lies Tunis, the capital city of Tunisia. This North African destination uniquely blends Arab, Berber, and European influences. Visitors can explore the ancient ruins of Carthage, wander through the medina (old town), and discover the cultural treasures of this vibrant city.
Our private aircraft are outfitted with cutting-edge technologies to guarantee the dependability and efficacy of your flight. We aim to exceed your expectations because your total satisfaction is our top priority. Please refer to our "Frequently Asked Questions" section or contact us for additional information. We aim to provide superior service and all the necessary information for a vacation to remember.