Monarch Air Group provides private air charter in Seville, Spain. Our clients benefit from top-notch service, unrelenting dedication to safety, wide selection of aircraft, and years of experience in chartering private jets. To obtain a free quote, please use our online quoting tool provided below, or call toll-free 1-877-281-3051.
Charter a private jet to&from Seville, Spain
About Seville, Spain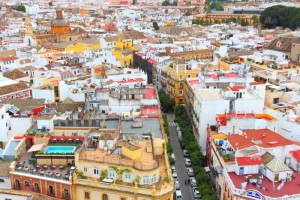 Monarch Air Group offers private jet charter services to and from Seville, Spain. Situated on the Guadalquivir River, Seville is a city in southern Spain and the capital of the Andalusia region. It is an economical, industrial and governmental center of southern Spain. Seville is one of Spain's modern, vibrant and beautiful cities that attract visitors from all over the world especially from other European countries.
Seville is well known for its rich Moorish heritage, romantic past, Flamenco music, and bullfighting rings. Throughout the year Seville hosts many festivals and events such as the April Fair (the Feria de Abril) and Holy Week (Semana Santa). The most popular tourist attractions include the Plaza de Espana, the Isla Magica, the Isla de la Cartuja, the Monasterio de Santa Maria de las Cuevas, the Ayuntamiento, the Palacio de la Condesa de Lebrija, the Plaza de Toros de la Maestranzas, and La Giralda. The city of Seville provides easy access to nearby cities such as Madrid, Granada, and Cordoba, and villages such as Aracena and Carmona.
The city is served by Seville International Airport (SVQ) located 6.2 mi northeast of Seville's capital city, Malaga Airport (AGP) and Granada Airport (GRX).
Seville Airports within 70 miles
1. CDZ, Cadiz, Cadiz, Spain
2. HEV, Huelva, Huelva, Spain
3. NDO, La Palma Del Condado, La Palma Del Condado, Spain
4. ODB, Cordoba, Cordoba, Spain
5. OZP, Moron, Moron, Spain
6. RRA, Ronda, Ronda, Spain
7. SPO, San Pablo, Sevilla, Spain
8. SVQ, San Pablo, Sevilla, Spain
9. XRY, Jerez De La Frontera, Jerez De La Frontera, Spain
Hotels in Seville
1. Hotel Alfonso XIII, a Luxury Collection Hotel, Seville, Calle San Fernando, 2, Sevilla
2. Hotel TRYP Sevilla Macarena, Calle San Juan de Ribera, 2, Sevilla
3. Hotel Palacio de Villapanes, Calle Santiago, 31, Sevilla
4. AC Hotel Sevilla Torneo, Avenida Sánchez Pizjuán, 32, Sevilla
5. Hotel Doña María, Calle Don Remondo, 19, Sevilla
6. Hotel Adriano Sevilla, Calle Adriano, 12, Sevilla
7. Hotel Alcázar, Avenida de Menéndez Pelayo, 10, Sevilla
8. Hotel Petit Palace Marqués de Santa Ana, Jimios, 9-11, Sevilla
9. Ayre Hotel Sevilla, Avenida de Kansas City, 7, Sevilla
10. Hotel Amadeus, Calle Farnesio, 6, Sevilla
11. Hotel Monte Triana, Calle Clara de Jesús Montero, 24, Sevilla
12. Hotel Las Casas de La Judería, Calle Santa María la Blanca, 5, Sevilla
13. Barceló Sevilla Renacimiento, Avenida Álvaro Alonso Barba, s/n, Sevilla
14. Hotel Murillo Centro Sevilla, Calle Lope de Rueda, 7-9, Sevilla
15. Hotel Inglaterra, Plaza Nueva, 7, Sevilla
16. Hilton Garden Inn Sevilla, Parque Empresarial Torneo, Avenida Ingeniería, 11, Sevilla
17. Hotel Sevilla Center, Avenida de la Buhaira, 24, Sevilla