Monarch Air Group provides private air charter in Seville, Spain. Our clients benefit from top-notch service, unrelenting dedication to safety, wide selection of aircraft, and years of experience in chartering private jets. To obtain a free quote, please use our online quoting tool provided below, or call toll-free 1-877-281-3051.
Charter a private jet to&from Seville, Spain
Book a Private Jet Charter to Seville, Spain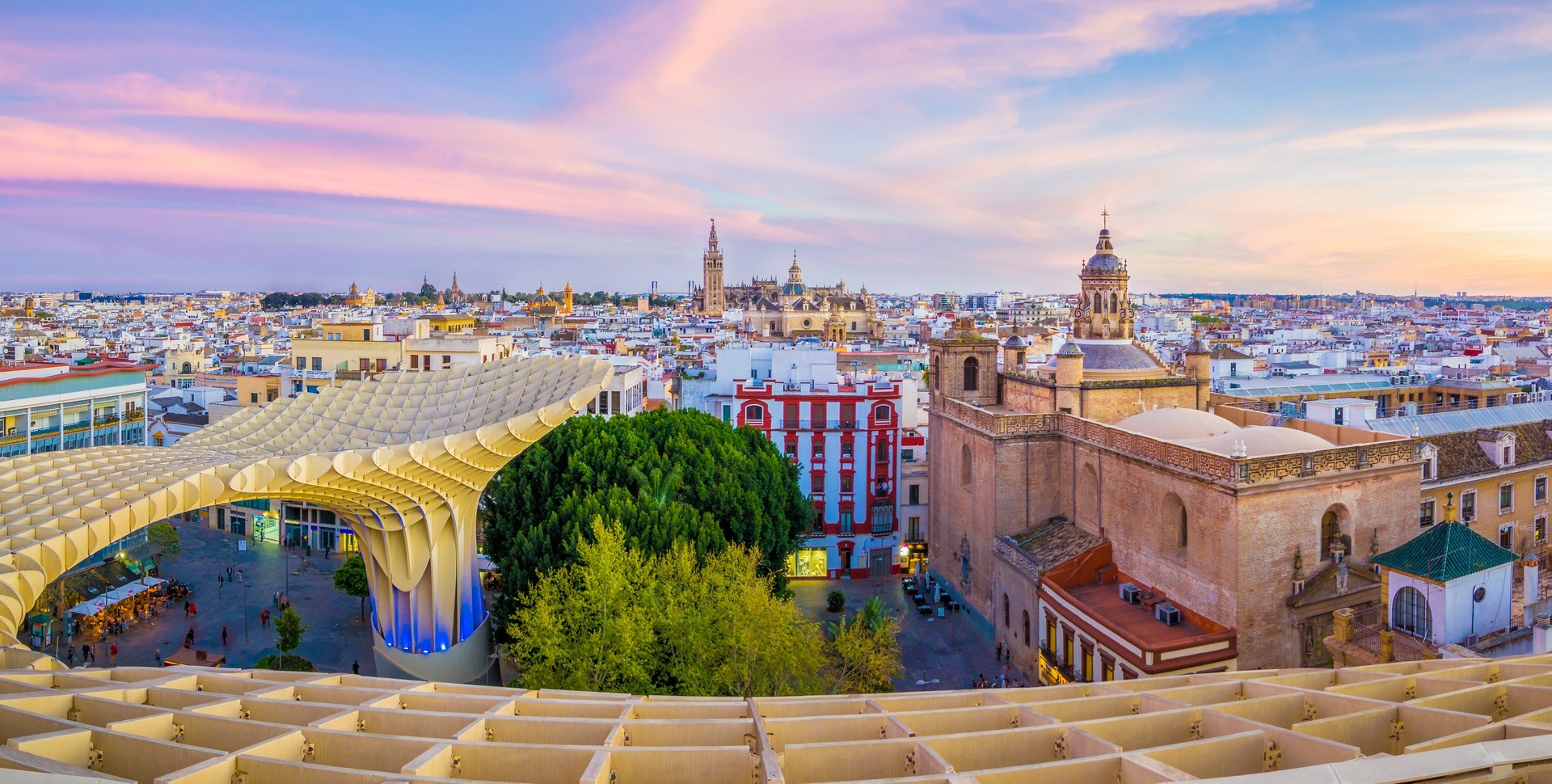 Monarch Air Group offers private jet charter services to and from Seville, Spain.
In the southwest of the Iberian Peninsula lies Seville, the capital and largest city of the autonomous community of Andalusia, Spain. It is a city of spectacular bullfighting and passionate flamenco. The spirit of the real Spain is vividly displayed here, which makes a Seville private charter flight a popular choice. The town contains majestic palaces, elegant towers, and lush gardens.
Seville is one of Spain's modern, vibrant and beautiful cities that attract visitors from all over the world, especially from other European countries. The charming capital of Andalusia delights with palaces, majestic temples, and a multitude of fountains. Charter a private jet to Seville today to make sure to take advantage of the most amazing wonders.
With a private flight to Seville, stroll through the picturesque Plaza de España, and visit the largest Gothic temple in the world, the Cathedral or the Alcazar Palace, considered the oldest functioning royal palace. Stretched out along the Guadalquivir River, the Maria Luisa Park Complex is a favorite vacation spot for locals. Also, the architectural complex of the Plaza de Toros de la Maestranza is not only the largest bullfighting arena but also an interesting museum.
The city hosts exciting festivals and events throughout the year, with ancient folk traditions, local cuisine, and more. The Seville April Fair, one of the most popular tourist events, takes place over six days during Easter week. Also, a charter flight to Seville in early September offers a mesmerizing flamenco experience for the annual fire dance festival.
The jet charter to/from Seville is served by Seville International Airport (SVQ), located 6.2 mi northeast of Seville's city, Malaga Airport (AGP), and Granada Airport (GRX).
Cost to charter a private jet to or from Seville
The cost of a private jet to Seville will vary depending on the size of the private jet, duration, flight time, and other factors. Here are some price options for private jets to or from Seville.
To/From Location
London
Athens
Paris
Aircraft Type
Turboprops
Light Jet
Midsize Jet
Estimated Price
(One-Way)
$18,100 – $24,900
$36,500 – $45,900
$22,700 – $31,500
Flight Duration
3hr 55min
4hr 45min
2hr 25min
Seville Private Jet Airports within 70 miles
CDZ, Cadiz, Cadiz
HEV, Huelva, Huelva
NDO, La Palma Del Condado, La Palma Del Condado
ODB, Cordoba, Cordoba
OZP, Moron, Moron
RRA, Ronda, Ronda
SPO, San Pablo, Sevilla
SVQ, San Pablo, Sevilla
XRY, Jerez De La Frontera, Jerez De La Frontera
FAQs: Private Jet Flights to Seville
Why choose a private jet to Seville with Monarch Air Group?
Monarch Air Group offers a private jet charter to Seville, Spain, tailored to your wishes, and we can get you closer to your intended destination. There are no large upfront deposits, membership costs, or penalties for flying on "peak days." With a Seville private jet rental, you will have a charter expert to help you find the plane best suited for the mission.
How much does it cost to book a Seville private jet charter?
Seville jet charter prices range from $2,000 to $23,000, per flight hour, depending on the type of aircraft you choose and the length of your route. On average, a charter flight to Seville on a mid-size jet costs around $3,200 – $4,300 per hour, from $5,600 to $8,000 on a heavy jet per flight hour, and between $11,000 – $16,000 for VIP airliners like BBJs and ACJs.
What types of private jets can use for Seville charter flights?
Monarch Air Group provides a wide selection of available Seville jets for your flight. Please let us know if you have a specific aircraft type request for the Seville air charter service you need for your trip. We will accommodate your wishes and provide a stress-free flight on a comfortable luxury jet.
What are the benefits of flying on a Seville private jet?
With Seville private jet charters, you can enjoy all the benefits of flying private. The ability to travel on your schedule with the privacy of your aircraft, access to thousands of airports, and no long lines at terminals add to the overall value of using a Seville jet charter.
Popular destinations near Seville by private jet
Barcelona – is Spain's cultural capital, with great outdoor activities, including the beach.
Madrid – is filled with beautiful parks, diverse, lively neighborhoods, and some of the best art institutions in Europe.
Granada – sets this destination apart from other cities in Spain.
Mallorca – has beaches drenched in sunshine, outdoor activities, and picturesque little towns.
Ibiza – is a great place to relax and is world-renowned for its nightlife.
Our clients travel on efficient and comfortable private jets. If you have yet to find the answers to all your questions here, you can contact our experienced and reliable team at any time or visit our air charter FAQ page.