Monarch Air Group provides private air charter in Seattle, WA. Our clients benefit from top-notch service, unrelenting dedication to safety, wide selection of aircraft, and years of experience in chartering private jets. To obtain a free quote, please use our online quoting tool provided below, or call toll-free 1-877-281-3051.
Charter a private jet in Seattle
Book a Private Jet Charter to and from Seattle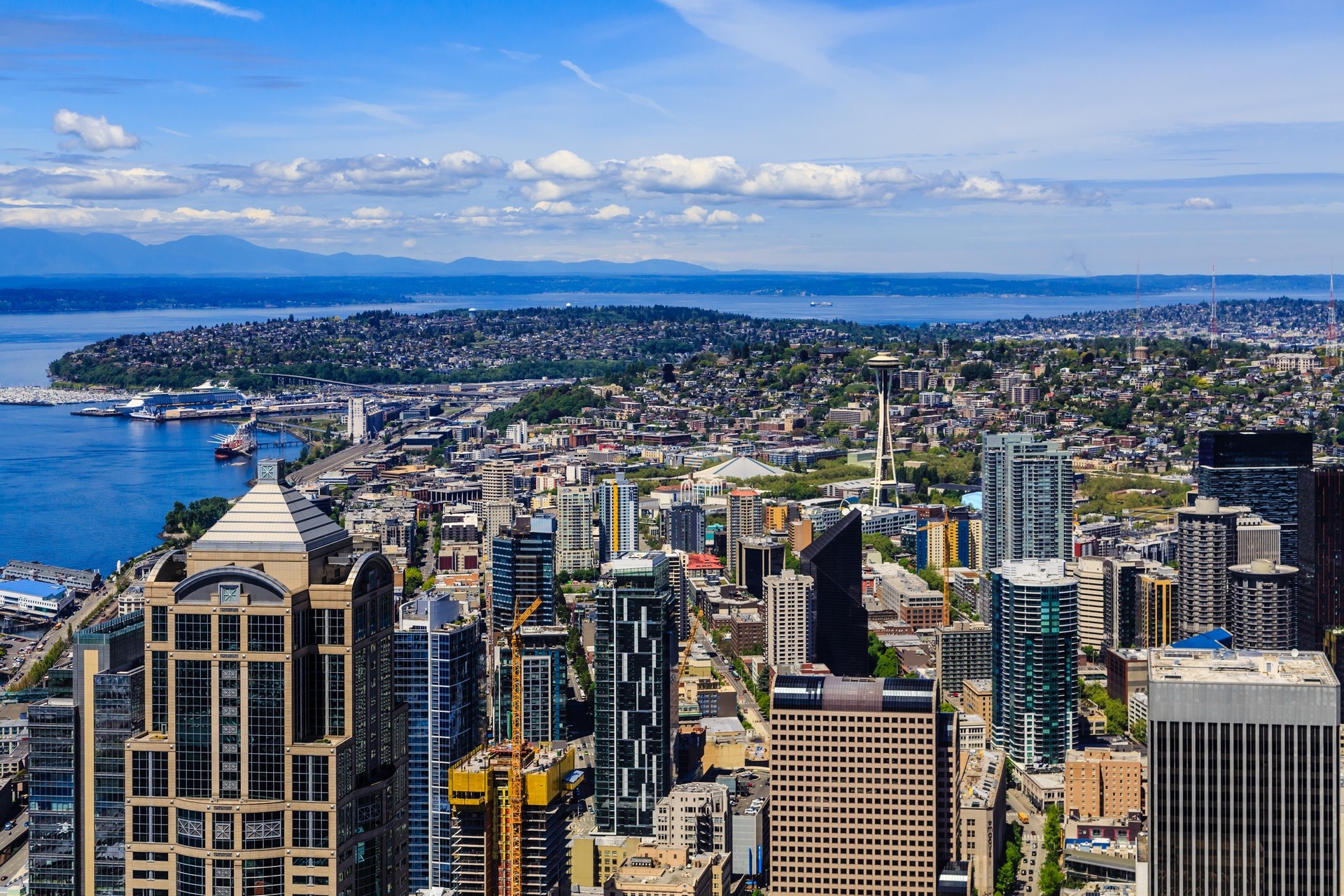 Monarch Air Group provides private jet charter flights to and from Seattle.
Seattle is the largest city of the US state of Washington. It is a vibrant city, well known for its Seattle Space needle. Seattle's climate is mild and maritime, winters are not cold, and the mountains close the region from icy arctic winds and Pacific storms. The city is encircled by the Elliott Bay, Lake Union, Lake Washington, Mount Rainier, the Olympic Mountains, and the Cascade Mountains.
Seattle can live up to travelers' expectations by offering various activities, great restaurants, modern hotels, and exciting attractions. Moreover, local airports are suitable for private jets to and from Seattle of multiple sizes. The U.S. National Register of Historic Places lists more than 150 landmarks in the city.
While traveling in Seattle, you can visit the Space Needle, a symbol of the city and its signature landmark, or take a tour of the Experience Music Project, which is dedicated to different areas of pop culture. Also, when flying on a private charter to Seattle, visit Ace Works at Lake Union, where old technology and the beauty of wildlife coexist in harmony. From May to October, Seattle hosts the traditional American gastronomic festival Restaurant Week, which draws visitors worldwide.
King County International Airport (BFI, KBFI) is 5 miles from the Seattle city center. It is a public airport, averages over 180,000 operations annually, and is suitable for private jets to and from Seattle.
Seattle Private Jet Rental Cost
There are a variety of models in the private aviation market with varying costs. The prices for air charter service in Seattle can vary according to the destination, flight time, and the number of people on board. Additionally, you may contact our consultants to get an exact price for your private jet flight.
The size and type of aircraft, the length of the flight, and the destination can all affect the cost. The approximate cost of a private jet to Seattle can range anywhere from $2,000 to $17,000 for a billable flight hour or more.
Airports for Private Jet near Seattle
BFI, Boeing Field/King County International Airport, Seattle, United States.
CLM, Fairchild Intl, Port Angeles, United States.
CWS, Center Island, Center Island, United States.
ESW, State, Easton, United States.
GRF, Gray Aaf, Tacoma, United States.
KEH, Kenmore Air Harbor, Kenmore Air Harbor, United States.
LKE, Kenmore Air Harbor SPB, Seattle, WA, United States.
LPS, Lopez Island, Lopez Island, United States.
MVW, Skagit Regional, Mount Vernon, United States.
NUW, Whidbey Island NAS (Ault Field), Oak Harbor, United States.
ODW, Oak Harbor, Oak Harbor, United States.
OLM, Olympia, Olympia, United States.
OTS, Anacortes, Anacortes, United States.
PAE, Snohomish County, Everett, United States.
PUL, Poulsbo, Poulsbo, United States.
PWT, Bremerton, Bremerton, United States.
RNT, Renton, Renton, WA, United States.
SEA, Seattle-Tacoma International, Seattle, WA, United States.
SHN, Sanderson Field, Shelton, United States.
SQV, Sequim Valley Arpt, Sequim, United States.
Hotels in Seattle
Hotel 1000, 1000 1st Avenue, Seattle.
Coast Hotels Paramount, 724 Pine Street, Seattle.
Grand Hyatt Seattle, 721 Pine Street, Seattle.
Camlin Hotel, 1619 9th Avenue, Seattle.
Mayflower Park Hotel Seattle, 405 Olive Way, Seattle.
Alexis Hotel, a Kimpton Hotel, 1007 1st Avenue, Seattle.
Best Western Pioneer Square Hotel, 77 Yesler Way, Seattle.
Sorrento Hotel, 900 Madison Street, Seattle.
Doubletree Arctic Club Hotel, 700 3rd Avenue, Seattle.
Best Western Pioneer Square Hotel, 77 Yesler Way, Seattle.
FAQ for a Private Jet Charter Flights to Seattle
Why choose a charter jet to Seattle with Monarch Air Group?
Monarch Air Group provides private flights to and from Seattle, exclusive service, and an aircraft to suit your personal needs. Seattle private jet charter means you avoid the crowds of busy airports and rent the entire plane, providing complete flexibility and faster transfers. You decide when to take off, where to land, who to take with you, and what you want to see aboard your private jet. Call one of our agents for charter jet Seattle.
How much does it cost to book a Seattle private jet charter?
The cost of renting a Seattle private jet varies depending on where and when you are flying and the number of passengers. For instance, a business jet charter may be cheaper if you book long-haul flights for a group. If you can't find the information you need on air charter Seattle, you can contact our experts. What's more, you can get a rough flight cost estimate by using a private jet charter cost estimator.
Here are some approximate prices for private flights to Seattle:
Charter a Private Jet to Seattle from Miami: from $48,010;
Charter Flights to Seattle from New York: from $32,430;
Private Charter to Seattle from San Francisco: from $9,950.
*Estimated price before taxes & fees.
What types of private jets can use for Seattle charter flights?
We can provide VIP jets, airliners, heavy, light, or turboprops at competitive prices. Once we understand your basic needs, we can help you recommend the best aircraft for your Seattle charter flights. Your choice depends on the range you want to fly, the level of comfort you require, and the number of passengers.
| Aircraft type | Passengers | Non-stop range | Cruising speed | Intended use |
| --- | --- | --- | --- | --- |
| Light Jet | up to 6 passengers | about 700 – 2000 miles | 476 to 518 mph | for comfortable short- to mid-range distances |
| Midsize Jet | up to 10 passengers | about 1300 – 1500 miles | 422 to 541 mph | to fly nonstop from coast to coast |
| Super midsize Jet | up to 10 passengers | about 3.500 – 4.000 miles | 490 to 590 mph | for longer flights |
| Heavy Jet | up to 18 passengers | about 6.000 miles | 480 to 551 mph | traveling overseas in luxury for an intercontinental flight |
| Turboprops | up to 10 passengers | about 600 – 1.900 miles | 220 to 360 mph | for short- to mid-range flights |
| Ultra-Long Range Jet | up to 19 passengers | about 2,800 – 7,685 miles | 460 to 594 mph | for long-haul travels |
| Helicopters | up to 28 passengers | about 250 – 600 miles | 150 to 175 mph | for passenger and cargo transportation |
What are the benefits of flying on a Seattle private jet?
There are many reasons why people choose to fly a private jet. Hiring a private jet has several undeniable advantages over commercial flights. Traveling on a private plane means arriving 15 minutes before departure and having access to a private lounge. With a group charter, employees can also work while in the air – there's WI-FI, communication systems, and a boardroom on board. Our specialist is available to you 24/7 for all your private plane charter Seattle needs.
Popular destinations near Seattle by private jet
Victoria – on the southern tip of Vancouver Island, is a major tourist destination for domestic and international business travelers due to its beautiful inner harbor, rich history, and excellent standard of living.
Abbotsford – is the regional center of the Fraser Valley, an ideal business place.
Vancouver – is a great place to visit, known as the city that hosted the 2010 Olympic and Paralympic Winter Games.
Portland – is a charming city on the west coast of the U.S. and gets wildly rave reviews from private aviation clients.
Whistler – is a North American ski resort that offers high-quality lodging, golf courses, spas, and a mountain bike park.
Our clients travel on efficient and comfortable private jets. If you haven't found the answers to all your questions, you can contact our experienced and reliable team at any time or visit our air charter FAQ page.