Monarch Air Group provides private air charter in Scottsdale, AZ. Our clients benefit from top-notch service, unrelenting dedication to safety, wide selection of aircraft, and years of experience in chartering private jets. To obtain a free quote, please use our online quoting tool provided below, or call toll-free 1-877-281-3051.
Charter a private jet in Scottsdale:
Book a Private Jet Charter to and from Scottsdale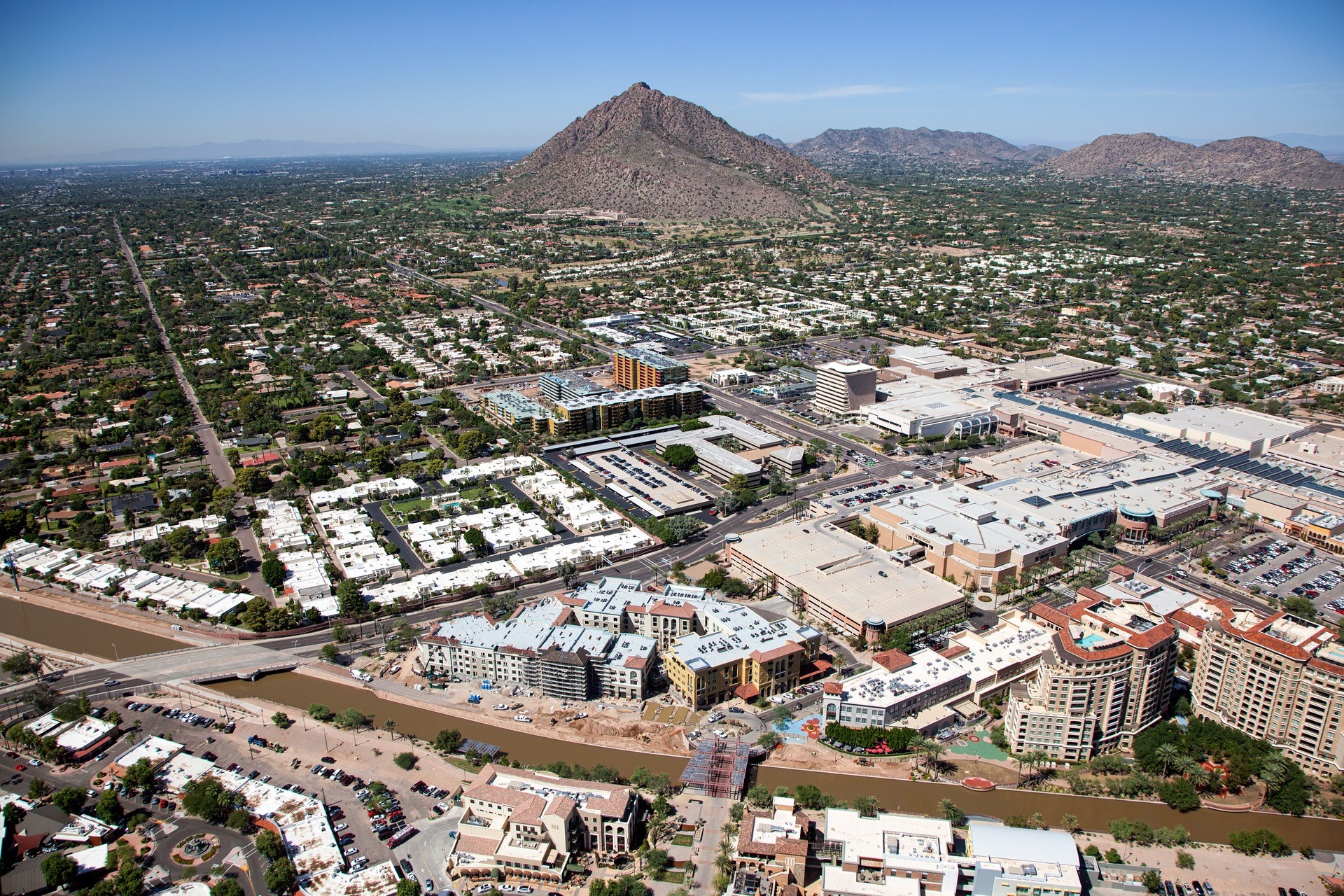 Monarch Air Group provides private jet charter flights to and from Scottsdale.
Scottsdale is a city in the state of Arizona, which is located in the heart of the lush Sonoran Desert. It borders Phoenix to the West and the McDowell Mountains to the East. Travelers on a private jet charter Scottsdale have many expensive hotels, bustling nightclubs, shopping malls, fine restaurants and bars, and first-class golf courses. Scottsdale began as a small farming settlement and had a rich Western history, hence it's often referred to as "The West's Most Western Town."
With desert trails, mountains, and rivers, Scottsdale is among the best tourist destinations for business and leisure travelers. There are regular cowboy-style parties and festivals, including the famous cowboy parade. Charter a Scottsdale private jet, so you don't miss the annual Arabian Horse Show, the largest U.S. food festival, or the world's largest car auction. Moreover, many excellent shops, stunning art galleries, luxurious restaurants, and five-star hotels exist.
The popular tourist attractions are the Scottsdale Arabian Horse Show, the renowned Scottsdale International Film Festival, and the famous Barrett-Jackson Auto Show. Visitors from all parts of the world can use Scottsdale private flight to experience relaxing days, lavish luxury, and nice warm weather throughout the year.
Nine miles from downtown Scottsdale is Scottsdale Airport (SCF, KSDL). It is one of the busiest single-runway airports in the country, which also serves Scottsdale charter jet.
Scottsdale Private Jet Airports within 70 miles
SCF, KSDL, SDL, Scottsdale Airport, Scottsdale, AZ
PHX, KPHX, Phoenix Sky Harbor International Airport, Phoenix, AZ
KCHD, CHD, Chandler Municipal Airport, Chandler, AZ
DVT, KDVT, Phoenix Deer Valley Airport, Phoenix, AZ
DQF, Williams Gateway, Phoenix, AZ
KGEU, GEU, Glendale Municipal Airport, Glendale, AZ
GYR, KGYR, Phoenix Goodyear Airport, Phoenix, AZ
CGZ, KCGZ, Casa Grande Municipal Airport, Casa Grande, AZ
Hotels in Scottsdale
Scottsdale, 6850 E. Main Street, Scottsdale.
FireSky Resort & Spa, a Kimpton Hotel, 4925 North Scottsdale Road, Scottsdale.
Chaparral Suites, 5001 Scottsdale Rd, Scottsdale.
4th Floor Grille & Sports Bar at Chaparral Suites, 5001 North Scottsdale Road, Scottsdale.
Montelucia Resort & Spa, 4949 E. Lincoln Drive, Scottsdale.
Scottsdale, 6850 E. Main Street, Scottsdale.
Clarion Hotel Scottsdale, 5101 North Scottsdale Road, Scottsdale.
Scottsdale Cottonwoods Resort and Suites, 6160 North Scottsdale Road, Scottsdale.
Hotel Indigo Scottsdale, 4415 North Civic Center Plaza, Scottsdale.
FAQ for a Private Jet Charter Flights to Scottsdale
Why choose a private jet to Scottsdale with Monarch Air Group?
Monarch Air Group provides private plane charter Scottsdale, AZ, with access to a diverse selection of private jet to Scottsdale options, whether you're looking for a luxury jet for business or pleasure. From the very first moment of airplane rental Scottsdale, until you arrive at your destination, you'll get the service and attention you deserve. Our team arranges Scottsdale private jet charters to ensure a quick and safe arrival. We will meet all your requirements to ensure that our services meet your expectations when you book your Scottsdale aircraft rental.
How much does it cost to book a Scottsdale private jet charter?
The cost of a Scottsdale private jet can vary greatly depending on the size of the Scottsdale jet, the origin of the flight, the destination, and many other factors. If you can't find the Scottsdale air charter information you need, you can contact our experts. The best way to give you the price of charter flights in Scottsdale is to fill out a form indicating the specific flight. What's more, you can get a rough flight cost estimate by using the private jet charter cost estimator.
Here are some approximate prices for private flights to Scottsdale:
Charter a Private Jet to Scottsdale from Teterboro: from $34,100;
Charter Flights to Scottsdale from LA: from $6,330;
Private Flights to Scottsdale from Miami: from $31,570.
*Estimated price before taxes & fees.
What types of private jets can use for Scottsdale charter flights?
Monarch Air Group will advise you and provide you with the right choice of Scottsdale jets. The more information you can provide, the better. That way, we will provide the best aircraft and service for Scottsdale charter flights. Your choice depends on the range of your flight, the level of comfort you require, and the number of passengers.
| Aircraft type | Passengers | Non-stop range | Cruising speed | Intended use |
| --- | --- | --- | --- | --- |
| Light Jet | up to 6 passengers | about 700 – 2000 miles | 476 to 518 mph | for comfortable short- to mid-range distances |
| Midsize Jet | up to 10 passengers | about 1300 – 1500 miles | 422 to 541 mph | to fly nonstop from coast to coast |
| Super midsize Jet | up to 10 passengers | about 3.500 – 4.000 miles | 490 to 590 mph | for longer flights |
| Heavy Jet | up to 18 passengers | about 6.000 miles | 480 to 551 mph | traveling overseas in luxury for an intercontinental flight |
| Turboprops | up to 10 passengers | about 600 – 1.900 miles | 220 to 360 mph | for short- to mid-range flights |
| Ultra-Long Range Jet | up to 19 passengers | about 2,800 – 7,685 miles | 460 to 594 mph | for long-haul travels |
| Helicopters | up to 28 passengers | about 250 – 600 miles | 150 to 175 mph | for passenger and cargo transportation |
What are the benefits of flying a Scottsdale private jet?
Scottsdale jet charter has several undeniable advantages over commercial flights. With Scottsdale AZ private jet charter, we guarantee all customers the privacy, flexibility, and efficiency you expect from your flight. Also, with private plane charter Scottsdale there is the option of booking extras like personalized in-flight meals or hotel transfers. Our charter flight specialists are available 24 hours a day to provide you with a full range of private aircraft rental services.
Popular destinations near Scottsdale by private jet
Tucson – attracts crowds of sun worshippers who want to take advantage of the many opportunities this gastronomic city offers.
Phoenix – is known for its beautifully manicured golf courses and world-class spas.
Flagstaff – is home to numerous restaurants, art galleries, and stores.
Kingman – features the longest uninterrupted stretch of Route 66, recreation areas, and places to hike or bike.
Our clients travel on efficient and comfortable private jets. If you haven't found the answers to all your questions, you can contact our experienced and reliable team at any time or visit our air charter FAQ page.