Monarch Air Group provides private air charter in Schwerin, Germany. Our clients benefit from top-notch service, unrelenting dedication to safety, wide selection of aircraft, and years of experience in chartering private jets. To obtain a free quote, please use our online quoting tool provided below, or call toll-free 1-877-281-3051.
Charter a private jet to&from Schwerin
About Schwerin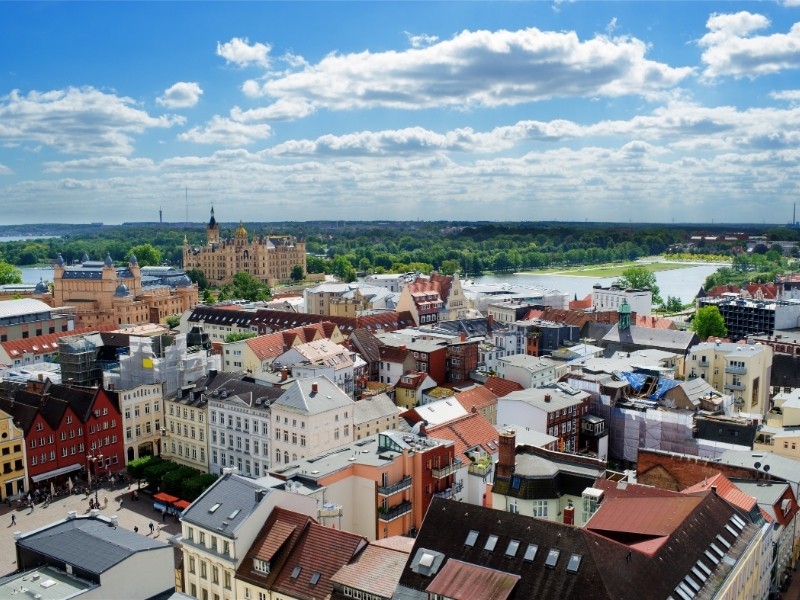 Monarch Air Group offers private jet charter services to and from Schwerin, Germany.
Schwerin is the state capital of Mecklenburg-Vorpommern in northern Germany. The city was founded in the 12th Century by the Saxon duke Henry the Lion.
Schwerin is best known for its magnificent neo-Renaissance Castle Schwerin. The 635-room palace was built between 1847-1857 at the center of an island on Lake Schwerin. After construction was completed on the castle, it served as a residence for the court of the Grand duchy of Mecklenburg-Schwerin. The castle became a museum in 1974.
Considered the finest Baroque garden in Germany, the traditional design of the castle's garden features a grotto, fountains, sculptures and terraces. One of the most popular features is in the southern part of the garden. Here visitors will find a hippodrome perched on a small hill with oak trees. For centuries, castle visitors in search of the invigorating forces of nature retreated here to enjoy picnics on the grassy lawn and long walks along its tree-lined paths.
The old town market in Schwerin dates to the city's founding in 1160 when it served as an important economic, political and religious hub. Although many original buildings were destroyed in a fire in 1651, buildings in the square still evoke a deep sense of the town's history. Since the 14th Century, a municipal building has stood on the site where the current city hall stands. Other buildings in the square are built with Renaissance Revival, Baroque and Renaissance architectural styles.
A monument honoring Henry the Lion was erected in 1995 on the 800th anniversary of his death. Designed and sculpted by renowned artist Peter Lenk, the monument's reliefs recount important events during the life of the city's founder, including a few whimsical moments. Look for the monument beside the Neues Gebäude in the market square.
Airports that serve Schwerin include Lübeck Airport (49.7 km/30.9 miles); Rostock–Laage Airport (65.4 km/40.6 miles); Hamburg Airport (58.4 miles/ 94.1 kilometers) and Kiel Airport (118 km/73.1 miles).
Schwerin Map
Airports within 70 miles For Private Jets to Schwerin
1. LBC, Lübeck Blankensee Airport, Lubeck, Germany
2. RLG, Rostock-Laage Airport, Rostock, Germany
3. HAM, Hamburg Airport, Hamburg, Germany
4. XFW, Hamburg Finkenwerder Airport, Hamburg, Germany
5. TXL, Berlin Tegel Airport, Berlin, Germany
6. BRE, Bremen Airport, Bremen, Germany
7. HDF, Heringsdorf Airport, Heringsdorf, Germany
8. HAJ, Hannover-Langenhagen Airport, Langenhagen, Germany
9. SGD, Sønderborg Airport, Sonderborg, Denmark
10. CPH, Copenhagen Airport, Kastrup, Copenhagen, Denmark