Monarch Air Group provides private air charter in Schaffhausen. Our clients benefit from top-notch service, unrelenting dedication to safety, wide selection of aircraft, and years of experience in chartering private jets. To obtain a free quote, please use our online quoting tool provided below, or call toll-free 1-877-281-3051.
Charter a private jet to&from Schaffhausen
About Schaffhausen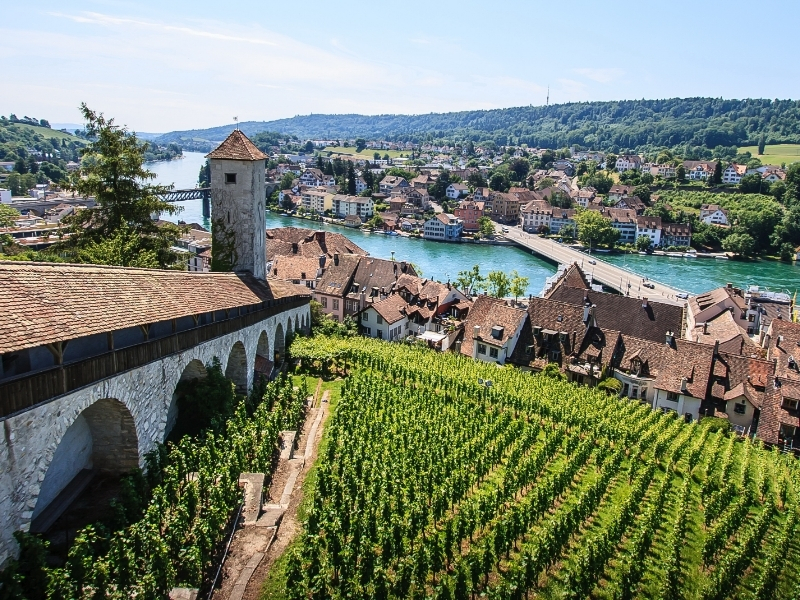 Monarch Air Group offers private jet charter services to and from Schaffhausen, Switzerland.
The city of Schaffhausen is located on the Rhine River in Switzerland. This quaint city is surrounded by Germany on three sides. A city state in the Middle Ages, Schaffhausen was founded in 1045 AD and became an imperial free city in 1253 AD. The city's Renaissance architecture is one of its most popular attractions. Alstadt Schaffhausen is a popular place to explore Schaffhausen's boutiques, cafes and historic buildings. As you walk along the pathway, take note of the charming oriel windows.
For a stunning view of the Rhine River, walk through the vineyards to the Munot, a 16th Century fortress. Visitors can walk through the stone chamber and climb the spiral tower. Visitors describe having a deep sense of what it was like in this space made of stone many centuries ago. If you plan to visit the nearby deer park at feeding time, you will have an opportunity to feed deer that live in the park. Europe's largest and most powerful waterfall, Rhine Falls, is located near Schaffhausen. The waterfall's history began more than 15,000 years ago during the last glacial period. Tectonic shifts forced the Rhine River to flow into a new riverbed.
The falls were born at the point in the river where hard chalk transitioned into soft gravel. To see the river up close, there are viewing platforms on both sides of the waterfall. At the center of the falls is an enormous rock. According to geologists, the rock has withstood the force of the falls for over a thousand years. Visitors who take a tour of the falls can stand on a platform on the rock. For a serene boat ride, take a boat tour to Worth Castle and Laufen Castle.
Zurich Airport (LSZH) is 28 km (17.4 miles) from the city center of Schaffhausen. Empty legs and transient aircraft are extremely popular in the region.
Schaffhausen Map
Airports within 70 miles For Private Jets to Schaffhausen
1. ZRH, Zurich Airport, Zurich, Switzerland
2. FDH, Bodensee Airport, Friedrichshafen, Friedrichshafen, Germany
3. ACH, St. Gallen-Altenrhein Airport, Altenrhein, Switzerland
4. EAP, EuroAirport Basel-Mulhouse-Freiburg, Saint-Louis, France
5. STR, Stuttgart Airport, Stuttgart, Germany
6. FMM, Memmingen Airport, Memmingen, Germany
7. SXB, Strasbourg International Airport, Strasbourg, France
8. BRN, Bern Airport, Bern, Switzerland
9. FKB, Baden Airpark, Baden-Baden, Germany