Monarch Air Group provides private air charter in Santa Monica, CA. Our clients benefit from top-notch service, unrelenting dedication to safety, wide selection of aircraft, and years of experience in chartering private jets. To obtain a free quote, please use our online quoting tool provided below, or call toll-free 1-877-281-3051.
Charter a private jet in Santa Monica, CA
Book a Private Jet Charter to Santa Monica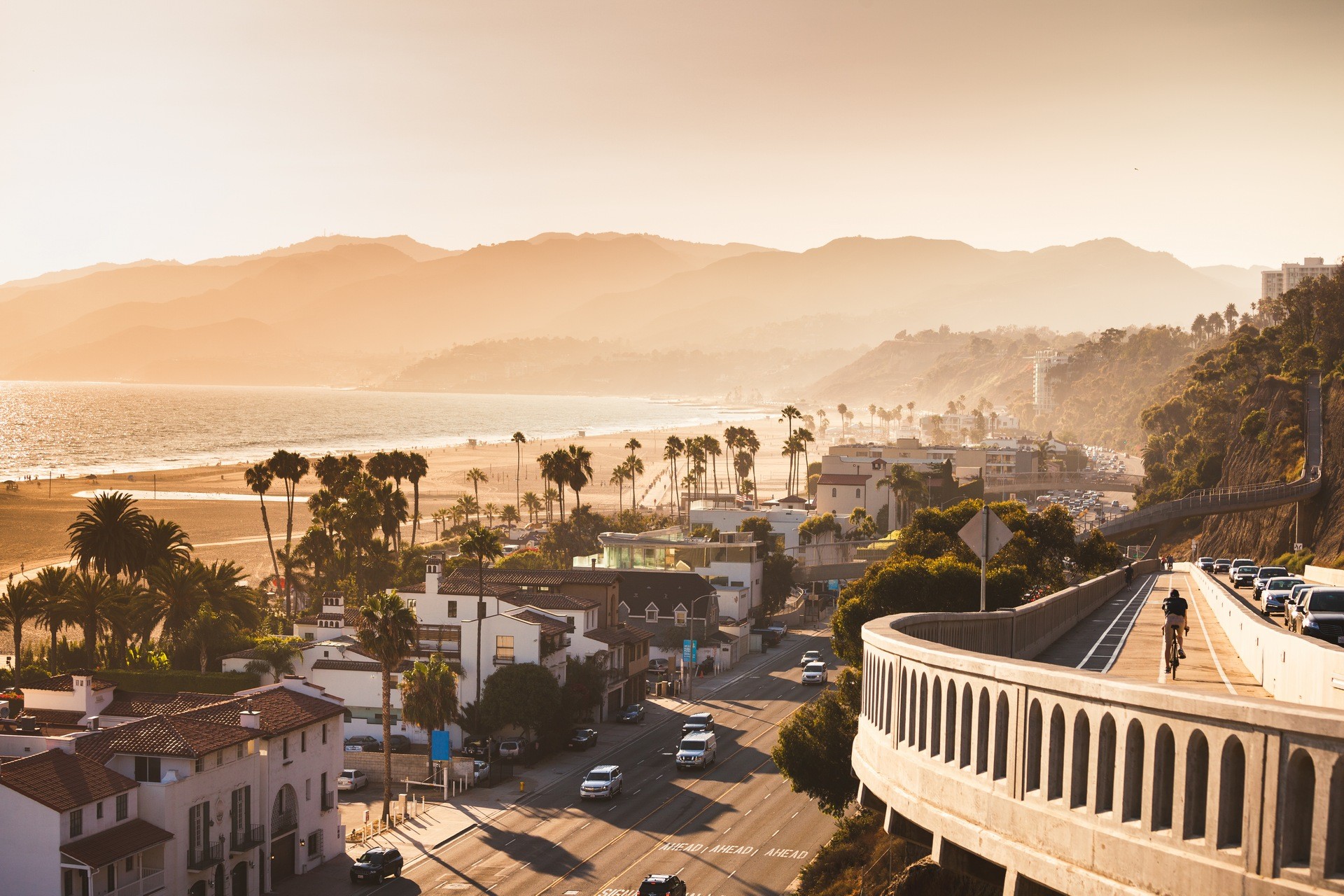 Monarch Air Group provides private jet charter flights in and out of Santa Monica, California.
In the western part of Los Angeles County, California, is the sunny coastal city of Santa Monica. The town is bordered on five sides by various parts of the city of Los Angeles, which has made private flights to Santa Monica a preferred choice. Santa Monica's favorable climate has made it a resort city with great opportunities for unforgettable vacations.
Santa Monica is a vast beach with many restaurants, volleyball courts, bars, and surfers. In the summer season, crowds of tourists come here to swim in the open waters of the Pacific Ocean. Charter a private jet to Santa Monica to soak up the warm California sun and take a break from the daily grind.
With a private jet flight to Santa Monica, visit the most popular attractions, including the Santa Monica Muscle Beach, the Santa Monica Pier, Chess Park, Universal Studios, Magic Mountain, and Disneyland.
Santa Monica is rich with various festivals at different times of the year. In May, the city hosts the Taste of Main Street Festival, the Street Music Festival, and Camera Obscura in the summer. With all the culture, high standard of living, and events, the Santa Monica charter flight is enjoyable for business and leisure travelers.
Santa Monica Airport (SMO, KSMO) is 3 miles from downtown Santa Monica, and Los Angeles International Airport (LAX, KLAX) is 15 miles away. Both of these airports serve charter jets to and from Santa Monica.
Santa Monica Private Jet Airports within 70 miles
LAX, KLAX, Los Angeles International Airport
BUR, KBUR, Bob Hope Airport
LGB, KLGB, Long Beach Airport
SNA, KSNA, John Wayne Airport
ONT, KONT, LA/Ontario International Airport
SMO, KSMO, Santa Monica Airport
HHR, KHHR, Hawthorne Municipal Airport
VNY, KVNY, Van Nuys Airport
JGX, Glendale
CPM, KCPM, Compton/Woodley Airport
WHP, KWHP, Whiteman Airport
FAQ for Private Jet Charter Flights to Santa Monica
Why choose a private jet to Santa Monica with Monarch Air Group?
Monarch Air Group provides on-demand private jet charter Santa Monica, CA. With years of jet rental experience, our experts have the knowledge, experience, and preparation for Santa Monica private charter flights. We guarantee favorable market rates and availability of aircraft options for Santa Monica jet charters. As a leading provider of specialty charter services, we will meet all your requirements to provide a great Santa Monica private jet rental experience.
How much does it cost to book a Santa Monica private jet charter?
The price of a Santa Monica charter jet depends on the range of the flight and the use of the Santa Monica jet. Private aviation is cost-effective for those who place a high value on time, quality of service, safety, privacy, luxury, convenience, and other factors of charter flight in Santa Monica. You can get a rough flight cost estimate by using a private jet charter cost estimator, or you can contact charter experts for an accurate calculation.
Here are some approximate prices for private jet flights to/from Santa Monica:
To/From Location
Chicago
San Francisco
Las Vegas
Aircraft
Phenom 100
Citation CJ3
Pilatus PC 12/45
Estimated Price
(One-Way)
$39,620*
$16,330*
$5,580*
Flight Duration
5h 50min
60min
60min
*Estimated price before taxes & fees.
What types of private jets can use for Santa Monica charter flights?
Monarch Air Group has access to many Santa Monica jets, including light, medium, and heavy jets, turboprops, and airliners. Our years of experience allow us to provide the best aircraft and service for Santa Monica air charter.
What are the benefits of flying a Santa Monica private jet?
The level of service of private jet charters in Santa Monica will exceed your expectations. We provide complete transportation solutions for private plane charter Santa Monica to and from your destination with the utmost attention to detail and discretion. When charter a private jet to Santa Monica with Monarch Air Group, you can choose to have meals on board, travel with pets, book ground transportation, or a group charter flight.
Popular destinations near Santa Monica by private jet
San Diego – is an ideal destination for art and culture lovers.
Long Beach – on the oceanfront in Southern California, will amaze you with extravagant views of the Pacific Ocean.
Santa Barbara – is one of the best places to visit in Southern California, with idyllic beaches and outdoor activities.
Santa Monica – offers numerous restaurants with great views and historical treasures.
Los Angeles – the combination of world-class cultural attractions and sun-drenched beaches provides the perfect private California vacation experience.
Our clients travel on efficient and comfortable private jets. If you haven't found the answers to all your questions, you can contact our experienced and reliable team at any time or visit our air charter FAQ page.