Monarch Air Group provides private air charter in Santa Fe, NM. Our clients benefit from top-notch service, unrelenting dedication to safety, wide selection of aircraft, and years of experience in chartering private jets. To obtain a free quote, please use our online quoting tool provided below, or call toll-free 1-877-281-3051.
Charter a private jet to Santa Fe
Book a Private Jet Charter to and from Santa Fe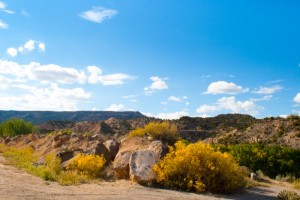 Monarch Air Group provides private jet charter flights in and out of Santa Fe, NM.
Nestled in the foothills of the Rocky Mountains at 7,000 feet, Santa Fe is New Mexico's capital city. Santa Fe is a famous travel destination with natural beauty and an average of 325 days of sunshine and blue sky. The city is rich in Spanish and Mexican history, heritage, arts, and culture.
Voted as one of the most popular travel destinations of America and one of the top three art cities in America, Santa Fe is often referred to as "The City Different". There are fascinating streets lined with genuine New Mexico treasures, adobes, astounding museums, and fine art galleries.
Santa Fe is home to the Center for Contemporary Arts, the Georgia O'Keeffe Museum, the New Mexico History Museum, the Palace of the Governors, and the Santa Fe Opera. Each year Santa Fe hosts many cultural festivals and events including Fiesta de Santa Fe, the Contemporary Hispanic Market, the Santa Fe Indian Market, Rodeo de Santa Fe, and the Santa Fe International Folk Art Market.
Santa Fe Airports are within 70 miles
SAF, KSAF, Santa Fe Municipal Airport, Santa Fe, NM
LAM, KLAM, Los Alamos Airport, Los Alamos, NM
LVS, KLVS, Las Vegas Municipal Airport, Las Vegas, NM
SKX, KSKX, Taos Regional Airport, Taos, NM
ABQ, KABQ, Albuquerque International Sunport Airport, Albuquerque, NM
AEG, KAEG, Double Eagle II Airport, Albuquerque, NM
AXX, KAXX, Angel Fire Airport, Angel Fire, NM
FAQ for a private flight to Santa Fe
Why choose a charter jet to Santa Fe with Monarch Air Group?
Year in and year out, business aviation services remain in high demand. We can guarantee that when you book a Santa Fe private jet charter world-leading safety protocols will be followed. What's more, you'll get to your destination safely and comfortably with premium service. Call one of our agents with questions about chartering a Santa Fe charter jet.
How much does it cost to book a Santa Fe private jet charter?
The price for a Santa Fe private jet is always calculated individually and depends on several factors such as the complexity of the itinerary, the number of passengers, and the type of aircraft you choose. You can get more information about the air charter Santa Fe price and other details, by contacting our consultants. Alternatively, you can request through our website, or by writing to us by email. On our website, you can also find a charter flight cost calculator to get an approximate estimate of the cost of your flight.
Here are some approximate prices for private flights to Santa Fe:
Charter a Private Jet from Teterboro to Santa Fe: light jet – starting at $ 29,380;
Charter Flights from Seattle to Santa Fe: light jet – starting at $ 20,130;
Private Charter Flights from Houston to Santa Fe: turboprop – starting at $ 11,670.
Which airplane is the best choice for Santa Fe charter flights?
Aircraft for air charter service Santa Fe are chosen according to the requirements of the customers. A rented jet can get you to your destination, bypassing traffic and the need to land at the airport, which guarantees business success and a fast, comfortable flight. To inquire about the aircraft you are interested in, please submit the flight request form, or call our agents 24/7 at 1-877-281-3051.
| Aircraft type | Passengers | Non-stop range | Cruising speed | Intended use |
| --- | --- | --- | --- | --- |
| Light Jet | up to 6 passengers | about 700 – 2000 miles | 476 to 518 mph | for comfortable short- to mid-range distances |
| Midsize Jet | up to 10 passengers | about 1300 – 1500 miles | 422 to 541 mph | to fly nonstop from coast to coast |
| Super midsize Jet | up to 10 passengers | about 3.500 – 4.000 miles | 490 to 590 mph | for longer flights |
| Heavy Jet | up to 18 passengers | about 6.000 miles | 480 to 551 mph | traveling overseas in luxury for an intercontinental flight |
| Turboprops | up to 10 passengers | about 600 – 1.900 miles | 220 to 360  mph | for short- to mid-range flights |
| Ultra-Long Range Jet | up to 19 passengers | about 2,800 – 7,685 miles | 460 to 594 mph | for long-haul travels |
| Helicopters | up to 28 passengers | about 250 – 600 miles | 150 to 175 mph | for passenger and cargo transportation |
What are the advantages of flying a Santa Fe private jet?
Renting a private jet has some undeniable advantages over commercial flights. It is possible to get to your destination by choosing the right kind of aircraft, unique in its design, luxury, and convenience. To ensure that every detail of your private jet charter Santa Fe is perfect, contact our consultants to discuss your needs. Our aircraft for group charter flights also provide you with stability and an exceptional level of comfort.
Popular Destinations near Santa Fe by private jet
Albuquerque – around the Rio Grande River is one of the oldest cities in the U.S. and with its beautiful weather it is an excellent choice for outdoor activities.
Telluride – is perfect for tourists and business travelers, a resort town in southwestern Colorado, with lively festivals, world-class shopping, and restaurants.
Aspen – is one of the most popular year-round ski resorts in the region and offers quality service to private travelers.
Colorado Springs – was founded as a year-round tourist destination, is one of the top ten fastest-growing cities in the country, and is filled with cultural attractions.
Our clients travel on efficient and comfortable private jets. If you haven't found the answers to all your questions here, you can contact our experienced and reliable team at any time or visit our air charter FAQ page.