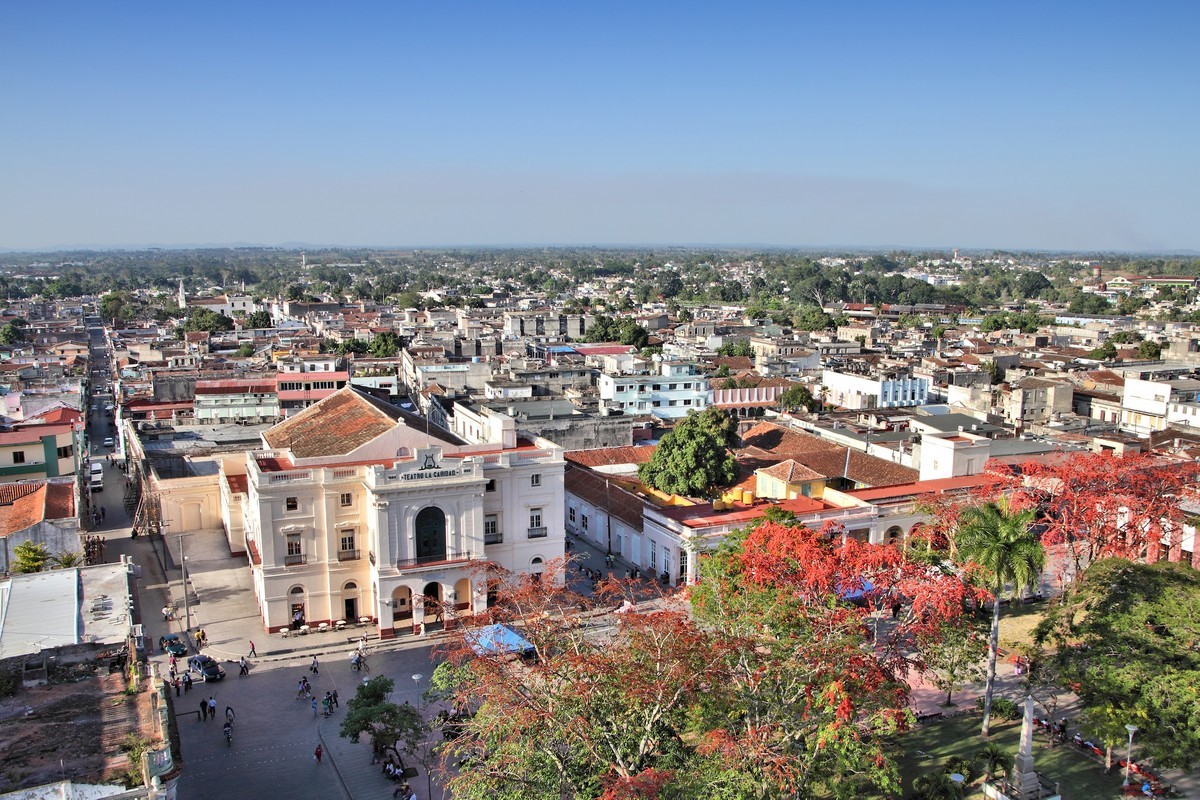 The bustling city of Santa Clara is the fifth largest city in Cuba, with a population of 225,000. Santa Clara is the capital of Villa Clara, a province that stretches across 198-square miles of central and northern Cuba, including some of the most beautiful beaches in the Caribbean. The region is home to 5-star luxury hotels, surrounded by lush tropical flora and fauna and miles of white sand beaches. Santa Clara will keep you busy, especially on a sunny day. We explore some of the top sites in Santa Clara, along with airport and departure city options as well as popular private jet options.
Charter a private jet Santa Clara
Top Sites in Santa Clara
1. Parque Leoncio Vidal
Situated in the town square of Santa Clara, this bustling public park is a gathering place for locals and visitors alike. As you stroll through the park, you'll notice colorful buildings along the park's perimeter. At the center of the park, you'll find a stone gazebo that you can sit in and read a book or catch up on emails. You can rest comfortably on a park bench or explore this area's statues, library, theater and art gallery, among other attractions. Just off the square, you'll find several shops, bars and restaurants for exploring Cuban food, music and drinks. One of the most visited buildings in Santa Clara is the Santa Clara Libre Hotel, which still has bullet holes from revolutionary battles that were fought here.
2. Mausoleo del Che Guevara
Within walking distance from Parque Leoncio Vidal, leisure travelers interested in Cuba's history will enjoy a visit to the museum and mausoleum of Cuba's revolutionary icon, Che Guevara and other Cuban Freedom Fighters. Born in Argentina in 1928, Ernesto "Che" Guevara was a revolutionary. Mausoleo del Che Guevara tells the story of Che and the Cuban Freedom Fighters. Today, this man remains a significant influence in Cuba. A 22-foot bronze statue of Che towers above onlookers. The museum contains photographs from Che's life, memorabilia, and other personal objects that belonged to him during his life.
3. Catedral de Santa Clara de Asis
This Neo-Gothic cathedral is the central point for religion in Santa Clara. The building has an impressive collection of colorful stained-glass windows. The church's marble basin has been used to baptize Santa Clara citizens since the city's founding. A statue of Jesus holds a monstrance which is said to be made from pure gold. The most significant artifact in the church is a tall statue of Virgin Mary that greets visitors. She is known locally as "la Virgen del camino." Her story dates to the Cuban Revolution when she was used for blessing travelers who traveled to and from Santa Clara. She was lost in 1965 and rediscovered again in 1995 in a ditch and was eventually given back to the church.
4. NaturArte
Leisure travelers often say that the most memorable part of their trip was finding a place with a great story about local people. The story of NaturArte began in 1999 when artist Ermes Ramirez Criada launched a dream with his wife, Idiana, to convert what was then a garbage dump into an urban oasis. This gem at the heart of Santa Clara is a green oasis with native palms and tropical plants. An organic farm supplies the vegetables for the restaurant that offers a one-of-a-kind outdoor dining experience. Leisure travelers can enjoy local art, sculptures and a variety of animals at NaturArte, including tropical fish, reptiles and spectacularly colored birds.
Airports Serving Santa Clara, Cuba
Abel Santamaría Airport (MUSC) is an international airport serving Santa Clara, the capital city of the Villa Clara province in Cuba. It was named after the Cuban revolutionary Abel Santamaría.
Private Jet to Santa Clara, Cuba from U.S. Cities Distance and Flight Times
Departure

City

Departure

Airport

Airport Code
Distance (Nautical Miles)
Miles
Estimated Flight Time
Heavy
Super Midsize
Midsize
Miami
Miami Intl.
MIA
200
231
50 min
57 min
52 min
New York
Newark
EWR
1,113
1,282
3 hrs

23 min

3 hrs

53 min

3 hrs

26 min

Boston
Logan Intl.
BOS
1,253
1,442
3 hrs

50 min

4 hrs

17 min

3 hrs

57 min

Indianapolis
Indianapolis Intl.
IND
1,088
1,253
2 hrs

44 min

3 hrs

3 min

2 hrs

46 min

Austin
Austin-Bergstrom
AUS
1,092
1,258
2 hrs

25 min

2 hrs

39 min

2 hrs

26 min

Reno
Reno-Tahoe Intl.
RNO
2,295
2,643
4 hrs

50 min

5 hrs

16 min

4 hrs

56 min

San Diego
San Diego Intl.
SAN
2,098
2,416
4 hrs

33 min

4 hrs

58 min

4 hrs

39 min

Seattle
Seattle-Tacoma
SEA
2,543
2,928
5 hrs

24 min

5 hrs

53 min

5 hrs

31 min
Private Jet Options
Private jet charter flights to Santa Clara, Cuba, typically operate using heavy, super midsize or midsize aircraft types:
Heavy jet options for private charters include the Dassault 7x, Falcon 900LX and the Gulfstream G650.
The Dassault 7x is one of the fastest and most requested jets in its class for private charter clients seeking value in the Heavy jet class. The 7x has a lower fuel consumption, up to 30% lower than other jets in its class, dramatically lowering operating costs.
The versatile Falcon 900LX can significantly reduce commute time. Because the jet can take off and land on shorter runways than other jets, it can operate out of airports that are closest to the client's departure and arrival points. Additionally, the Falcon 900LX's spacious cabin provides three separate areas for work and relaxation.
Gulfstream's G650, among the fastest in Gulfstream's fleet, can travel at 92% of the speed of sound and has a maximum range of more than 7,000 miles. Typical cabin configurations include seating for up to 19 passengers and a configuration for overnight flights that include sleeping accommodations for up to ten. The G650 provides a comfortable, smooth flight.
Heavy jets typically include a full galley, catering and flight attendant service.
Super Midsize jet options for private jet charters include the Hawker 1000, Falcon 50EX and the Citation X. Super midsize jets transport a maximum of 12 passengers and feature a stand-up cabin, luggage space and ample legroom.
The Hawker 1000 is popular with private jet charter clients for its quiet, comfortable cabin and extended range capabilities.
The Falcon 50EX has a top speed of 569 mph and plenty of space for collaborative meetings or relaxation. The cabin configuration has a club seating arrangement and a separate area with a three-seat divan.
Private jet charter clients flying from to Santa Clara, Cuba, select the Cessna Citation X for its top speed of 700 miles per hour.
Super Midsize jets include a full galley, catering and flight attendant service.
Midsize jet options include the Hawker 850XP, the Learjet 60XR and the Gulfstream G150.
The Hawker 850XP is the second largest of the Hawker series and can seat up to 8 passengers comfortably. The 850XP is capable of traveling against headwinds at a high-speed cruise while using less fuel.
Private jets clients select the Learjet 60XR for its combination of the best of technology and comfort. This powerful midsize jet can climb at 6,000 feet per minute and has a flight range of 2,269 nautical miles.
The Gulfstream G150 is one of the fastest midsize jets available, with a top speed of 475 knots. Cabin layout options include a club seating layout with two forward-facing seats in the rear of the cabin.
Midsize jets typically seat up to 9 passengers and digital entertainment, a galley and Wi-Fi for in-flight entertainment.